Here we are again at the end of another exciting year! 
This is our fifth Christmas at Rivenmaster's Place so we wanted to use this time to wish everyone a Blessed Christmas and Joyous New Year!  It's been another amazing year with the introduction of 39 new artists to the site and many exclusive updates from our regular featured guests.
The website literally featured hundreds of new videos over the year, sometimes updated daily with newly released singles.  Once a week special recognition was given to a deserving young artist with the presentation of the coveted Video of the Week Award! 
Radio Personality "Bruce Owens" presented us with new Radio Interviews which were added to the Radio Interview Page, and a very special new website created by Day Six called The Why of Music was recently added to our main menu!
Updates to the website's included a new menu page and the creation of a New Page featuring links to all the young artists on the site.
This year a number of artists enjoyed big success with the advancement of their careers to include signing with new management or award winning producers.  Others also made big strides by increasing their YouTube presence through the extra publicity and support provided by this site.
In 2013 three more young artists were recommended for scholarships to attend Prodigy Camp under the direction of Film Director Rick Stevenson from Seattle Washington!  Dalton Cyr and Blackberry Jam enjoyed an exciting and productive week at the camp coming home with new original songs to share.  You can also read more about the camp and Thilo Berndt, the 2012 scholarship recipient.
It's exciting to see so many new young artists each year and even more exciting to be able to follow up on them as they make their way to stardom.
Keeping things simpler this year has been a major focus for the site.  Fewer feature articles were published but each article enjoyed longer exposure bringing greater benefit to the featured artists. 
 
This Christmas Season we are presenting Carson Lueders and Dalton Cyr's New Christmas Music Videos.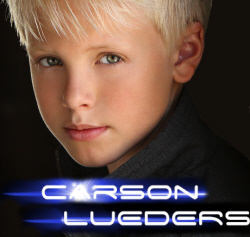 Carson was awarded this honor for being the most popular young artist on the site in 2013.  His articles and videos received the most clicks, his name was the most searched for, and he enjoyed one of the best years any young artist has ever had here on Rivenmaster's Place! 
Carson had his first feature here on May 14,2011 and again on August 25, 2012. He was also featured in last years Christmas Post but managed to escape an update all year being so busy in LA working with accomplished and award winning producers and industry professionals.  We hope to lock him down sometime next year for at least an interview.  Regardless we are very happy for Carson and how his career has taken off. 
Carson is living the dream and Rivenmaster's Place is proud to have been part of the very beginning of his musical journey!  Merry Christmas Carson!
Carson Lueders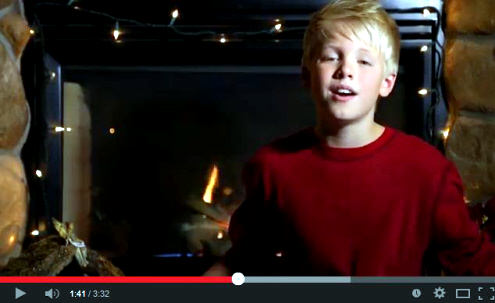 Carson Sings "The Christmas Song"
 
 
Dalton is one of the fastest growing in popularity on the web and also here on Rivenmaster's Place. His lively performances along with his amazing original songs make Dalton the Artist to look to in 2014. 
Having enjoyed his first introductory feature here on July 21,2012 Dalton returned three times this year, March 14th,  August 24th, and September 12th.
Dalton is also one of the greatest communicators of any young artist I know.  He is polite and always makes a special effort to say thank you to his fans and supporters. This is a sure winning characteristic for any young artist to exhibit!
If for no other reason than this, Rivenmaster's Place remains proud to support Dalton in all his musical pursuits.  Merry Christmas Dalton!
Dalton Cyr
Dalton Rocks the Stage in Florida!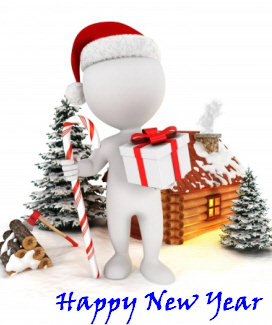 In closing I leave you with a special greeting coming to you all the way from Moscow Russia!  The name of this New Darling Duo is Jeans Boys!  You will want to subscribe now so you don't miss their special feature story to be published here on January 3rd.  While their debut CD was released only in the Russian Language they have recently been singing new songs in English. 
In fact they just released a brand new song entitled "The Secret" which was a collaboration project  with The Gaitway Brothers who were featured here last November.
These two boys are destined for fame with their charismatic personalities and charming appearance.
Jeans Boys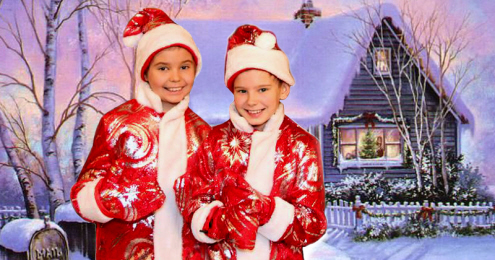 Jeans Boys are ( Vlad & Misha) Click photo to see Video

Please Visit their iTunes Page while you wait for their full story to appear here on Jan 3rd!
 
Thank you again to all our readers, subscribers, and for those who have been generous with donations to keep the work going again this year!
MERRY CHRISTMAS AND HAPPY NEW YEAR!