Although Rivenmaster's Place has published less frequently this summer, it's not because we have not stayed busy!  All of the outstanding young artist who are featured here have had an extremely busy summer.  Some who were to debut here and others who had updates scheduled, had to push out their features due to tours, concerts, and special engagements with America's Got Talent, X-Factor, and other contractual events. 
This summer also has not been a blockbuster for young actors in film.  While I have yet to write a review for "After Earth" staring Jaden Smith and his father Will, I thoroughly enjoyed it and will most likely get around to that after it has been released on DVD.
COMING SOON!
Soon to be featured here for the first time will be Tae Brooks, The Brewer Boys, and Brendan Guy.  Updates for Blackberry Jam and Dalton Cyr are also in the schedule. Dalton and the Twins update will include exclusive details regarding their time at Prodigy Camp in Washington State this summer.  We also have invited back Griffin Tucker and recently made contact with the manger for Struck Boyz and The Robotix who made their national debut on AGT just a few weeks ago. 
In addition to all this we recently heard from 2Boys in Norway ,who has not been featured here for some time. The boys are launching a brand new original single called "Scandinavian Girls" which once again demonstrates the creative talents of Marcus and Sondre.  This is of course an update I'm really looking forward to publishing! 
That being said, we are planning to have some great Features & Updates for you throughout the next few months.
UNTIL THEN!
I thought I might bring you a few of my own thoughts regarding this season's contest at America's Got Talent.  Overall the show has been better this year and has featured more youngsters than in the past.  While I have been somewhat critical of America's Got Talent over the years, much of that criticism surrounds the fact that children compete in the same competition with adults.  I have always felt that NBC needs an AGT Junior program that showcases only children and teens.  This would not only be entertaining, it would help the judging panel make decisions without having to deal with an age factor.  While it may not stop the tears that flow each year when a youngster does not advance in the competition, at least these talented kids would be loosing to peers their own age. Also judges comments like; your still young yet, not quite ready, only 15 (or some other youthful age) would be eliminated.
America's Got Talent!
This year we have been treated to some outstanding young performers. While many have already left the competition, dancers, D'Angelo & Amanda were awarded the opportunity to compete in this years semi final.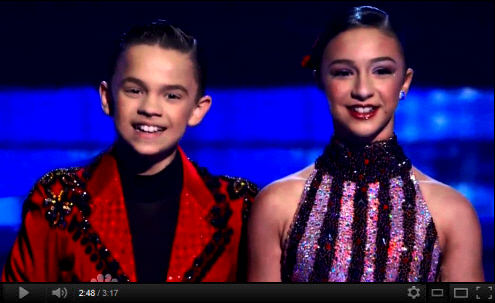 D'Angelo & Amanda danced to "Unstoppable".  Their choreography was absolutely breathless and awe inspiring!   While I usually have many adjectives I use to describe something as extraordinary as this, I have to admit I was left speechless!  The opening was eye popping as D'Angelo's took the forefront of the stage dancing with his cape and looking like a true matador. Then came the graceful yet aggressive moves of Amanda dancing with D'Angelo with intensity that was almost spellbinding. Like true professionals this duo pulled off a winning performance that will be hard to top at the finals!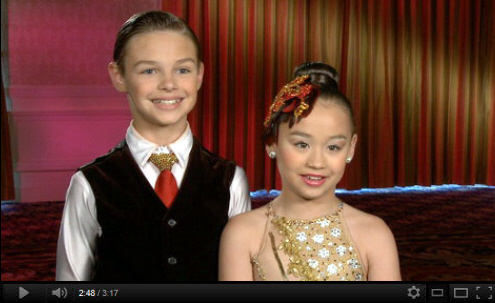 This past week brought special interest in a dance rivalry between brother and sister, when two dance duo's went head to head in the competition.  D'angelo's younger sister Ruby, along with her partner Jonas were spared to compete again after last weeks fall during their routine.  I'm sure that the stage was slippery because these two young ones are also amazingly charming and extraordinarily exciting to watch. These kids are doing choreography that is way beyond their years and I was totally amazed with their equally professional performance.  In the end big brother won out and will continue in the semi-finals, but not to take anything away from little sister. Ruby, along with her partner Jonas were equally special. 
This year has also showcased some outstanding young female singers.  Ten year old Anna Christine, Eleven year old Chloe Channell, Twelve year old Ciana Pelekai, and Fourteen year old Skilyr Hicks. All of these girls were truly wonderful in their singing performances.  Especially surprising was the youngest Anna Christine who's vocal blew the judges away and caused Howard Stern to say, " We have found a superstar".
In addition to these talented girls we were also treated to a preteen dance crew of young girls and boys!  The girls called themselves Fresh Faces and truly they were a group of charismatic and extremely energetic young ladies!  They captivated the crowd with their routine which consisted of acrobatic and well choreographed dance moves.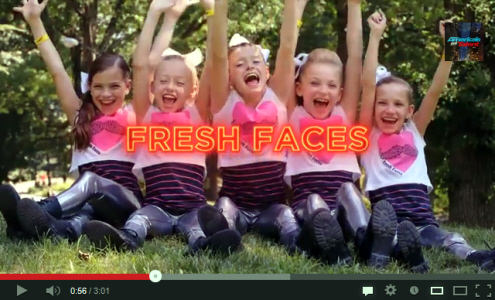 The boys crew is called Struck Boyz and were featured earlier this week in the sidebar.  These boys really rocked the stage with their routines and had the crowd cheering for them.  Their confidence and showmanship really came through on both performances with their last one paying tribute to Usher and Justin Bieber. This week we successfully made contact with their manager and are hoping to put together a full feature article about the boys in the near future!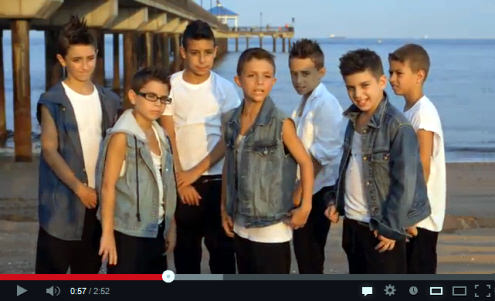 There were a number of other youngsters who competed but for lack of space and time we simply can not mention them all.  Regardless of outcome, my hat is off to all the young performing contestants. While I'm sure that the award will go to an adult group or soloist, the kids were all amazing and deserve all the props this site afford.
I would like to  thank AGT for the use of their videos to dress this article and for their continuing dedication to bring us fresh new talent each year!
Keep up the great performances kids!