LUKA is an 11 year old Canadian boy with a powerful voice and magnetic personality who has a genuine passion for music and singing.  However, it's his creativity, coupled with indisputable heart and soul embedded into his music videos, that continues to attract more and more young fans and equally impress many adults.  In fact some have started calling him a YouTube Sensation and even perhaps the next Justin Bieber. 
Unlike some who have been called YouTube Sensations, Luka has earned that title. Luka has accomplished what many have only dreamed of doing.  In less than two and a half years, he has amazingly accumulated over 2 Million views and boasts over 7 Thousand subscribers on his YouTube Channel.
Part of this success was accomplished simply by Luka just being himself.  While some tubers are trying to impress with special effects or finding scenic locations to shoot their videos, Luka's early videos were initially made by him, sometimes by only using a laptop or iPad camera and mic.  Due to this, he quickly started gaining attention with his unadulterated talent, a distinguishing voice and by singing songs typically beyond his age.
His fans love him for just being natural, and admire his modesty, sweet personality, colorful voice and irresistible charm.
 
Luka sings "We Are Never Ever Getting Back Together"
Luka's parents shared with me that Luka showed an interest in music at a very young age. At the age of four, he was easily memorizing countless songs and dance moves from his favorite TV shows and readily showcasing them to his family and friends, using a coffee table as his improvised stage. In 2008, when Luka was 6 years old, the movie "Camp Rock" came out. After watching it countless times, he proclaimed he was going to be a singer and an actor when he grew up (actually, even before growing up).  "This is Me", by Demi Lovato, from this movie, became his favorite song and inspiration to follow his dream.  He cut out the word "Hollywood" from the construction paper, hung it up on his bedroom door, and started wishing for a real microphone and stage to be constructed in his room. His letters to Santa started being long lists of favorite CD's and music movies. While he has explored a number of singers and music styles since then, Demi Lovato is still one of Luka's favorite singers, due to her vocal range, passion in her songs, and for her message of always being strong and never giving up hope. Several other Disney celebrities have also inspired Luka around that age, too. At the age of 6 Luka started playing piano which helped him build a strong music foundation. The following year he started taking singing lessons and had his first official singing performance at the spring recital, performing nothing less than "My Life Would Suck Without You", by Kelly Clarkson.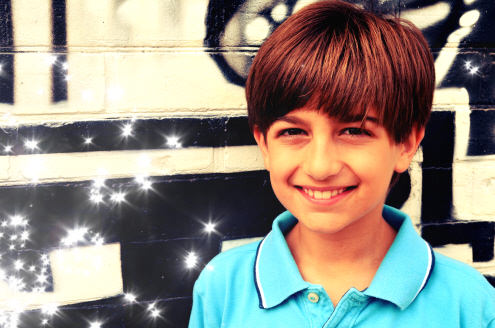 Watch Luka Sing "Sparks Fly" by Taylor Swift
In 2010, he auditioned for a local musical theater production of "Oliver!" and had his theatrical debut as one of the orphans in November 2010. Performing in front of a 600 plus theater stage audience, was a thrilling experience and motivation for Luka to keep following his dream. After Oliver! he performed in several other musical productions, the most memorable of which was "Broadway Kids Live!" Luka was selected as one of the 13 kids to perform accompanied by a live orchestra, solo pieces from Oliver and An American Tale for the first time. The "Broadway Kids Live!" production had noticeable media coverage and Luka was interviewed on a couple of local TV stations.
Around that time, Luka also started singing in many local talent shows, open-mic events and charitable events, with considerable success and making it to the finals or even winning some of them, in spite of being often half the age (and height) of some of the other contestants.
 In 2010, at just 8 years old, Luka started making videos of himself singing and posting them (with his parents' permission), on YouTube. One of the first videos he posted was a cover of Selena Gomez' hit song "A Year Without Rain", made randomly with his friend as a duet.  Styling with one red sock and one blue sock, with his barefoot little friend by his side, he captured the attention of Disney and ended up being featured in the Disney Dreaming Website.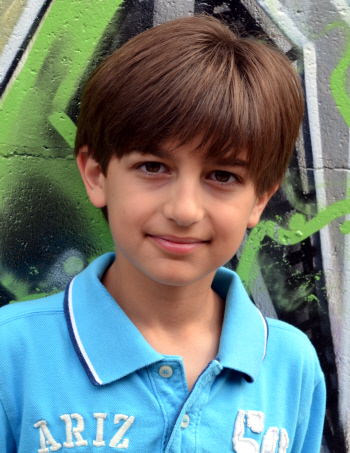 In 2011, his cover of "Domino" by Jessie J, which he posted hoping to win her contest for the 1st cover of this song, went viral, receiving over ONE MILLION VIEWS. Â 
In 2012 he submitted a cover of Nicki Minaj's "Starships" hit, for her Starships video contest, and was chosen by her as one of the 5 winners of that contest! Nicki even tweeted Luka's video to Perez Hilton and Ellen DeGeneres, saying she was in love with the little boy!
Luka's cover was also featured on Perez Hilton website with the title "Amazing 10 Year Old KILLS Nicki Minaj's Starships Cover Contest!"
He also caught the attention of Lena Dunham, the creator and star of the HCB hit series "Girls", who tweeted two of Luka's videos.  Skyscraper  & Starships
Luka always strives for new challenges and styles and never stops exploring new frontiers. He has recently started playing guitar and is starting to work on original songs. In fact, Luka just released his very first original song "Time To Shine", which we are extremely proud to showcase here.
 
Luka performs his new original song "Time To Shine"
 
I'm not sure where all this will lead to for young Luka, but I can promise you that there is no stopping this boy's drive and determination to succeed.  One thing that is easy to predict is that you have only seen the beginning of what Luka is getting ready to share with the world.  I have a feeling that this is one more Canadian that is going to rise to the top and will be amazing us all for some time to come!
Congratulations Luka on your already amazing success and I wish you the very best of success in everything you do.  Please don't allow anyone or anything to change who you are because that is what we have all grown to admire and respect.  Being yourself is what has brought you to where you are and being yourself will help you achieve your greatest dreams!
To learn even more about Luka VISIT: