I was first introduced to Jack Cassidy by my good friends and associates from Stars2come.com, and Theskykid.com.
Jack's interpretation of the song "The More I Seek You" written by Zach Neese not only caught my attention but immediately inspired me catching me up in rapturous praise! Singing like this not only lifts your spirit, but feeds your soul and this boy had accomplished both through this one video performance.
I have always been moved by worship music! Not just good gospel, but songs that allow you to feel the anointing which is undoubtedly heaven sent to the original authors. Jack not only sang this song with expression but you could feel a special anointing that was transmitting through him in this special and moving rendition.
Having my interest peeked even more about this young singer who so eloquently displayed a talent beyond his years, I was impressed to write his parents to find out more about Jack, his talent, aspirations and dreams for the future.
His parents shared with me that from the time Jack was born he was drawn to music.
"Any time we sang to him, he would turn toward our voices and became still and listened. When he was able to sit up, he would sway and bounce to the music playing on a video or the CD player."
They also added that if the tempo or song changed, Jack would demonstrate perfect rhythm.
In my research over the years I have found that musical prodigies often come from families who have already shown previous musical abilities. While it is not always the case that their birth parents show signs of musical ability, somewhere down through the gene pool this talent has been handed down.
Not only can Jack sing spiritual songs but he really shows his ability to deliver on this classic balled by Paul McCartney "Yesterday"
Such is the case with Jack. I'm told that his dad and older brothers were cast in Joseph and the Amazing Technicolor Dream Coat. Jack's desire was to attend every show, (all 7 of them.) He would sit through the entire production showing signs of amazement by the singing portions. When Jack returned home, he would mimic the play and sing the whole score. This was when he was only 23 months old.  His Dad exclaimed;
"The most exciting part was that while it was hard to understand Jack's two year olds diction, his notes were right on."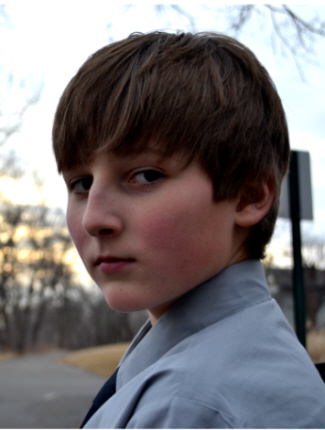 Even at this young age, Jack could also sing clear and strong any note played on the piano, matching it with perfect pitch.
When Jack started to talk, he sang continually around the house. If he started a song too high, he would drop a perfect octave to stay in tune and just keep singing.
Jack's showed his first signs of loving the stage at the age of three, when his family held their annual "Cassidy Christmas Concert." Jack would sing loud and clear knowing every word to the Christmas songs he sang with his cousins.
As a preschooler, Jack loved the Wizard of Oz and would reenact the Scarecrow's song including the dance. He would sing those songs all day long.
When he was Nine, he auditioned for the role of JoJo in Maple Grove High School's production of "Seussical the Musical". His older brother, Sam, told his music teacher, Beth Hellstedt (also the director of the musical), that she should have Jack audition.  I think she did it as a favor to Sam, however, when she heard Jack sing in perfect pitch and learned he could memorize the song with only one run through, she was sold. Jack got the part and was a sensation on stage.
His parents always knew Jack could sing, but were pleasantly surprised with his stage acting abilities.  The school won awards for this play, and a duet that Jack was a part of was featured at the awards ceremony. This opened the door to other musical productions the high school put on. Jack was cast in "A Christmas Carol", the musical, and "Will Roger Follies", where he shared the limelight with his older brother Gabe. Jack thoroughly enjoyed his time on stage and the high school students loved him being in the shows.
Jack performs with his dad and uncles in concerts at church and outdoor fundraisers with the band where Dad Joe and his uncles perform. He has sung on stage accompanied by Mary Beth Carlson, outstanding pianist, and has sung with Patty Peterson a jazz artist in the Twin Cities area. Jack sings at his church, St. Vincent De Paul, and likes sharing his music to help people draw closer to God and the scriptures. Jack desires to reach people with his comforting voice, and enjoys the faith that comes from his music. His dad exclaimed;
"He is truly giving praise to Jesus Christ.  Jack claims it makes him feel closer to Jesus when he sings songs of praise to Him. He is also kind and an inspiration to the young of our parish."
Jack enjoys playing basketball and hanging out with his friends, cousins and brothers. He is very talented in drawing and has many characters he has created over the years. His favorite books are the Percy Jackson books and lists math as his favorite subject in school.
Jack sings a moving rendition of "Danny Boy"
In addition to his amazing vocal skills, Jack also enjoys playing his drums in the basement and jamming with his brothers. Jack is the 5th oldest of six boys. Older brothers Brian, Kellin, Sam have already graduated from college and Gabe graduates next year.  This leaves Jack and the youngest of the siblings, Connor who is six and Jack's biggest fan and supporter! Connor is now following in Jack's footsteps singing at church and with his family.
While it is still uncertain where all this musical talent will lead Jack, one thing is clear. Jack has a God given gift to share with the world and I for one am a huge fan of his music. Jack will soon release an EP and you will find the links here on this site in the very near future.
To learn more about Jack Cassidy visit:
"Keep the music coming Jack you truly are a blessing to all of us who listen and feel your emotional performances!"