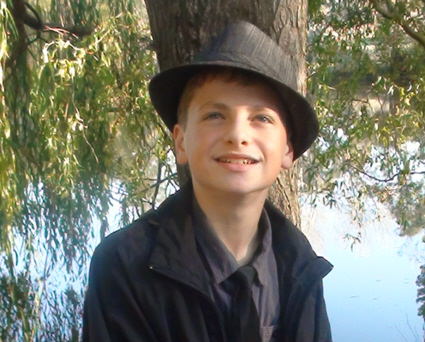 When I'm not blogging or listening to my vast collection of music from the young artists that grace this site, I'm usually searching for yet one more undiscovered talent on YouTube. While I'm not easily impressed by everything that I see or hear I have to tell you that today's featured artist Daniel Shaw immediately caught my attention. His current featured YouTube Video performance of (His Original Song) entitled "Love" is extraordinary. In addition, Daniel has done a number of cover songs from various artists, but what makes him unique is the collection of originals he has already amassed.
Aussie Singer, Songwriter, pianist and guitarist Daniel Shaw is only 13 years old but already sounds as if he has been singing professionally for years.
"I want to become an entertainer like Billy Joel" says Daniel Shaw!
Daniel shares his home with his Mom & Dad and 6 siblings. He is the second born, having one older sister, four younger sisters and a little brother. Daniel started playing the piano when he was only six and even though his hands were quite small he picked up new songs very quickly. At 8 he entered a piano competition playing a Grade 3 piece entitled "Batman". He received the best response from the crowd out of all the other contestants, however did not place in the competition.
Daniel enjoys entertaining people but does not especially enjoy the judging aspect of competitions. So to satisfy that longing to entertain, Daniel started busking in the Melbourne's City Center playing his keyboard and singing the many songs that he has learned.  In grade 5 Daniel won his primary school's Talent Quest playing Elton John's "Your Song" (one of his grade 6 piano pieces) and singing at the school assembly.
In 2008 when he turned ten, he attended a Billy Joel concert. It was then and there that he decided and said; "I want to become an entertainer like Billy Joel".
The following year Daniel released his first song "I Don't Wana Grow UP".
Every month thereafter he would compose and produce another song and sell his singles while busking. Over a short period of time Daniel has produced two EPs of Covers that his fans requested while he was busking and EP's of his originals were produced by Kane Audio Studio.
Daniel enjoys not only the studio time laying down the vocal tracks, but along with his Dad, is learning the art of producing from his producer.
In 2010 Daniel was asked to take part in a competition to find Melbourne's best busker while raising money for the homeless. In the lead up to the event he appeared on the Channel 9 news, was featured in an Article in the Age, appeared on the Triple J breakfast show where he performed one his original songs "Hey Little Brother", and was featured in various local papers.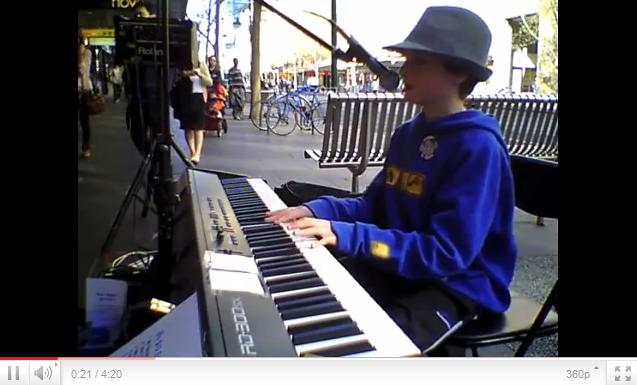 Daniel performed "Hallelujah" and "Hey Little Brother" on a large stage as part of the Melbourne Music Festival; and was award Melbourne's Best Busker Runner Up. Daniel loves performing on stage with a great sound system and has had numerous opportunities to perform at a variety of venues and festivals in his area.
In this video Daniel performs live Bruno Mars song "Grenade"!
Last year Daniel completed the following AMEB exams:
Grade 8 classical piano

Grade 8 piano for leisure

Grade 4 music theory

Grade 5 singing for leisure.
He also performed on stage singing and acting in the musical "Honk" where he played "Billy The Duckling", a Froglet and a Goose.
Daniel has a unique style all of his own which can be clearly heard in his own originals but enjoys wide range of music. Â Lately his taste in music has been growing and evolving from attending some Usher and Bruno Mars concerts.
This year Daniel has been working with another studio to produce R&B and dance tracks of his original songs which he says has been very exciting. This coming July he will have a full album of originals ready for commercial radio which he is most excited about.
As part of his trip to Hollywood to compete in the WCOPA; he will also be pressing his latest album of original songs and selling them at performances in the States. At the WCOPA Daniel will be showcasing five of his originals while accompanying himself on the piano. After four and a half years busking in the City he found his audience was limited, so since 2011 he has been posting originals and cover songs on his YouTube channel DanielShawMusicMan, (where I found him) to reach a greater audience.
When Daniel is not performing, producing music or practicing he enjoys playing tennis, riding his horse, watching comedies or relaxing in a Cafe. He also enjoys spending time with his family; his two year old little brother and baby sister are especially cute and fun to play with. He also has a cute Jack Russell called Jazzi which he likes to take for walks to their dam and skip stones.
To learn more about Daniel you can visit his two YouTube Channels:
You can also purchase all his CD's and singles on:
In closing watch Daniel perform one of his originals called "Who Am I"