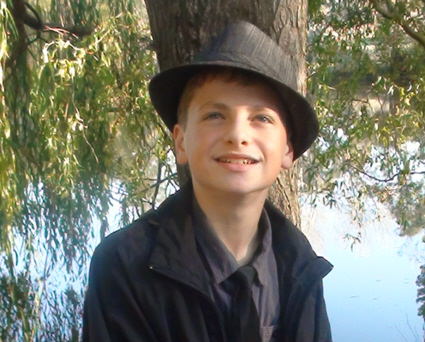 When I'm not blogging or listening to my vast collection of music from the young artists that grace this site, I'm usually searching for yet one more undiscovered talent on YouTube.  While I'm not easily impressed by everything that I see or hear I have to tell you that today's featured artist Daniel Shaw immediately caught my attention. His current featured YouTube Video performance of (His Original Song) entitled "Love" is extraordinary.  In addition, Daniel has done a number of cover songs from various artists, but what makes him unique is the collection of originals he has already amassed.
Aussie Singer, Songwriter, pianist and guitarist Daniel Shaw is only 13 years old but already sounds as if he has been singing professionally for years.
"I want to become an entertainer like Billy Joel" says Daniel Shaw!
Daniel shares his home with his Mom & Dad and 6 siblings. He is the second born, having one older sister, four younger sisters and a little brother. Daniel started playing the piano when he was only six and even though his hands were quite small he picked up new songs very quickly. At 8 he entered a piano competition playing a Grade 3 piece entitled "Batman". He received the best response from the crowd out of all the other contestants, however did not place in the competition.
Daniel enjoys entertaining people but does not especially enjoy the judging aspect of competitions. So to satisfy that longing to entertain, Daniel started busking in the Melbourne's City Center playing his keyboard and singing the many songs that he has learned.  In grade 5 Daniel won his primary school's Talent Quest playing Elton John's "Your Song" (one of his grade 6 piano pieces) and singing at the school assembly. Continue reading "Daniel Shaw – An Awesome Aussie Artist!"