.
.
T hirteen year old Connor Blackley from Florida, USA, finished last year with high honors capturing three awards at the Orange Blossom Country Music Association competition. The International (OBCMAI) competition is held each year in the fall and 2010 proved to be a banner year for Connor.
Connor was awarded first place for Male Vocalist and Male Entertainer of the Year in New Country (age 13 to 17), and also captured first place for mixed duet New Country with his friend Cortnie Frazier (age 12). With these wins under his belt he is automatically eligible to compete this coming March in the North American Country Music Association, International (NACMAI) in Pigeon Forge, TN.
CONGRATULATIONS CONNOR!
There has never been a doubt in my mind that Connor Blackley is a winner! Since the first time I watched this young man perform I knew he had the it factor! His natural talent and ability to connect with his audience, regardless of size is inspirational. Connor not only continues to have a good voice but is a real crowd-pleaser.
This year Connor auditioned for and was accepted into Florida's All-State Chorus. Connor, pictured on the left, along with a couple of his schoolmates traveled to Tampa and participated in a 3 day rehearsal and concert.
The All-State Chorus is comprised of the best of the best and only accepts the top chorus students in the state. To be accepted, Florida choir students must take a written test, a sight reading test, and finally sing before a panel of judges. The chorus is then created by combining the top scoring students from all over the State into one colossal chorus. Connor was honored to be selected to take part in this huge event that was held in Tampa, at the Tampa Convention Center. They rehearsed for 6 hours the first day and 7 hours the second. Connor's Mother exclaimed;
"The kids were tired but even after all that rehearsing, they sang all the way back to the hotel!".
On the third day they performed a 30 minute concert which was simply amazing!
httpv://www.youtube.com/watch?v=rdBTVTM5J_4
When I closed out Connor's update last September, I was privileged to hear and see Connor performing with his new band called "United".
Pictured from left to right: Nick, Connor, Joseph and Will
Connor and boys have been playing together a year this month, with the exception of the bass player who joined the group this past August. The band plays mostly classic rock and has been performing all around North Florida and Southern Georgia..
William Bishop age 13, is the bands lead guitarist and attends LaVilla School of the Arts with Connor. The boys also attended the same elementary school together.
William, who formulated the group, approached Connor to join the band at the time when it was just Will and Nick, the drummer. William is an only child, and he and his parents moved to the United States from England several years ago.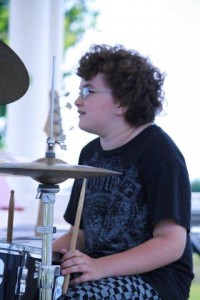 Nick Thomas, age 13, is the drummer. He attends Lake Asbury Junior High, and has been playing drums for a couple of years. He has 2 older brothers and 4 younger brothers.
.
.
.
.
.
Joseph Haney, age 13, is the bass player. He is pretty new at playing bass, but has picked it up very quickly. His dad Andy, is also in a band.
.
.
.
.
.
Congratulations boys on the great sound it's really coming together. I especially enjoyed listing to the crowd getting into this performance. I for one still like "That Ole Time Rock & Roll".
httpv://www.youtube.com/watch?v=H_ZXDmVfAcM
I wish all of you the very best of success and of course Connor, I look forward to every new single you send our way to be played both here and on TheSkykid.com Radio.