I don't remember how I first came across today's featured young artist in the making. It could have been one of his original videos on his YouTube Channel or from another site. However, what I do remember is how impressed I was that someone whose guitar was bigger than he was, could totally amaze me with his stage presence, bold and courageous introductions and performance prowess.
While Canada is known for its colder climate and French influenced providence's, most people would not think about Country Western Music being a strong part of Canadian culture. However, if I said the name Shania Twain or The Moffatts , it's a bit easier to understand how Country Music could find its way into the heart and life of a nine year old boy interestingly named Beamer!
One of the first questions I asked was how Beamer got his name. His father informed me that Beamer's birth initials are actually BMW hence (Beamer). What makes this story even better is that Beamers first ride home from the hospital after being born was in his family's car, which at the time was a BMW.
I found out that little Beamer has always had a love of music. His Mom and Dad said;
"It was even evident when he was very young, when the most successful way to lull him to sleep was to put on some Santana".
By the time Beamer was three years old, he started to take an interest in drums and after breaking all his Mom's wooden spoons, his parents decided that they had better buy him a drum set!
When he turned five, he watched his first Keith Urban music video with Brad Paisley, called 'Start A Band'.  From that moment, he wanted to learn to play guitar and grow up to be just like Keith, who is still his idol!  His parents managed to find a small ½ size model, and he made his first home video, recently posted on YouTube. He hadn't learned to play it yet, but he sure showed that he had the rhythm!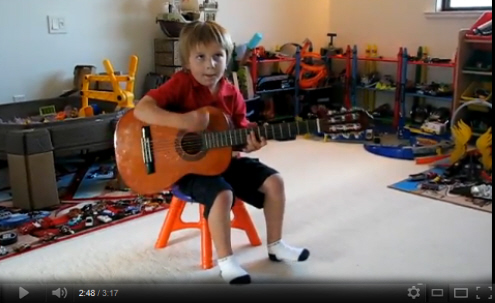 While he and his dad would play around with chords, what he really needed was a professional guitar teacher. They met with Will Schlackl, who said that he had never taken on a Five year old before, but after meeting Beamer, he was taken with his maturity and interest and agreed to give him lessons.
As he started to progress and clearly had a talent for singing, his parents contacted Lynn Ledier when he was eight,  a highly regarded vocal teacher who, after watching some of Beamers videos, agreed to fit him in to her already full schedule. Very quickly, his real talent for singing started to emerge as he learned voice control and started to sing classical and musical theatre.  She now says he has a three octave range, amazing for his age! He also started with a Second guitar teacher, Aaron Joyce, who continues to work with Beamer on any song that he wants to learn how to play.
Beamer also showed his talent for song writing when he was only seven. He left the dinner table one day, saying he'd be right back. When he returned ten minutes later, he had the first verse, chorus and music written for his first song which he called "In the Valley" inspired he said; by the beautiful area in which he lives.
His first opportunity to really show his growing talents also came when he was seven. An organization called "Our Kids Have Talent" had a yearly music competition for kids.  However, it was only for eight to eighteen year olds. But after seeing his first YouTube video that he did as an audition, they agreed to make an exception for him.  While he didn't place in the top 10, he won many hearts and was asked to open for the Gala event where the finalists all bid for the top prizes.  He was also invited to play at the Rarearth Music Concert, where he did a full half hour set and which was featuring some headline performers such as Buddy Guy. His set included another new original he wrote, called Flirt Alert.
Once again, he was a big hit with the large crowd in attendance.
Beamer went on to play in many other venues throughout the region, including coffee shops, yacht clubs, local festivals and country clubs and he kept adding new material along the way, including more originals.    In his second year at 'Our Kids', he placed in the TOP TEN, and then went on to win Best Overall Performance at the Gala.   Once again, he was invited to play a 20 minute set at the Rarearth Music Festival. He was also a semi-finalist in Vancouver at the PNE Star Showdown, competing against hundreds of kids from all across British Colombia.
Beamer not only performs, but he loves to interact with the audience as well. Often he will tell them some 'fun facts' about the song he is about to play, or throw in a joke about it. When he played "Pretty Woman" at Rarearth in Vernon B.C., he teased the crowd telling them that Roy was born in Vernon. He then let them know it was actually Vernon Texas! After posting the video of this particular song on YouTube, the managers of Roy Orbison's official website put it on their site, after getting special permission from Roys' widow.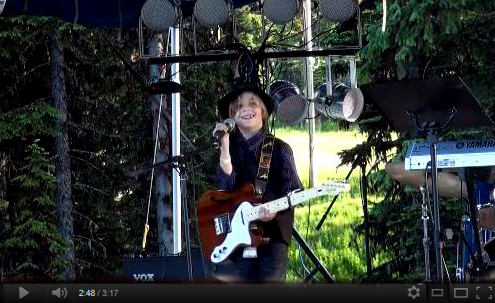 Last fall, he also competed for the first time at the Kiwanis Festival, where he won 6 first places in classical and musical theatre. He also won first place along with a sixteen year old classical singer in a grade nine duet of Pie Jesu.
Beamer got the attention of local media along the way and was featured several times in local newspapers as well as 3 live radio interviews on 2 different stations. When Canadian Country music star Shane Yellowbird came to town, Beamer was asked to open for him with a ½ hour set. The crowd loved him! Then he got yet another chance to open for a well-known Canadian Country music singer, Jaydee Bixby. Beamer's rendition of Elvis's 'Blue Suede Shoes' had the large audience cheering loudly!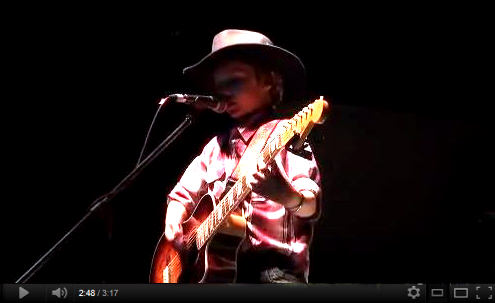 As time went along, Beamer continued to learn new songs of different genres, including country, pop and rock, and he amazes people with his ability to not only learn them fast, but to remember all the chords and words to so many different tunes. He has never used sheet music or a set list and never forgot a word or note!   He also says that he can hear music in chords, which makes it easier for him to identify what was being played and teach himself songs that he wanted to learn. In 2010, he was invited to play 'Oh Canada' at the local Canada Day celebrations. With over 2,000 people watching, he belted out his own country music rendition, and the crowd roared its approval.
He also was asked to play the U.S. national anthem at a major soccer tournament invitational.
More recently, he played a 5 song set at the WOW music night in Maui and he also wowed the crowd on the Disney cruise ship Wonder singing Adele's song, 'Rolling in The Deep'.
His latest performance was at the local Classic Country Music Night where he played 5 of his favorite country songs including John Denver's' Country Roads. It was also his first live performance of his newest original song that he wrote with his dad, called, "It Ain't Nothin That a BeerCan't Fix"!
Beamer often plays just for the opportunity, but when he does receive payment, he has donated most of it to 'Our Kids Have Talent', to help other kids who want to show off their own talents, but can't afford the entry fee. Last year that amounted to over $500.00.
While all of this music was happening in Beamer life, he also excelled in his school work. His first four years were in private school, where he was able to skip Grade One. He loved public speaking and won first place in all three years he competed.  Unfortunately, that school closed when he was going into grade four, and so he entered into the local public school system where he was quickly recognized for his academic abilities and was accepted into the gifted program, where he demonstrated that he excels in critical and divergent thinking skills. He has also always loved to read, which he does nightly with his Mom, as they shared the adventures of the Magic Treehouse and Charlie Bone series.
Beamers natural charm, good manners and laughing personality has always won him favour with those who meet him. However, in his first year at the new school, jealousies by a few of his male classmates started to impact his enjoyment at school and bullying became a serious problem. One of the ways he responded, was to write some songs about it, including "First Days", "Cruel Days" and one that he still performs occasionally , called "My Cavalry".
He was asked in class one day if he wanted to say something to those who bullied him, and he stood up and told them how it made him feel.  That stopped it for a short time, but the reprieve didn't last and he started in the home schooling program in Grade Five.
Beamer is the very youngest child in the family, with five older siblings, the next in line being twenty-one years older! So he's the only one at home but loves when the rest of his family, (including his seventeen and twenty year old nephews!) come for family occasions. Teasing and joke telling keeps the others all laughing!
Beamer loves to be on stage, whether singing and playing his guitar, singing classical music or acting.  Aside from music, Beamer loves to do magic, and building Lego is one of his favorite play activities. The larger the set, the better he likes it and he's able to assemble them in no time. He also likes to play with his collection of Nerf Guns or go shooting the real ones with his dad at the shooting range.
Beamer's hope is to one day become a successful musician and if he can work some acting in that would be even better!  In the meantime, he just keeps working on his music, learning new songs and adding new friends to his list of supporters on YouTube Channel.
I have no doubt that Beamer will fulfill his every dream. The charisma he demonstrates in his performances, personality, stage presence, and charm is enough to capture any audience's attention.
"Beamer, keep up the great work! Keep writing, performing, and making us smile! You truly have the potential to become Canada's next big country star!"
To learn more about Beamer visit:
You can also write to Beamer at:Â Beamer Wigley