Performing Is My Life! I love Keith Urban…. He's my Idol! He's the reason I do what I do! (Beamer Wigley)
Beamer Wigley was first introduced here last February and has had an extremely busy performance schedule since. Now that the summer has ended and Beamer is back in school, I thought this would be a good time to update everyone with what he has been up to! But before we begin we want to wish Beamer a Happy Birthday because tomorrow November 3rd is Beamer's Tenth Birthday!.Â
HAPPY BIRTHDAY BEAMER!
In March, Beamer was interviewed at home in his music room by local Shaw Cable TV. They discovered Beamer on his YouTube Channel and desired to do a 5 minute segment with him which aired many times over the following week. He also had had several feature articles written about him in local newspapers, including the front page!
Beamer performed for the 3rd straight year in the 'Our Kids Have Talent' competition, for ages 8-18. He first placed in the top 10, (the youngest to ever do so for the 2nd year), which included his rendition of "Eye Of The Tiger", by Survivor.
Beamer Performs "Eye of the Tiger"
At the finals, Beamer won 3rd place and a $500.00 prize, which he immediately donated back to OKHT, to put towards the entry fees for kids who couldn't afford them.
In the same month, Beamer competed at the Kiwanis Music Festival, where he placed first in all 7 of his competitions in classical voice, including one in German, and musical theatre. He also won a scholarship award in both categories and was asked to perform again at their Highlights evening.
Beamer Performs "It's Neat To Be A Newsboy"
In March, he won a spot in the Kelowna top 10 'Talented Kids' competition, which put him on the circuit to play in regional city and music festivals, including a number for various charities.
Beamers fans from Vernon B.C., who were part of a committee to win the rights to host a national hockey competition, (the RBC Cup for 2014), asked Beamer to write a song to be part of their presentation. He and his dad collaborated and came up with "It's Hockey Time".  Vernon won the hosting rights and Beamer was invited to the announcement ceremonies where he played his song as the opening. The song is now an official part of the RBC Cup and will be played often leading up to the competition.
Beamer's summer months were filled with performances throughout the Okanagan Valley, all by invitation.  On Canada Day alone, July 1st, he had to play in two different cities, following a night in another city where he performed two surprise songs for the first dances at his sister's wedding!
In August he was invited to play a ½ hour set on the main stage at the biggest regional festival, Peachfest, which was a very unique honour for someone his age.   In the same month and for the second year, he was selected as one of the top 10 semi-finalists from hundreds of video submissions from all across British Colombia, for the Vancouver Pacific National Exhibition "Star Showdown".  He went on to win first place in the kids division (up to 12 years old), which then allowed him to perform again two days later with the top 3 winners in the teenage and adult divisions.
He was also invited to sing 'Oh Canada' at the opening ceremonial dinner for Ironman Canada, in front of 2,500 athletes and families. He was so well received, that they asked him to do it again for the volunteer dinner a few days later for another 2,000 people.
Beamer went on to perform at some of the largest fairs in the region including the IPE in Armstrong, the largest in the B.C. Interior. His sets often were 45 minutes and he would play up to 13 songs without a set list or music. In September he also traveled to Ontario for an invitation to play two sets at another Fall Fair.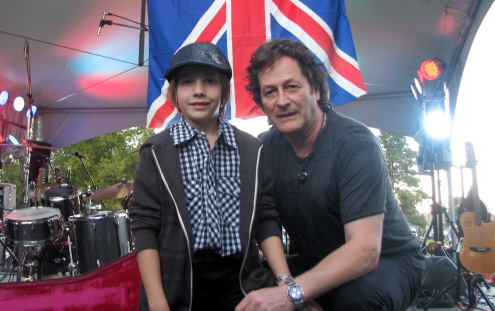 Beamer with Rocker Joe Burt (Click for live Performance)
Also in August, Beamer was given the great opportunity of opening for the British rocker Jo Burt, at the Back to Earth Music Festival on Aug. 25th. As part of his 1/2 hour set, he did his first performance of the Ozzy Osbourne cover, 'Crazy Train', which he taught himself for the occasion! It also was his first time using his new guitar, the Fender Jaguar, which he bought using gig money from this summer!
Beamer covers Jordan Jansen and Connie Talbot
This past weekend, Beamer performed at a TEDx conference, along with a long set for a charity telethon (Share-A-Smile Telethon) for a school that helps kids with developmental problems, as well as an evening tribute performance for a Canadian music composer.  One of the songs he performed was "Reach Out" a cover of a song written by Jordan Jansen, Rune Westberg & MoZella and performed by Jordan Jansen and Connie Talbot. Beamer was very proud to cover Jordan and Connie on this song for this worthwhile cause, and was delighted when Jordan replied with a positive comment on Beamers YouTube Channel and followed and Re-tweeted him on Twitter!
Beamer is also very excited that he has been chosen for a major role in a musical production of "Whistle Down The Wind", which will be on stage for multiple performances in late December. (Soundstage Productions see photo).
Beamer continues to learn new songs from different artists, his YouTube videos have prompted direct responses from three well known singers for covers of their songs, including Connie Talbot ('Sail Away'), Jordan Jensen ('Undercover Baby', and most recently, Colton Dixon, who put Beamer's cover of "Never Gone" on his own Channel!
Beamer covers Connie Talbot's "Sail Away"
Beamer loves to challenge his ever expanding vocal range as well as his guitar abilities, and continues to look for songs that do both. He loves to watch The Voice and XFactor, where he not only hears renditions of songs that he then learns to play, but also pays close attention to the judge's comments, so he can improve his own performances.  He is really looking forward to the new season of American Idol, because his own idol, Keith Urban, will be one of the judges!
Beamer performs live for Share-A-Smile Telethon.
He continues to take vocal and guitar lessons twice a week, continuing to astound both of his teachers with his ability to learn quickly and perform well beyond his age level.  He said when he was 5 that he wanted to grow up to be a musician. He is equally adamant about it now, as his love for music only gets stronger.
I think what I enjoy the most about Beamer is the confidence he shows on stage in his performances and then how polite and personable he becomes off stage. This boy has all the making of a real superstar and I have no doubts about prophesying just that!  You better keep your eye on Beamer because Canada is about to rock the world with another teen idol in just a few more years!
Keep the music flowing Beamer. I'm looking for great things from you in the near future!
To learn more about Beamer visit:
You can also write to Beamer at: Beamer Wigley