"I just love to sing, I can't help it! Nothing makes me feel the way I feel when I sing"
I first introduced Jack Cassidy here last April after his articles appeared on Stars2come and Theskykid.com. What captivated me most was the feeling Jack expressed when he sang his cover of the uplifting song "The More I Seek You".
His mother Krista told us;
"Even before Jack could talk, he was singing and capturing our attention with his rare talent. "He was 2 years old, singing in key with music. It was tough to pick up the words, but the melody was right on,".
Before long, Jack was singing in public. Whether in a leading role in a musical or as a soloist at a church service, his pure and soothing voice began captivating audiences around his hometown of Maple Grove, Minnesota, and beyond. Jack is now ready to sing for the world and recently launched his debut CD entitled " Be Still My Soul".
Be Still My Soul is a collection of inspirational and soulful songs, performed in such a way that it will uplift your soul and capture your heart.
Two-time Emmy winning producer Darren Rust, whose Skyland Studio was the site of much of the recording said;
"In my 20+ years as a producer and engineer, I've seen a lot of talented individuals come and go, but rarely do I get to experience true, raw talent from someone as young as Jack Cassidy. Jack has been blessed with a beautiful singing voice that is pure and sweet, and he possesses skill way beyond his years. I believe this young man's gift is truly special, and needs be shared."
Expert Instrumentalists!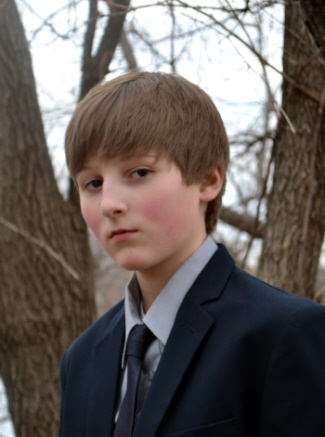 Powerful vocals require expert instrumentalists—and Be Still My Soul delivers, with an all-star lineup of accompanists including Jeanne Arland Peterson, Mary Beth Carlson, Brian Brink, Steve C. Anderson and Corey Wong. The Minnesota musicians accompany Jack on a collection of songs both secular and sacred, from standards like "What a Wonderful World" to the well-loved hymns in the album's unique Jesus medley (which includes heart-tugging vocals by Jack's 7-year-old brother, Connor) and popular worship music such as "The More I Seek You" by Zach Neese. Celebrated Minneapolis pianist Jeanne Arland Peterson, 91, plays on "Danny Boy", a song she played countless times for Jack's grandfather, Jim Cassidy, back in the 1950s through 1970s at variety shows and special events.
"Jack has one of those voices that you have to hear and see to believe. He hears harmonies and melodies in a way that can't be taught. It's exciting to see someone at his age sing so musically and pure. Some people are good, some people are great, and some are anointed. Jack is all three!" Guitarist/ Producer Cory Wong.
Getting Started
Jack took to the stage early, singing with the Cassidy Brothers—a popular Minnesota group of brothers consisting of Jack's father (Joe) and uncles—at the annual Cassidy
Family Christmas and St. Patrick's Day shows at Ascension Church in North Minneapolis. The shows also include mom Krista, grandfather Jim Cassidy, cousins, aunts and uncles. At age 9, as a Fourth Grader, Jack had his first musical theater experience in a lead role, as JoJo in a senior high production of "Seussical the Musical." Then came the title role in "Oliver" for two different community theaters, followed by more musical theater. Now Jack is a frequent soloist at his church, St. Vincent de Paul in Brooklyn Park, Minn., and also the vocalist for the Maple Grove, Minn., Angel of Hope chapter Friends of the Angel.
Looking up to singers including Michael Buble, Paul McCartney and Grandpa Jim Cassidy, Jack now says he wants to share his gift with others.
A Family Affair
Jack is the fifth of six boys, a prodigy whose musical lineage extends from his singing grandfather (to whom he dedicated "Danny Boy" on the album) through his singing
father, mother and brothers (all of whom he was reportedly entranced with when, at 2, he watched them nightly perform onstage in a community theater production of "Joseph and the Amazing Technicolor Dreamcoat.") The Cassidys sing together regularly in a family musical group at their church.
"We feel that music talent is a gift that should be shared,"
says father Joe. And the Cassidy's wanted to document Jack's voice at this point in time.
"His voice will change within one to two years, and we wanted to have something recorded as is today,"
says Joe, who says he feels inspired and calmed, hearing his son sing. As for Jack—he'll just keep singing. ""I just love to sing, I can't help it," Jack says.
"Nothing makes me feel the way I feel when I sing"
The CD
I recently received an autographed copy of Jack's Debut CD and I must tell you that every track on this CD is thoroughly enjoyable and uplifting.
Track One
The first track entitled "Bryan's Hymn (When I Turn To You)", by Bryan Duncan and Felix Edward is a beautiful melody that will draw you in. It contains a message…. a prayer spoken to God as a confession that only through turning to Him do we find the true meaning of life. The acoustic guitar accompaniment is masterfully played by Cory Wong and is a perfect song to open this CD allowing for Jack's tender vocal to be featured in a most effectual way!
Track Two
The second track is Jacks amazing cover of Zach Neese's, "The More I Seek You". This is the song that Jack first captured my attention with and will most likely be my favorite for some time to come. Special accolades should be given to Jack's mother for her backup vocals on this song. I was enchanted to learn that it was her beautiful voice blended with her sons that really made this a very special track and gift that will go on giving for many years to come.
Track Three
"Jesus Medley" is a culmination of four songs "Jesus Loves Me" (which features Jack's little brother, Connor), "My Jesus I Love Thee", "Turn Your Eyes Upon Jesus" and "Give Me Jesus". This is a specially pleasant and peaceful collection with wonderful piano accompaniment that masterfully accompanies Jack's angelic vocals.
Track Four
"What A Wonderful World" is a song that has been sung by hundreds maybe thousand's of vocalist from all over the world. Jack can be proud of his performance of this timeless classic which was arranged differently than I had ever heard before. There is no doubt that much care and thought went into this arrangement which did not take away from the original but enhanced it, making it even more beautiful and blissful.
Track Five
The title track "Be Still My Soul", is a song that has been presented in many a worship song book. This age old worship song was beautifully done by Jack. I love how Jack's vocal is enhanced by the piano accompaniment by Steven C Anderson, on this track. Truly Jack was blessed to have such wonderfully talented musicians working with him on this CD.
Track Six
"Standing on the Promises" is a song that I grew up singing out of the old worn out hymn book in a little Pentecostal church. This arrangement was very unique with its guitar solos and percussion by Cory Wong. Jack once again captures a wonderful song making it his own in this rendition of a great foot stomping and hand clapping worship song.
Track Seven
With the number seven being the Lord's perfect number, Jack closes out his debut CD with the old and familiar song "Danny Boy". Accompanied only by piano Jack sings this melodious song with the skill of a tried and true professional.
 To learn more about Jack Cassidy and to purchase his CD, Visit Jack's domain site by using this banner above or the links below.