John Vincent Orlando, better known as, "JohnnyO" is an amazing young man with not only great musical talent but has a wonderful personality and a charismatic character that shines through in every video he creates on his exploding YouTube channel.
Johnny discovered his love for music at a fairly young age. You will often find him dancing, singing around the house, or humming along to his favorite song on the radio. I'm told that very early Johnny showed signs of showmanship through his musical abilities. At the age of four, he saw a musician doing an acoustic performance, and decided he would wobble up to the stage and join him. The crowd loved him and thought he was adorable, and full of energy. He also gave frequent performances to family members, and eventually joined his school choir at age six.
Outside of  school activities, Johnny wasn't enrolled in any musical activates and music was only a casual hobby. However, when he received his first electric guitar at the age of seven from his mom and dad, he played it continually even though he had no real knowledge about the guitar. Because of the interest he showed, Johnny's parents decided to enroll him in lessons so he could receive professional instruction and grow musically.
During Christmas vacation (age 8), Johnny and his older sister (age 14) created Johnny's YouTube channel, putting up an acoustic cover to Justin Bieber's hit "Mistletoe." Johnny and his sister didn't really expect much to happen with the video, and just thought it would be a fun thing to do one afternoon. A few weeks went past, and the video had racked up a couple thousand views with many comments requesting more content!  Johnny's family was pretty surprised by this, but thought it would be a fun brother-sister thing to do, so they decided to continue.
Over the next few months, Johnny covered multiple songs from artists such as "Pitbul", "Lil-Wayne", "Far East", and even fellow Canadian singer "Justin Bieber". As he continued to cover songs, his fan base grew and so did his "viewers."  During this time Johnny enrolled in vocal lessons, guitar, and drums. Johnny's days were filled with, music, school, and hockey.
As well as music, Johnny has a talent for hockey, and enjoys playing multiple times a week with his team mates. Hockey was where the trade mark name "JohnnyO" was created. Many team mates called him this, and even family members and friends. So it was very fitting to have this as his YouTube name.
2 MILLION VIEWS AND GROWING
Johnny has now accumulated over 2 million views on YouTube Channel in just under one year. His most popular cover to date is Flo Rida's Hit "Whistle." Johnny's version of the song is G rated and more appropriate for a 9 year old to sing.
Johnny O's Version Of Whistle By Florida
 Johnny has made one original single called "Summertime," and is currently working on another one, that's coming soon! Apart from Music, Johnny love's sports, video games, and hanging out with friends.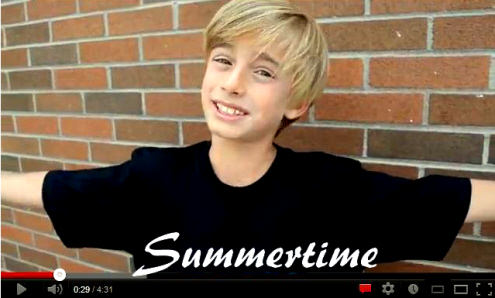 Watch Johnny O's Original Song
Johnny has many musical inspirations, such as Justin Bieber, Michael Jackson, Bruno Mars, and Usher. He enjoys covering these artists hit songs, and adds his own twist every time! One of Johnny's biggest inspirations is Justin Bieber, a fellow Canadian and former YouTube artist, which for Johnny is pretty cool since he's now such a big star! Johnny recently had the opportunity to go to his Believe Tour to see Justin perform alongside Cody Simpson and Jaden Smith.
CELEBRITY STATUS REACHED
Over the past few months, Johnny has gained many fans and even some celebrity attention. Ryan Seacrest chose Johnny's cover of "Boyfriend" as one of the top 20 out of 50 000! Johnny took this as a huge compliment, to be chosen out of so many! Ryan played some of Johnny's cover on his radio show, and pointed out his talent for such a young age. You can see that video here:
Some interesting facts about Johnny are, that he has Green eyes, blonde hair and is 4'4″. His favorite color is blue, and favorite food is pasta. He has two dogs, 3 sisters, and is from Toronto, Canada. Johnny's favorite sports are hockey, soccer, and snowboarding. Johnny also plays guitar, and drums which he likes to play very loudly!
Of all the videos that Johnny has created lately I enjoyed his parody of 'Goodtime" the most.  Not only did he show a real flair for acting in this video but I think his boyish charm and charisma really came through.  You better keep your eye on this boy, because there is no doubt that he has all the talent and showmanship needed to become a real big Hollywood star!
Best of Success JohnnyO we will be watching your career with great interest and expectation!
To learn more about JohnnyO visit:
Johnny also uses Keek and Instagram so be sure to connect with him there.