"I love playing the guitar, because I can express my emotions and feelings through the music that I play. This is the true reason that I decided to play music because it brought joy to me and to everyone around me."                                  Tallan Noble Latz

Watch Tallan Performs and talk about his career!
It's been some time since Tallan Noble Latz was featured here at Rivenmaster's Place. In fact, four years since his Blues in Tennis Shoes article published. While he has appeared three times since that first article, it's been far too long since we have been able to bring you a full update regarding T-Man's musical adventures and accomplishments.
Tallan, who just turned 15, stays extremely busy performing at festivals, performing arts centers and theaters across the Midwest. Tallan has also been headlining many charity events raising awareness and money for a number of organizations!
During the past four years Tallan has been honing his craft, working harder than ever to define his sound and guitar skills, and most importantly working on his stage presence. Tallan's performances have been dubbed a "Must See, One of a Kind concert event!" To maintain that status, Tallan always gives 110% at every performance which is the reason his reputation is spreading so rapidly.
Tallan's musical direction in the last few years has evolved from Blues to a more roots Rock, guitar driven sound. Tallan calls his music, guitar driven blues infused progressive rock and roll. This evolution has come very naturally to Tallan and everyday he evolves more and more into his own style and sound.
Tallan has worked hard to become the package that concert goers want to see. This has been made evident by Tallan being handpicked to open for many big-name artists. He has had the opportunity lately to open for bands such as: Kenny Wayne Shepherd at Buddy Guy's in Chicago, IL; The Los Lonely Boys at the Arcada Theater in St. Charles, IL. He's even been selected to open for some musical legends like BB King at the Bloomington Center for the Performing Arts in Bloomington, IL. In addition, Tallan opened for a legend that is no longer with us, Johnny Winter at Turner Hall in Milwaukee, WI, just a month before he passed.
Watch Tallan's performance opening for BB King
Tallan continues to light up many stages around the country and has enjoyed some long runs at a few major festivals. One festival being Summerfest in Milwaukee, WI, that is billed as the Big Gig. Tallan has performed on the big stages there every year, since he was eight years old.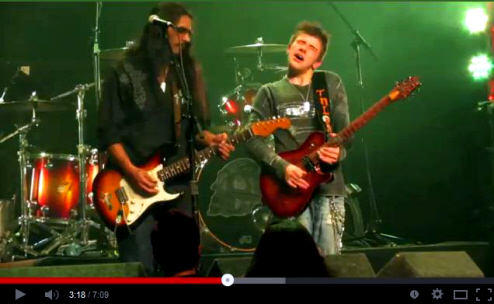 Tallan Performs Live with Los Lonely
For 7 years running, Tallan has become a staple at the Stevie Ray Vaughan Ride and Concert held in Dallas, TX, even co-headlining the festival a few times. Tallan always loves heading down to TX as it's one of his favorite places to play and he loves TX blues because of its grit and rock drive.
Watch Tallan laying down a few riffs before school!
Tallan is always looking for ways to help out the community and it is one of the things that is very important to him. Recently Tallan was the headliner for some charity events that help out the troops and veterans and their families. One charity is called Operation Care Package. OCP send weekly packages of goodies to the troops over seas, just to show them that people in the states always think of their sacrifice.
Tallan also did an event for the WI Fisher House. Fisher Houses are spread out across the country and are likened to the Ronald McDonald Houses. They serve as a temporary home for military families who have a member in the hospital. Tallan supports our military for their commitment to us and he does what he can to help and give back to all of them.
Currently, Tallan has been writing and gathering his ideas together, getting ready to head into the studio to work on his first full length CD. Tallan will have the privilege to work with some great songwriters and music producers for this CD project. After the CD is finished and released, Tallan has decided that he wants to give back to the community even more and will be donating some of the proceeds to charity.
Tallan has added a few more endorsement deals since the last time we spoke with him. New are Baudier Guitars from New Orleans and String Dog from Boston. They are added to a long list of companies that believe in Tallan and his future.
Tallan Noble Latz is truly making a mark of his own in the music world! We can't wait to see what the future holds for Tallan, and his career and you can rest assured that we will be ordering his long-awaited CD whenever that may become available.
For more information on Tallan Noble Latz please visit:
www.tallanlatz.com or call T-Man Entertainment at 262-745-7969
 Tallan's Social Media Sites: