Music is not a Hobby it's my life!        Beamer Wigley

Beamer Wigley has had some exciting things happen in his career since his last appearance on Rivenmaster's Place on July of 2013. In addition to his regular performance schedule throughout his home province of British Colombia, Beamer won first place in the 'Best Buy Demo Wars' for single vocalist.   Then last year in September just following his stage role performance in 'Whistle Down the Wind', he was cast as 'Gavroche' in the Soundstage production of the musical "Les Miserables" which opened last January.
Watch Beamer as Gavroche in "Les Miserables"
Since Beamer's introduction on this website, Beamer has really found his place as a young actor. His performance in "Les Miserables" has given him not only greater confidence, but aided in capturing the attention of many professionals in the acting, film and media arena.
Beamer Portrait Drawing by Hisana Yamada
In fact last October, Beamer made his first ever trip to Nashville TN, where he attended a music workshop and then performed in some local venues, including the renowned "Two Old Hippies" where he got to meet a V.P. from Big Machine Records, a real thrill for him!
Then in December he gained a lot of respect from the audience while performing outside for a Christmas light-up event. Although the weather turned extremely cold, Beamer did his full half hour set, persevering even when his fingers became too numb to chord his guitar. He handled it just like a pro switching to singing acapella for some songs, while allowing his hands to warm up enough to play again. The crowd appreciated his gutsy effort!
Beginning in February of this year, Beamer won yet another First Place in the Fresh B.C. Talent Quest Contest, playing a couple of songs including one in Japanese, best known as 'Sukiaki', which he learned as a tribute to a special fan from Japan who draws amazing portrait pictures of him. (See inset photo) Following that win, he was honored to be nominated for the inaugural 'Penticton Arts Council Youth Award' for ages 25 years and under. He was doubly honored when he won! Quite an accomplishment for someone 11 years old!
Watch Beamer Perform Live at BC Talent Quest
This past spring for the 4th straight year, he entered into the Kiwanis Music Festival and once again, placed first in all of his entries in musical theater and classical voice, including first class honors and scholarship awards. He also earned the top spot overall in musical theater to go on to the Provincial finals, where he also took 1st place in that category as well as another first place in "musical variety" competing against all classes.
In April, he made a special trip to Charleston S.C., where he performed alongside of his good friend and wonderful vocalist Karoline Rhett, in the 'Cooper River Bridge Run'.   Their stage was placed in a prime location near the center of the soaring bridge, as the 40,000 participants went by, many cheering for the two young artists!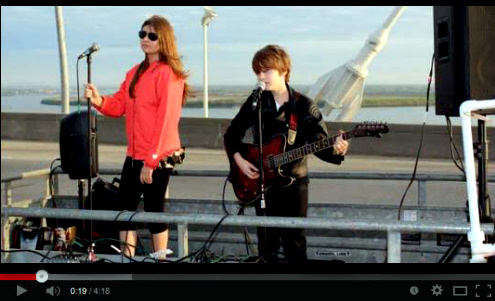 Karoline Rhett & Beamer in Charleston SC
Also in April, he was invited to perform the original song he had written called "It's Hockey Time" at the opening game of the National 'Hockey Canada RBC Cup'. That song had become part of the official bid for the town of Vernon to win hosting rights for the cup, and he was invited back to play it again at the awards ceremony, where he received a standing ovation!
In June, he recorded his first professional demo of 3 original songs, produced by Carly McKillip and her dad Tom. Carly and her sister are from the well known Canadian Country duo "One More Girl", and Tom is a highly regarded and accomplished producer in country music.
Beamer made his second trip to Nashville this past July, where he attended a two day musical boot camp performing two of his original songs at the final evening gala event. In addition he played more local venues, including a performance at the Opryland Mall for the charity, "Tunes for Tots".
Through all of these months, Beamer continued to perform at festivals and charities including the annual telethon for the OSNS Child Development Center.   He also was invited to play with the highly regarded "Westbank Country Opry Band". Beamer entertained the crowd with his Keith Urban , Brad Paisley and Hunter Hayes songs, receiving a standing ovation for his performance! Two more opportunities followed to play with this same group in other venues.
Beamer Performs Live at West Bank County Opry
Beamer's biggest news came in July this year, when he was signed to a management and agency deal with Jim Cressman , Invictus Entertainment and Big Star Recordings. This quickly translated into his first off-stage acting role as one of the main characters in the Hallmark movie "A Christmas Tail" which will air this fall on Movie Central.
Beamer stays extremely busy writing new songs and working with his new producers, while enjoying his new publishing deal for his music with Invictus.
 
Beamer Performs Live at Peachfest!
This month of September, Beamer was in Ontario performing three one hour shows at a regional fall fair. At the time of this writing He is currently in Nashville spending quality time with his new management team.
Beamer is excited and thrilled to be part of the Invictus Family and he's looking forward to a lot more to come over the next few years, as he pursues both musical and acting opportunities.
To learn even more about Beamer Wigley visit: