Spencer Kane
In what seems like just a short time since his first appearance on Rivenmaster.com, the music and acting career of 16 year old, Spencer Kane, has truly blossomed into a full time lifestyle. Since 2011, Spencer has been pursuing music through recording covers, original songs and posting simple to complex music videos on his YouTube channel. His fan base of a few hundred in his home state of Indiana has now grown to over 50,000 worldwide in over 75 countries. His music is readily available on all major online download sites like iTunes and Amazon MP3 as well as 30 other e-Stores. In addition, his first EP was released to retail Christian Stores nationwide in September for physical CD purchase for those who prefer to have an actual product in-hand.
He has performed at over 40 concerts since the summer of 2012 and is booked for two national tours beginning in 2014. Add a trip to the Dominican Republic with Food for the Hungry, filming two seasons of the award winning TV sitcom, "iShine Knect", and handling life as a student athlete in his home state of Indiana at a public high school, this kid is one busy young man.
Rivenmaster and Spencer visit at RemedyLive
Often traveling back and forth from Michigan to Georgia, I pass right by Spencer's home in Indiana. On one of my recent trips I was able to catch up with Spencer at the RemedyLive studio in Fort Wayne, Indiana during a shooting of an online television broadcasts. The people at RemedyLive were amazingly kind to me and gave me a tour of their studio. I also had the opportunity to visit first hand with Spencer and his Manager. Spencer, being the gentlemen he is, took time out of his busy schedule to talk with me and answer a few questions regarding his challenging life as a young artist and his work helping teens in crisis. Spencer exclaimed;
"I don't think of it as something hard to do. I really love creating new music and performing on stage. I love seeing and hearing fans respond to the message in my music. It's very humbling to receive letters from teens my age who contemplate suicide, attempt suicide or are in the midst of harming themselves through cutting. For them to tell me that my lyrics and message have helped them find hope and have the courage to stop harming themselves is both relieving and gratifying.Â
He went on to say,
"Many of the tweens and teens that reach out to me are bullied just like I was and it sort of makes us have this connection from artist to fan that keeps me motivated to keep doing what I'm doing. I know God has put me in a position to help people through music and I am just thankful that I'm blessed to have the support and care from my family and team that makes things happen in the industry".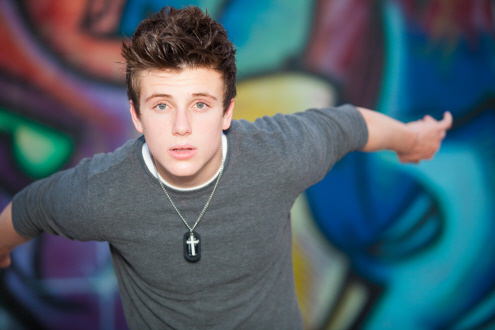 Spencer's management team has helped him log close to 40,000 miles on the road the past twelve months alone just traveling for shows, public appearances, filming the TV show, and recording new music. More importantly, he is maturing fast in his skills as a live performer, which really separates talent quickly in a world of Youtubers who are good behind a camera but maybe not able to hold the attention of a crowd in a live setting. Initially performing in small local venues, Spencer now draws several hundred fans at each show he headlines and has also won Best Emerging Artist at one of the largest music festivals in the United States, Lifelight.
"The goal for any young artist is to find their niche and work hard to develop it. Because most teen artists try to sound like an established and recognized radio star, you often get a lot of kids sounding the same or just like what's already on the radio," stated Spencer manager, Patrick Hess.Â

"What we're trying to do is help Spencer develop his own fan base for his own original music, and that's hard to do when fans are used to watching reality music shows which promote artists to do their best at covering other people's music. So Spencer has been busy this summer and in the past few weeks writing new original music for a new EP he will release in early 2014. The songs are still going to be positive and hope filled lyrics as he has done in the past, but his vocal skills and the styles of music are going to be a lot different than what fans have heard before."
Â
Watch Spencer's latest original music video entitled "413"
Spencer has had the privilege of being produced by some of Nashville most talented and award winning producers. Jeff Savage produced three of the five songs on Spencer's current EP "ONE OF THE KIND". Jeff has written several songs that have gone on to be nominated for Grammy's and been the producer on two Gold and Platinum selling albums that eventually received Grammy and Dove awards with artist Toby Mac. This fall Spencer will be recording with another great producer, Chuck Butler, whose credits include the number one hit "GOLD" by artist Brit Nicole as well as producing and writing music for the Backstreet Boys, Royal Tailor Band, and Brandon Heath. In addition, Spencer has expanded into collaborations with fellow Christian recording artists Jor'Dan Armstrong, George Moss, D-Tropp and Johnnie Rep.
Recently while shooting a video in New York; Spencer met with Bruce Owens of Good Morning Hudson Valley for an interview on Talk Radio WBNR and WLNA . Bruce generously shared his interview with Spencer for this article which we are proud to present now for your listening pleasure! [ti_audio name="Spencer Kane Interview" width="495″]
When not performing for entertainment, Spencer is still heavily involved in representing PACER Organization's National Bullying Prevention Center with his message of "BE ONE OF THE KIND". He travels to school districts in the Midwest to share his message with students from elementary and middle schools. He is also partnered with Skype in the Classroom which facilitates connecting instructors and speakers with classrooms all over the world. Spencer has spoken with students in Canada, France, Australia and the United States about the importance of being kind as well as what it takes to be a teen actor and music artist.
So what about school, sports, and the normal life a teen should have with friends and hanging out?
Spencer's school has arranged to allow him to complete his classes online and still qualify 100% for enrollment in any college of his choice, which he intends to do providing his career doesn't absorb all his time. As for hanging out, that's tough. He is on the road so much that he has to actually schedule free times with his friends in advance, which some don't quite understand. Either way, in the midst of all his busyness, Spencer still finds time to enjoy the simple things in life and laughing a lot. Just take a look at his VINE account and you'll see that he has no shortage of imagination and making fun of life's simple things.
In a recent trip to New York to record new music, Spencer had the chance to visit with Hudson Valley morning show host, Bruce Owen, and was able to finish an interview in studio that aired October 21 to local listeners as well as online. We have provided a copy of that interview for our Rivenmaster.com faithful readers.
To learn about upcoming concerts for Spencer, check out his official website at:
 spencerkanemusic.com and click the UPCOMING link.Â
The TV show iShine Knect airs every Saturday on TBN Network at 12:00 CST / 1pm EST. Â (Check your local cable or satellite provider for channel information)
For even more information about Spencer and to keep up on his concert dates and music releases be sure to visit: