"I'm so ready for this – I feel like I've been ready for this for years."
                                                                                            Sam Verlinden           Â
Of all the artists that have graced this site, Sam Verlinden is one of the longest and most featured talents on Rivenmaster's Place. Sam's first article ran on September 30, 2009, only a few weeks after the sites conception, and he shares the honor of being one of two artists who were featured nearly every day for an entire month.Â
Sam Verlinden has always demonstrated a vocal talent that exceeds his years of experience. He has amazed millions through his YouTube Site and excited audiences numbering in the thousands at outdoor concert events held in New Zealand. While the ocean is the only thing that has kept him from a recent visit to the United States his fame has not been hindered, reaching across several continents resulting in an ever growing fan base.  Â
Sam's last article published here was in 2011 not long after he performed at the legendary Parachute Festival on the Main stage. This performance really gave him a boost to his local fan numbers and set the stage for even bigger things.
Sam has never stopped working, performing and singing, and like most young singers grabs every opportunity to perform. There was also the move to College, (High School in New Zealand), which tripled the amount of homework that goes with that territory, as well as his active involvement in rugby. Saying Sam was busy would be an understatement when it comes to his everyday life activities.
Last year Sam began working with a NZ Producer who discovered him on YouTube, which led to Sam being offered a recording contract shortly thereafter. He has been working in the studio nearly every week on new material, and shared with me that he has been learning much. He not only has learned a lot about the record industry in general, but also has learned much about the process of creating an original song. This is quite evident in his new release "I Want Ya" which debuted for the first time today!
Â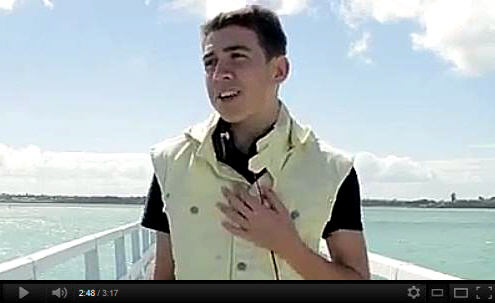 Sam Verlinden Performs "I Want Ya" New Original
 When asked about what went into the development of his new original, he replied;
"How it works is – the Producer usually builds a beat and then we collectively write the lyrics, which is something I'd never really done before. My mom always tells me because I'm good at English in school, I should be able to apply those skills – but it doesn't really work that way. But I'm learning and sharpening those skills – and sometimes the lyrics flow easily which is awesome. "
Over the past couple of years Sam was approached by various record labels, (including one from the US). The Record Label that Sam signed with is a local NZ Label who has a contract with Universal Music Group in NZ. A few months ago it was established which song Sam would release as his first single and it was mixed and mastered in the studio to make it 'radio-ready'.Â
Shortly afterward, he started working with a Film Director, talking through some concepts for the music video.  The Film Director worked very quickly and before long the concept had been developed, locations sorted, and a lead girl chosen! Sam told me that the team encouraged his creative input, but when it came to the video, he left the expertise to the professionals.
"I'm very happy with how it came out!", Sam exclaimed.
When asked if he would offer some advice to the younger talented kids who are just beginning their musical pursuits Sam left this advice.
"Take every opportunity you can to perform and showcase your skills, post on YouTube – and surround yourselves with good people you trust. Most importantly stay humble!"Â
 When asked what's next in his exciting adventure Sam said;
"Last week my Record Label boss was telling me that along with the release of my new single – would come a lot of hard work, promotional work, performance bookings and more recordings to follow.  And to stay humble!!  I'm so ready for this – I feel like I've been ready for this for years.  I'm also very grateful, grateful for the opportunity to work with a Record Label and Producer, grateful to all my awesome friends, family and fans and grateful to people like Rivenmaster who has supported young artists for many years and given them the opportunity to showcase their talents in a safe and supportive environment."Â
At just 15 years old Sam Verlinden has conquered obstacles in the music industry that others can only dream of. Whether it's performing in front of thousands at Christmas in the Park, taking on a lead role in theatre performances, presenting TV segments or appearing on national television to showcase his talent, Sam has been there and done that – with an impressive fan base and performance schedule to match.
The Rarotongan Dutch Kiwi's style blends together pop, soul and R&B and his musical influences include Justin Timberlake, Beyonce, Chris Brown and the late Michael Jackson.Â
Sam's love for singing started very young and over the years his talent has evolved into something else, with him being dubbed as New Zealand's equivalent to Justin Bieber. Uploading covers of his favorite songs has catapulted him to nearly 2 million views on YouTube and just over 3000 subscribers and supporters from both NZ and around the world – including a passionate fan base of Verlinators, Sammeisters and SamFan's.
Sam is mature minded and very motivated with his ultimate goal being to launch his career as a solo artist in NZ and expand internationally. With multiple social network platforms and his own website to work with, Sam has maintained an impressive following and is ready to take the next step in the music industry. Sam Verlinden is on his way to GREATNESS!!Â
Immediately after this article first published Sam made a live appearance on local Radio and Television. He did an acoustic version of his hit single 'I Want Ya" which you can view now! "I Want Ya Live Acoustic"
Sam also appeared on NZOWN , Juice TV's one hour Kiwi Music Show, hosted by Angelina Boyd. Watch Sam's interview below:
Sam Verlinden interview on NZOWNÂ

Â
To learn even more about Sam Verlinden visit: