Today, I am overjoyed to bring you one of England's most talented young stage performers and future singing sensation Rhys Yeomans!
Thirteen year old Rhys Yeomans started with Stage Coach at the age of 9 and then went on to train at Center Pointe, (both in England). There he learned all aspects of jazz, tap, modern and contemporary dance, but, in particular, focused on ballet and he soon started to win many local dance competitions.
In September 2009, after two years of training, Rhys was offered the part of "Billy" in Billy Elliot the Musical in September 2009 and then moved to London from Manchester to rehearse for the show.
Rhys played the part of "Billy" at the Victoria Palace in London's West End until April 2011 and loved every minute of it.  He logged in over 100 performances.
Rhys danced the Finale at the London production's 5th birthday and was voted the best Billy to perform on 29th March 2010.
Immediately following his run with Billy Elliot, Rhys began recording tracks with multi-Grammy award winning British record producer Kipper.  Kipper is best known for producing iconic recording artist Sting.
Rhys now has theatrical representation in both the UK and the United States.  He plans to continue with his acting, hoping to start working in film and television.
Not only is Rhys an outstanding stage performer, but also a delightful young man with personality personified! I asked Rhys to introduce himself to all of you through this video and the written interview that follows.  I know that you will be charmed by this special exclusive introduction, and encourage you to find out more about him by visiting his YouTube Site.
To Finish Reading this Article  and leave Rhys a comment Click Below!
THE INTERVIEW:
Rivenmaster: You started singing quite young.  Do you remember the songs you first knew all the words to?
Rhys: Yes Atomic Kitten – "You Can Make Me Whole Again".
Rivenmaster: Do you sing in the shower and around the house?
Rhys: All the time, everywhere! I drive my Mum mental – ha!!
Rivenmaster: Who is your favorite male singer?  Female singer?  Group?
Rhys: Female quite a few but has to be Jessie J right now, but love Rihanna, also. Bruno Mars is my favorite male singer and a close call between JLS and the one and only Black eyed Peas as groups.
Rivenmaster: Do you play any instruments?
Rhys: I play keyboard and I am just learning the guitar.
Rivenmaster: Are you excited to be working with Sting's record producer, Kipper?  How did the two of you come together?
Rhys: He is such an amazing person – really down to earth and someone who really makes you feel at ease – I was introduced to Kipper by Alan Field (part of my management team). Alan had worked with Kipper's good buddy and collaborator, Phil Taylor - the rest is history, as they say.
Rivenmaster: What was your favorite number in BILLY ELLIOT?  Why?
Rhys: "Electricity" because that is the part of the show that Billy really starts to shine and come out of his shell.
Rivenmaster: Did you ever get homesick having to live away from home for so long?
Rhys: Yes, terribly, but luckily my Mum moved down to London to be near me and to give me emotional support. After a while you just get lost in the schedule and training regime, however.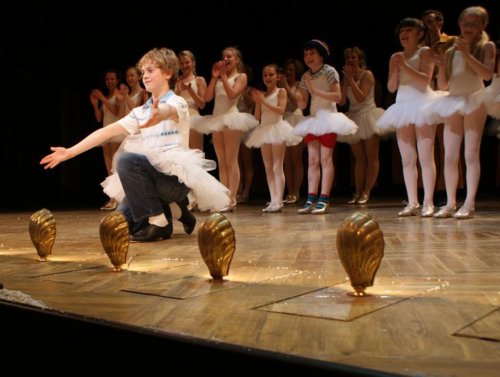 Rivenmaster: You acted, sang and danced in BILLY.  Which did you enjoy doing the most?
Rhys: I love to sing and dance, but the acting was great because I never had acted before. I had a great teacher Nick Evans, who was the Associate Director who taught me everything; he made acting seem so easy.  I owe him a lot!
Rivenmaster: BILLY was a very physically demanding role.  Did you ever get hurt performing?
Rhys: Quite a few times at the beginning because you are still building up your stamina, so you have things like pulled muscles in your legs, etc.  I did catch my fingers once in the hut (this is a part in Angry Dance) where you lift a lid up and then have to jump down a hole – then the hut rises but you have to be quick before it starts to move and lots of Billy's have trapped their fingers, but it's all about timing and thank God nothing major happened to me.
Rivenmaster: Do you miss doing BILLY?
Rhys: Yes, because it was part of my life for so long.  I miss the other cast kids, too – because you become a big family and back at home I'm an only child. I will treasure the memories and the experience for the rest of my life, I'm sure.
Rivenmaster: Do you want to act in films and television?
Rhys: I would love to.
Rivenmaster: Do you have a favorite actor?  Actress? –
Rhys: Actor - Leonardo Di Caprio and Actress – Cameron Diaz.
Rivenmaster: Do you have any brothers or sisters?
Rhys: No, I'm an only child.
Rivenmaster: Do you participate in or follow any sports?
Rhys: I love football and I'm looking forward to the Tennis starting.
Rivenmaster: What is your favorite subject in school? Â Least favorite?
Rhys: History and Drama are my favorite – least favorite is Geography!!
Rivenmaster: What is the most fun thing to do in Manchester?
Rhys: A place called Chill Factor is pretty cool – it's an indoor Skiing Place with Rock Climbing and Sky Walking – I like to go there during holidays.
Rivenmaster: What is your favorite kind of food?
Rhys: Chinese.
Rivenmaster: If you had three wishes, what would they be?
Rhys: To bring my Granddad Ged back to life (he passed away 5 years ago and I miss him very much), to be a successful recording artist and actor, and to never get old.
Rivenmaster: What do you hope to be doing when you are 18?
Rhys: Traveling the World performing to fans.
Rivenmaster: Do you have any nicknames?
Rhys: My Mum calls me "Rhys Roo" (terrible, I know) and Nick Evans, the Associate Director at BILLY, used to call me "Woody" because everyone called him "Buzz" – ha.
Be sure to see Rhys's New "Best Friend" video by clicking below!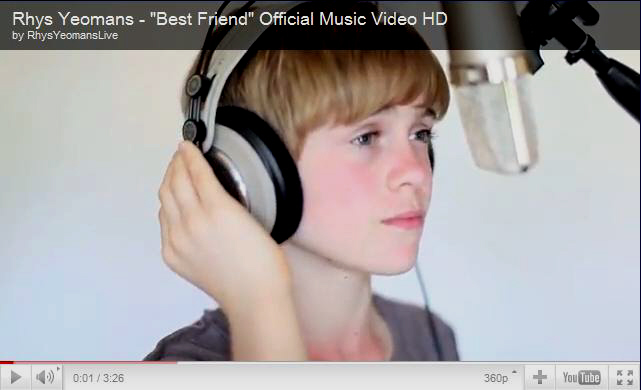 Rhys Yeomans has already made his mark as an outstanding showman on stage as "Billy" in "Billy Elliot the Musical and is well on his way to becoming a household name in the entertainment business.  With his wonderful personality, charming looks, coupled with his excellent vocal ability and performing talents Rhys Yeomans is headed for stardom!

Don't forget to leave a comment for Rhys and be sure to visit his [button_round color="blue" url="http://www.youtube.com/rhysyeomanslive"] YouTube Site [/button_round] for more Videos of his performance as "Billy" and for new songs which will be released very soon!