Rivenmaster's Place has featured so many wonderful young actors but I have not had the privilege to personally meet all of them. One young actor/dancer I was privileged to meet is Jay Jay Warren. I first wrote about Jay Jay back in January of 2012. He was still living in Texas at that time but has since moved to California to pursue his acting and dancing career.
I then visited LA the following year were I was privileged to sit down with him for an interview at the Hard Rock Café on City Walk at Universal Studio.
Like all young men his age he has really grown since I first met him and now stands eye to eye with me at 5'10". His young unbroken voice in now very deep and while he just turned 14 years of age Jay Jay auditions mostly for 15-16 year roles. Jay Jay begins his 9th grade year for home-school this year through Sunland Christian School.
Since Jay Jay last feature article, he was signed by manager Gregg Edwards and Paradigm, who currently represents him for acting. In addition Abrams Artists Agency handles his commercial representation. He feels so blessed to have this amazing team around him along with his acting coaches and mentors.
"They are the BEST" and work so hard for me! say's Jay Jay.
 Over the last 2 years, Jay Jay has booked co-star roles on NBC, CBS, and IFC as well as many short films. He has also booked 13 national and regional commercials.
You can see his impressive resume here.
His most recent commercial was the nationally run Nintendo commercial.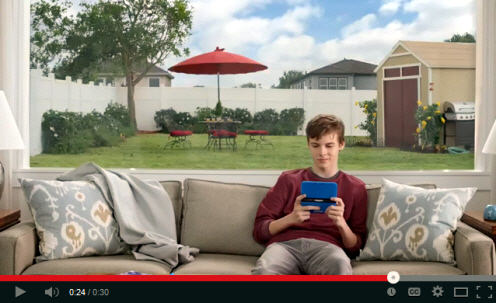 Watch Jay Jay in Nintendo Commercial
You would never know that Jay Jay filmed this commercial in pouring down rain and very cold temperatures. The structure was covered on the top with a tarp and the sides were completely open! (Oh the magic of television!)
Jay Jay also acted in his very first theatre performance last year, May 2013. He played Brett in the off Broadway production of "13 The Musical" produced by the wonderful Tricia Small and Liz Sarnoff (Executive Producers and writers at Fox) and directed by the very talented Sergine Dumais. While Jay Jay is an extremely profound dancer and actor, Jay Jay was challenged to sing in this performance! This was his first time to do that publicly and definitely something he thought he would never do! I guess you could say he overcame one of his greatest fears…singing in public!
This set the stage for him to do a showcase of the music of Stephen Schwartz, called "EXTRAORDINARY" with many of his "13" cast members.
Here is one of the songs:
Watch Jay Jay and Dillon Klena "All for the Best" from "Extraordinary"
Jay Jay has continued to dance professionally over the last two years booking two dance commercials one of them being the (coveted and highly competitive) international Domyos commercial.
In the Domyos commercial he got to work with the famed choreographer, Benjamin Millipied
(Black Swan and husband of Natalie Portman).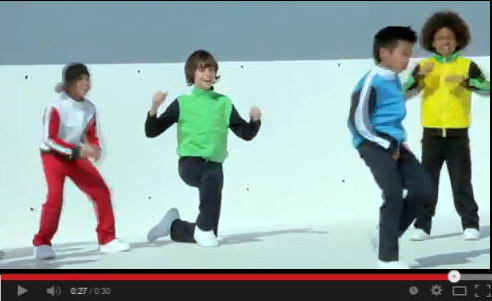 Watch the trailer "the making of the Domyos commercial"
Another dancing commercial that Jay Jay booked was the HEB commercial. HEB is a chain of grocery stores in Texas. In fact it is the grocery store that their family shopped at all the time when they lived in Texas. They laughed about that fact that HEB came all the way to LA to cast a Texas boy in their commercial. This was an especially fun job because Jay Jay got to work with another famous choreographer, Chuckie Kaplow, who is most famous for his work as choreographer and dancer in all the HS Musical movies.
Here is an M Ward video that Jay Jay was in as well. (Just in case you are not familiar with M Ward, he is the other part of the folk-pop singing duo "She and Him"- the she being Zooey Deschanel)
 
                     Watch Jay Jay in M. Ward's – Me and My Shadow
For a little over a year Jay Jay has developed a great passion for DJ'ing and producing. He went through the DJ and producing program at DJ Scratch Academy where he learned the basics and since then has flourished in this space.
He DJ's professionally for any type occasion and even DJ'd a recent underage party that he and his friend organized called "Section 99".
They both organized the entire event and even got Rocket Fizz to sponsor the event. They drew approximately 200 teens to the event. Jay Jay recently has begun to collaborate with other professionals for producing and mixing his own music. Just this past month he has been working in two of the largest studios in the country, (Westlake and NightBird), with mentors and other artists. Hopefully it won't be long before we begin to hear Jay Jay's original work in the EDM world. I will keep you posted!
Jay Jay loves the arts in all forms and works so hard at perfecting his craft. In a world where so many young actors are going astray, Jay Jay continues to have a strong head on his shoulders and remains very humble and grateful for his life and the fact that he has all of these awesome opportunities to pursue what he loves.
I for one continue to be extremely impressed with this young actor/dancer and now singing performer. I'm not sure what to expect next from Jay Jay Warren but I'm sure it will be Exceptional!
You can also check him out on his Instagram: jayjay.warren