I'm not really sure what was in the water in Australia about 14 years ago but there must have been a hidden ingredient that caused son's to be born into the world with a natural ability to sing and perform. Such great talents as Troye Sivan, Straalen McCallum, Cody Simpson, all of which have become personal favorites of mine.Â

Today however, I want to bring to you a 13 year old Aussie who while yet unsigned is beginning to make ripples in the ocean of talented young male singers. His name is Jack Vidgen and if you have not yet heard this young treble singer, fasten your seat belt and turn up the volume while you listen to these samples featured on his domain site and placed here for your convenience.
[ti_audio media="1002″]
Jack's Mother Rachel informed me that Jack has been belting out tunes since he was just three years of age. Enhancing his pure raw musical talent, Jack has been receiving professional vocal training for the past three years practicing at least two hours a day. Jack is proficient in not only his vocals but is quick to pick up on a variety of styles and has the ability to make the songs his own using some of his personal singing techniques.  While Jack can sing just about any genre his passion lies with R&B/Soul music and if you listen to his samples above you will quickly hear how he pours himself into these types of songs.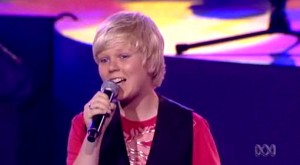 While enjoying much success over the past few years, 2010 was a banner year for Jack with winning performances at a variety of venues. His website boasts how Jack was awarded Rotary Club's "Young Musician of the Year" and performed at their annual awards night. In addition Jack helped in raising $50,000 by performing at the annual fundraiser at International College of Management; was a Simi-finalist in the Star Search competition and was also involved in recording the title song for the musical "Kick". If all this was not enough Jack performed as a solo artist in Northern Beaches Secondary College "On Show", won the Warringah Eisteddfod Junior Vocal Championship, successfully auditioned for the NSW Talent Development Program and was a featured artist in the NSW Schools Spectacular.
Recently, Jack successfully auditioned for the Australian Casting Crew being considered for Cirque Du Soleil, Canada and was also invited to perform as a featured artist by Multimarathon Multi Charity at their 2011 launch.
His most prestigious and memorable televised performance last year of course was at the Sydney Entertainment Center where he performed the song "True Colors" in four different performances to a seated audience of over 12,000 for all four performances.
Due to Jack's video for True Colors being removed I have just appended this publication with an updated video of Jack's Latest Performance on Australia's Got Talent! Enjoy!
What will 2011 bring for Jack?
This year will also be exciting for Jack having been asked by the previous Producer/Director of Opera Australia Stuart Maunder, to perform at the upcoming Hat's Off Concert in February. Jack will share the stage with some very well know Australian recording artists singing a solo spot. He is also most excited about being chosen after an audition process, for an upcoming Australian reality TV show which is yet to be announced.
So whether it was in the water, food, gene pool or just God giving talent that was poured out upon Australia, one thing is evident Jack Vidgen received a double portion. You can almost be assured that this is only the beginning of great things that will come our way from this outstanding young performing male vocalist.
Jack turns 14 on the 17th of this month so be sure to visit one of his sites and wish him a Happy Birthday and congratulate him on his outstanding accomplishments.