Music is my Life! Griffin Tucker
Surfing YouTube is a favorite pastime for me and I'm always excited when I stumble upon a new talent that causes me to take a Double Take.  In the case of Griffin Tucker, it was a full hour of watching all his YouTube videos and searching to find out more about him; and when I did, I just had to share his story with the world!  I was happy when I quickly heard from Griffin's mom and even more delighted when she agreed to share his story with me.
Griffin Tucker is an 11-year-old emerging artist who eats, sleeps and breathes music. His mother tells me that Griffin's love for music began at a very young age.  In fact, Griffin says that he remembers loving his still favorite band, The Beatles, when he was just 3 years old!
At age six, he taught himself to play drums by watching his Beatles DVDs and closely studying Ringo Starr.  At age eight, he took a few months of piano lessons and soon mastered that. This led to a new love, the guitar, which was followed by the bass guitar, and of course, singing.  Griffin not only can sing but exhibits a three-octave vocal range with perfect pitch.
His talents are brilliantly demonstrated in his music video, a cover from his favorite band, The Beatles.
Griffin, The One-Man Band Performing "Help"
His talent landed him in his first band, Run For Your Life, a Beatles tribute band at the age of 8.  RFYL has played many venues but they love to brag about playing at the Granada Theater for a record four times.  In fact, The Granada called them "The best Beatles cover band under the age of fifteen".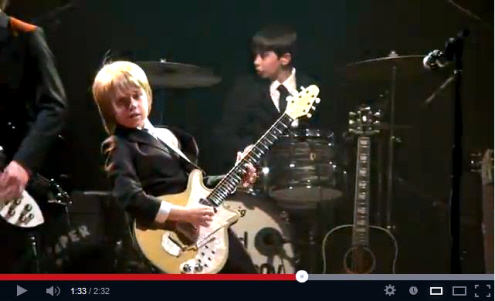 Griffin On Stage at Granada "Roll Over Beethoven"
Griffin also loves to act and has been featured in Dallas Summer Musicals performances of Willy Wonka and the Chocolate Factory, where he played Charlie, as well as, the lead role of Aladdin in the play by the same name.
Griffin was also invited to Nashville (last summer) and to Anaheim (this past January) to play for his guitar endorser RS Custom Guitars at the legendary NAMM show.
Texas Top Ten Under 20 Guitar Players Competition
He was also featured as the youngest musician on the soon to be released Beatles documentary 31 Days: The Beatles First American Tour.
If all this talent and activity is not enough for an eleven-year-old, Griffin just debuted his first original song called "Girlfriend" yesterday on Valentine's Day!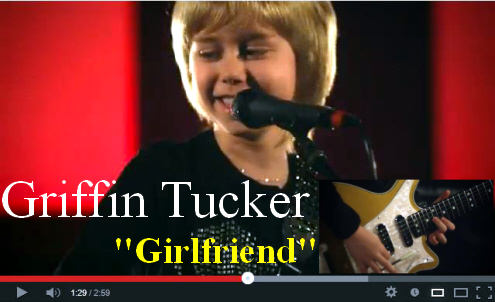 Griffin Tucker music video for original song "Girlfriend"
Griffins' music video has received more than four thousand views in less than three days and continues to climb at an amazing rate!
Griffin loves to talk about this project that he is super proud of:
The name of my first original is Girlfriend. It's a great pop rock song and is very catchy and fun to sing. I wrote and played the two lead guitar solos, and my mom and dad wrote the lyrics.
Griffin's appeal is far reaching! His followers range from girls to grandmas, from fans to professional musicians. Griffin's looks and talent are unmatched and everyone who sees him perform is blown away by his star quality and stage presence!  There is no doubt that this boy's future in music will be filled with excitement and success.
GRIFFIN FACTS
Griffin shared a little of his time to answer some questions for this article:
Rivenmaster: Do you see yourself as a solo artist or a band member?
Griffin: I mostly play with my band. I am their drummer & sometimes guitarist. I also sing quite a bit in that band. I love to sing lead, as well as,  harmonies.  But my solo career is starting to take off so that's really cool.
Rivenmaster: What is your goal for your music career?
Griffin: To become a rock star and make music for as long as possible.
Rivenmaster: How many guitars do you own?
Griffin:  I currently have twenty guitars!
Rivenmaster: Do you have a favorite guitar?
Griffin: My new golden girl; she was custom built for me, so she is one of a kind, made by RS Custom Guitars out of Nashville TN (USA).
Rivenmaster: Do you have other instruments?
Griffin: Yes, I have 1 bass (a Hofner, like Paul McCartney plays), 3 drum sets (1 is a Ringo Starr kit by Ludwig), a piano and a keyboard.
Rivenmaster: Who are your favorite bands?
Griffin: The Beatles, Queen, Led Zeppelin, Kiss, ACDC, and Aerosmith.
Rivenmaster: Do you have any guitar idols?
Griffin: Brian May of Queen & Jimmy Page of Led Zeppelin.
Rivenmaster: What other instruments do you play if any?
Griffin: I also play the ukulele. Ohana Ukulele gave me one when I met them at Summer NAMM, which was so amazing. I also want to learn the Mandolin.
Rivenmaster: Where do you see your career heading?
Griffin:  I just want to play music, but since I am still young, I think it would be cool to have my own show on TV. That would rock! And I think I would be great at that.
Rivenmaster:  What else would you like for people to know about you?
Griffin: I love school and make straight A's. I also love swimming, soccer, and speaking in a British accent!  I really want to go to England and see all the cool stuff there.

From the moment I saw Griffin's Help video I became an instant fan! It's easy to predict that the world will be hearing the name Griffin Tucker a lot more in the future!  Keep up the great work Griffin and keep the tunes coming!
If you would like to know more about Griffin Tucker visit: