After earning over 2.4 million hits on YouTube, the singer songwriter duo Adrian and Julian are on the eve of the release of their first album "End of the Night". With the master in final preparation for duplication, the new album will be shipping shortly. The 17-year-old identical twins have been working on their collection of upbeat originals and crooning love ballads for over 2 years.
Blackberry Jam Changes Band Name to Take2
After nearly a year of seemingly endless deliberation, Adrian and Julian finally decided to change their band name from Blackberry Jam to Take 2.
According to Adrian,
"We're turning 18 soon, which means we'll be adults and we want to have an older feel to our band name."
In addition, they wanted a band name that would better emphasize the heart of their existence, being identical twins. Since childhood, the two brothers have been completely inseparable. They like the same music, have the same friends, earn the same grades, and barely ever disagree.
Boys explain name change
Julian said,
"Sometimes we'll be on opposite sides of campus and we'll meet up and we'll both be singing the exact same song, on the exact same beat. It's weird. As identical twins, we have the exact same genetic make-up and we're best friends. The name Take 2 just fits us better."
Album Production
Throughout the summer, Adrian and Julian have been making trips to the eclectic recording studio, located in the top turret of a historical armory building. In the old wooden-trimmed studio, they would lay down album tracks with two accomplished session musicians and audio engineers, JJ Beck and Sam Clement. The twins would write a song, play it for JJ and Sam, then together they would figure out the arrangements. After many months and endless trips to the studio, 7 of the 10 album tracks were mastered. Julian said, "It was really awesome to work on the album with more accomplished musicians, to develop the tracks. They contributed great ideas and licks to the mix."
Take 2's entire album was paid for by revenue the twins earned from playing live gigs at local schools here in Vermont. According to Adrian, "I'm really proud that we were able to earn enough to pay for the album ourselves. We're going to have a huge sense of accomplishment when we finally see those CDs for the first time! Very few people we meet have a real understanding of what it takes to complete an album. It's taken us 2 years of persistent work to get End of the Night launched – a lot of work, but a lot of fun."
Â
New YouTube ChannelÂ
Mark your calendar and tune in every Friday to kick off your weekend with a funny and musical video from Take 2 at their New YouTube Channel.
The twins will be continuing to post videos on their Original Blackberry Jam Channel where they will post live footage from gigs, extra footage of VLOGs, "Making Of…" videos, and fun stuff.
Adrian and Julian have stepped up their YouTube video release schedule with more VLOGS, covers, and music videos. They've been consistently launching a new video every Friday night – doubling their previous schedule of bi-weekly postings. The more aggressive weekly release schedule is planned to continue throughout the coming year and they've even put some more theatrical videos into the mix.
                 Here's Take 2's first new video release "Friends"
Fly Away Theatrical Video – Launches October 10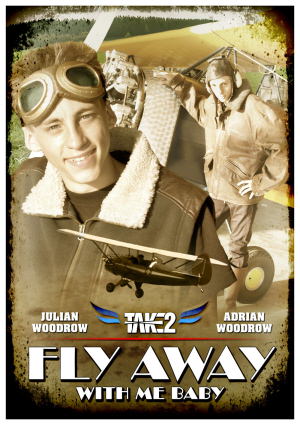 The first song they wrote was a harmonic ballad called "Fly Away". Check out their first original live video, recorded underneath the birch tree when they were just 14 years old.
Now at 17, they finally decided to formally record "Fly Away" and release it on their debut album, "End of the Night". And since this was the first song they ever wrote, the twins wanted to make a really unique video to celebrate the launch. With a visit to their Grandfather who lives near a tiny grass airplane landing strip — they decided to use their Grandfather's airplanes and shoot a "period piece" set in the 1940s. The twins play pilots who meet two lovely girls, court them, fall in love, and then unexpectedly get called off to war. The film-style music video will be released in black-and-white, and includes reenactments of 1940s scenes. Watch for that video to launch on October 10th on their YouTube Channel.             Â
Â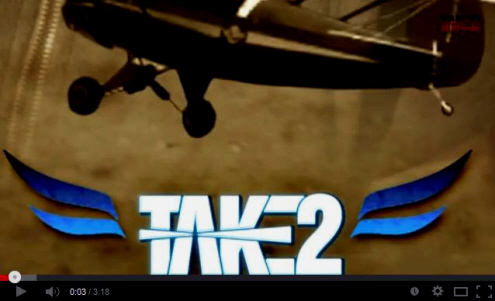 Exclusive Video Sneak Peek of "Fly Away"
 Global Collaboration Projects
Adrian and Julian have always appreciated their large international fan following. It is their preeminent goal to tour overseas throughout Europe, and they want to connect more with their fans. So over the next 12 months, they will launch a number of global collaboration video projects and invite fans to participate from both sides of the ocean. The first collaboration project just launched, and it's a lyric video for twins from around the globe. Twins are invited to shoot a video clip holding up a lyric line from Take 2's new song "Keep me Dancin".
Please encourage any twins you know to join the fun! Just forward these video links.
Watch to boys sing "Keep Me Dancing" and then….
Get the Album
Don't forget to pick up their new album "End of the Night", which launches shortly at their website: Take2 Official.com
For more about Take2