Since first discovering the exceptional vocal talent of Anthony Gargiula of New York, I have been following his career with great interest.
I first saw him singing the National Anthem at the Belmont Stakes in 2008, where he captured the heart of America with his amazing performance!
He debuted on this site in July of 2010 and I authored an article on Theskykid.com, just a few months later. That feature article included a personal interview which was also aired on TheSkykid.com Radio. You can still hear that interview using this archived page on Skykid's site!
Of course Anthony has since been featured in a couple of updates which covered his performance for the Nascar Sylvania 300 and his last update where I mentioned the release of his Amazing Debut CD "Finally Done".
Anthony has amassed literally millions of fans which got a boost from his appearance on Ellen DeGeneres and his interviewing of the 2008 American Idol Contestants when he was only eight years old.
Now over three years later, Anthony is still dancing and singing his way into the heart of everyone who hears him. His dad reported that 2011 was an amazing year for Anthony and he proclaimed that 2012 seems to be continuing in that same direction.
In March of 2011, Anthony returned to Madison Square Garden to sing the National Anthem for the NY Knicks again. He also sang the Anthem for the second year in a row at the Major League Baseball Hall of Fame Induction in Cooperstown, New York. He is still the youngest singer to ever sing on that stage and the ONLY singer to be asked to sing the Anthem two years in a row.
There were many other local performances but the big news of 2011 was his three trips to Nashville. In July, Anthony went to Nashville and met with some record label executives. They liked him and his new original music so much, that they asked him to come back. Last August he returned and met with the record label again and performed four of his original tunes. For three of the songs he accompanied himself on piano but for one of them, his brother, Louis, (15) accompanied him on guitar.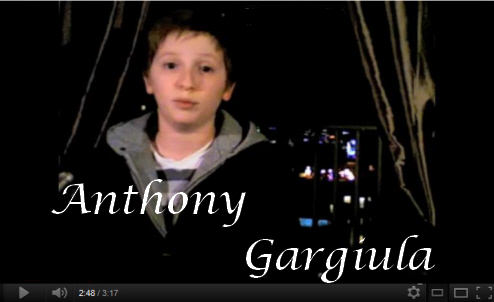 The highlight of the Nashville trip was when Anthony performed one of his new songs at the "Blue Bird Cafe". The Bluebird is a very famous venue in Nashville. Anyone who is someone in the country music world has performed there in their early years.
In July 2011, Anthony's team held AG Dance Crew auditions again to "restock" the dancers who perform with Anthony during his stage performances. They added two incredible dancers to their already amazing group. The biggest event of 2011 was when Anthony and the AG Dance Crew were asked to open up for former American Idol contestant and country music Diva, Kellie Pickler at the Fonda Fair. Kellie has been a long time favorite of Anthony's ever since she was on American Idol, so having him open up for her at one of her concerts was so much fun. After the concert, Anthony signed autographs for an hour. Security actually had to ask Anthony and the fans to step to the side because Kellie was ready to come out and perform. This just goes to show the popularity that Anthony has acquired and the excitement generated by his performances.
The end of 2011 was filled with many performances at fairs, schools and local venues in the New York area.
2012 started with Anthony playing Lieutenant Branigan in his Middle School's production of "Guys and Dolls". He also performed at the Center for Disabilities Telethon for the fifth year in a row. Coming up, Anthony will once again be at Madison Square Garden singing for the NY Knicks in March, a performance with the AG Dance Crew in February at a local mall for a winter festival, and many other performances on the horizon. Anthony is already booked at four fairs in New York State for this summer and hopes to start recording some of his new original songs in either Boston, Nashville or New York City in the very near future.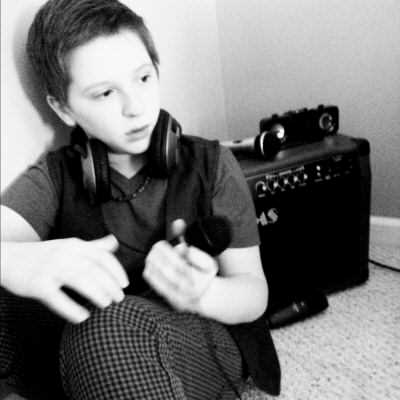 On April 29th, the day before Anthony's 13th birthday, he is spearheading a "Bowling Against Bullying" event in Latham, New York. It is the second annual event. Last year he raised and donated $400 to anti bullying charities. This year with the help of corporate sponsors, his goal is $10,000.
If you would like to donate to this event you can make a check out to:
Bowling Against Bullying
PO Box 433
Glenmont, NY 12077.
For more about Anthony visit: