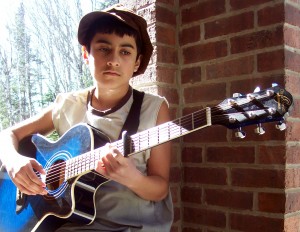 Most treble connoisseurs have heard of Elie Dupuis from Quebec Canada, but today I would like to introduce to you another Canadian from New Brunswick, who is making waves throughout Canada and starting to capture the media's attention with his beautiful treble voice.
Alan Hall, formerly from England UK, demonstrates a soulful folk/pop sound that not many boys his age are able to master. In fact while most youngsters his age are singing songs by Black Eyed Peas, Michael Jackson, and even Justin Bieber, Alan lists Bob Dylan, John Denver, Simon and Garfunkel, and Andrew Lloyd Webber as his greatest musical influences. Moreover, he is privileged to have Roger Glover of the rock band Deep Purple as a personal friend and even greater influence helping him develop into a real upcoming star.
Alan began his singing career with weekly vocal lessons at the age of just 5 with opera singer Patricia Varley, in London, UK. Alan's mother told me; that she can often hear her voice through his.  Alan also furthered his musical skills with weekly guitar lessons with Adrian Morris, a UK level 6 guitarists. With Adrian as his instructor, Alan leaned to play guitar and sight read a wide variety of musical styles including but not limited to, Baroque, Flamenco, Blues, and Country.  While working with Adrian, Alan began to sing along to songs like, Cheating Heart, This Train, Love me tender, Country roads, and Blowing in the wind. Alan has performed at school functions both in the UK and in Canada, some of which we has been recorded. He also sang at a Ceilidh (an informal social gathering at which there is Scottish or Irish folk music and singing and folk dancing and storytelling) at a Highland Games a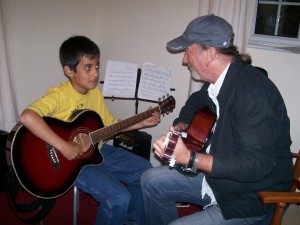 nd at a Country Fete.

Roger Glover of the rock band Deep Purple, a close friend of the family, has been a great encouragement and influence to Alan, since he began playing and singing.  Recently while commenting on one of Alan's performances Roger said; "Your pitching is spot on!  Also, writing songs is a big step and takes real courage, nice poetic words – well done." Alan has had many short jam sessions with Roger, who has passed on to Alan great little snippets of advice. He has also invited Alan backstage at some Deep Purple concerts in London UK. HOW COOL IS THAT?

On the sportsman side, Alan has been practicing Judo for 7 years, and currently holds a green belt. He has also started training in Olympic Wrestling and recently was awarded his Swimming Bronze Award (lifeguard).

Alan enjoys watching movies and lists his favorites as Avatar, Without a Paddle, and especially enjoys old comedy like Laurel and Hardy and The Little Rascals.

Currently, Alan has recorded three original songs, and he is in the process of recording three more as this article is going to press. His first three songs "Annie", "Loves White Star" and Purple Ties are already available on iTunes and CDbaby and CBC Radio 3.  Purple Ties is a reference song dedicated to Roger. His new three songs which will be available very soon are: "Shoes", "Silly Little Thing" and "She Thinks Too Little".
I was just informed that a local CBC Radio Station has requested an interview with Alan, after listening to a song sample that they were sent and are currently working out a time slot for that interview to be aired.

To learn more about Alan you can visit his Domain Site and don't forget to check back here for more updates about this wonderfully talented young treble singer. You will also soon hear Alan sing on The Skykid.com Radio and perhaps even a forth coming interview right here by yours truly.
**********************************************************************************

"I say without reservation that Alan Hall is a star in the making, and I guarantee you will be hearing lots more from him in the future!"
………………………………………………………………………………………………Rivenmaster
If you missed this article as it was published to TheSkyKid.com Radio I offer it here now for your convenience. Please visit us on the radio each week to hear more from these young stars and many more who are introduced and have their music played each week.

***************************************************************************************************