While searching for new young talent last month I came across a Dynamic Duo that astounded me!  These two boys, who incidentally call themselves simply ….*"2….. – "2 Boys",– were writing, producing, and performing some of the best pop music I have ever heard.   There upbeat sound, perfect pitch, and awesome harmony blend made me an instant fan and supporter.
Marcus (13) and Sondre (10) two brothers from Norway are most likely the most up and coming young pop group to hit the stage and are becoming all the rave in Norway and now internationally.
Last year the boys participated in the MPG JR Norway Contest, and carried their performance all the way to the finals. This experience gave them an even greater appetite for performing and soon thereafter began working on their first CD which was just released this past June.

 
Their CD which heralds the message to just "Be Yourself", can be purchased at CDON.com, I-Tunes, and, Platekompaniet.no.  Both boys contributed in the lyrics and melody for 6 of the 10 songs on the CD.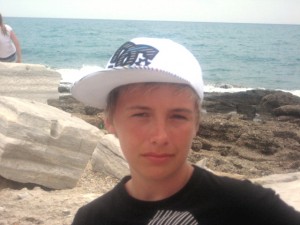 Marcus was born July 14th, 1996 in Norway. His Father told me that even as a newborn; he was an active boy who showed very early signs of showmanship giving performances at home in their living room. Â It seemed that the more family and friends would gather the greater performance Marcus would give. By the age of seven he was already singing solos and doing stage performances like a pro. His clear sounding voice and stage presence was a real crowd pleaser. Marcus soon began lessons with a vocal instructor and also benefited from his enrolment in St. Michael's Boys Choir where he performed many solos.
Marcus was also very interested in theater and at 8 years old enrolled in Sandefjord Theatre Association.  This gave him even more experience being awarded many roles in stage productions including; The Sound of Music, The Magic Flute, Snow White and the Seven Dwarfs, Christmas of Prøysen Land and Putti Putti Plott.
Marcus also participated 3 times in Youth culture making it to the regional finals each time. Last year he received a scholarship for his singing talent, and using his song writing skills brought both he and his brother to the finals of the Junior Eurovision Song Contest with his original song "You and I". This proved to be extremely successful for the boys and made them an overnight sensation.
Marcus, an excellent student with high marks in school is a proficient guitarist and has just started learning keyboard.   In 2009 Marcus and his brother appeared on Norway's Got Talent with only their guitars singing another original song "A World" followed up by yet another performance this year which has brought them further recognition.
 

As each month passes the boys receive more and more requests for concerts and live performances. While this article is being written, the boys are appearing nightly at a large hotel in Norway.  Television and Radio appearances are becoming the norm for the boys and their fame has now reached well beyond Norway to the US and Europe.   On July 26th they will perform on TV2 for the program "Summertime".

Marcus loves music and dreams to work with music full time as an adult.
Sondre, the younger of the two brothers was born August 8, 1999 and was quick to follow in his brothers footsteps.  His dad expressed that when the boys were very young they would often quarrel about who should have the microphone and sing lead for their living-room performances. Consequently this resulted in the first microphone being broken and dad had to invest in two new microphones to give equal performance time.
Sondre, in contrast to Marcus is very interested in sports and enjoys playing soccer and skating.  Notwithstanding, singing and theater remains his focus and prime interest.
Like Marcus, Sondre also attends Sandefjord Theatre Association and began his acting career at the young age of 6 years old.  At 9 years old he was the youngest ever to capture the Sandefjord talent award. He also was enrolled along with his brother at St. Michael's Boys Choir which helped him further develop his vocal skills.
Sondre began playing guitar when he was 8 years old and is also learning keyboard.
Sondre has a unique natural singing talent with an incredible lung capacity.  He masters a song using good breathing techniques producing a pure treble sound. He has a great ear for tone and is able to sing in near perfect pitch for both his lead and harmony parts. This year Sondre participated in Youth Culture for the first time and went on to the country finals.  Sondre's is also natural born dancer, and while he has never had professional lessons, he is often asked that question by those who have witnessed his live performances on stage.
Since Sondre's participation in the Melodi Grand Prix Junior Final with his brother, they continue to receive great feedback from everyone that works with them both in the studio, and the media.  In fact this year they performed on "Good Morning Norway" and caught the attention of thousands of viewers which I'm sure has helped their fan base to grow exponentially!
 
I would like to close this article with a quote from their father Tommy who exclaimed:
"What makes it especially enjoyable having two sons who both sing, is that they have an incredible respect and support for each other.  One might think that there would be disagreements between them but this has proven quite the opposite.  In contrast, they share each other's joy in every accomplishment and success.  This excites us as parents and brings us great joy and pride to support their every effort to fulfill their dreams both together and individually."
I too am honored to have met this wonderful family and predict that "2 Boys" will be the next big thing to hit the international scene in the very near future.  Be sure to keep coming back to support this Dynamic Duo from Norway!
Also be listening to http://www.radio.theskykid.com for their music from their new CD which will air there very soon along with a special interview article that will be published to the blog site.
_____________________________________________________________
For more information about "2 Boys" visit their Official Web Site or MySpace Site.
They also want to invite you to follow them on their Facebook Fan Page. In addition don't forget to purchase their new CD using the link on this site or one of the links above included in this article.
_____________________________________________________________
Here is the audio version of this article that was aired on The Skykid.com Radio program August 1st 2010.
Audio Version of this article with songs from 2Boys!
"Keep singing boys we are supporting you all the way!"
Rivenmaster