Haga clic aquí para la versión Española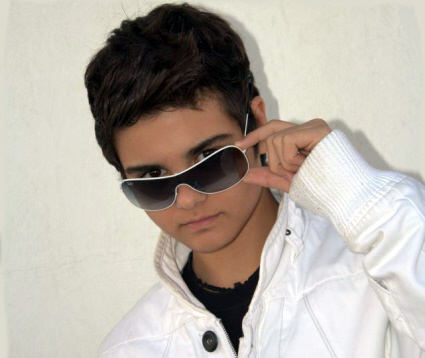 Abraham Mateo's music and talent is well known all over the globe and his music videos have been viewed by millions. Today Rivenmaster's Place is extremely honored to bring you his full story like it has never been told before. We promise this to be the most detailed, informative and comprehensive publication to be published yet about this astonishing young vocalist. The story of Abraham Mateo is the story of a 13-year-old Spanish boy who was born with a dream to be a great artist. Abraham was born on August 25,1998, in San Fernando, Cadiz, a town in the region of Andalusia, geographically positioned like an island between salt lakes and the Atlantic Ocean. Â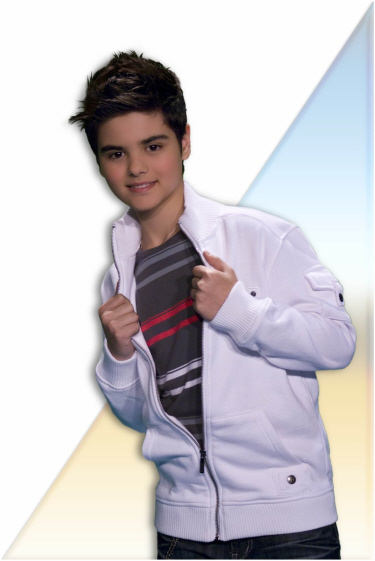 Abraham was born into a family with musical roots. His grandpa has been active as tenor soloist with a church choir for over 50 years while his Mother Susana sings Boleros and Spanish music. Abraham's older brother, Tony, (who will be featured here soon), also plays music and was finalist in the 2009 edition of the TV talent contest Si Que Vales, the Spanish version of America's Got Talent. Tony has been a big influence on Abraham, who desired to sing just like his older brother. Each time Tony finished his rehearsals at home; Abraham would take the microphone and start to sing. When Abraham was three years old, he watched the TV talent show, and right after the show he started to sing the songs performed by his idol David Bustamante, David Bisbal, and other contestants. His family still has some recordings of Abraham singing Corazon Latino and El alma en pie by David Bisbal and songs by his idol Bustamante. At first, his parents laughed and found the way that Abraham moved as he sang to be humorous.  However, they soon began to coach him and correct him if he went out of tune. Over time, Abraham improved his singing technique and by the age of six was singing mostly in tune and in rhythm. Abraham and his brother Tony frequently sang at home as though they were in a contest and their parents played the jury.
Abraham's first vocal coach was his mother Susana, who has always tried to present him with music that matched his vocal range. She taught Abraham vibrato and helped him to understand the lyrics of the songs, which often moved him to tears. Even at an early age Abraham preferred adult music over children's music and especially enjoyed songs that were more challenging to sing. He confessed,
I felt foolish singing children's songs.
At home, his parents listened to romantic Latin music; in particularly, pop songs and ballads, so it's only natural that Abraham would be greatly influenced by this genre of music. To this day he still admires great Latin singers such as Raphael, and has tried to imitate their singing style. Abraham has progressively expanded his musical talent learning how to play musical instruments. He started playing flute at age six, piano and keyboard at age eight, and acoustic guitar at age ten, teaching himself how to play by ear. Expanding on his natural God given talent, Abraham began taking piano lessons at age ten and one year ago enrolled in guitar lessons where he has learned to read notes as well as different techniques to position his hands. In 2006, when Abraham was seven, his brother Tony was preparing for the audition of the "Veo Veo" competition, which is a contest for young talent in song and dance, organized by the Teresa Rabal Foundation. Abraham asked his parents if could also join the auditions. He prepared three songs: Yo soy aquel (I'm that one), the signature song of the internationally recognized Spanish singer Raphael, and Hoy tengo ganas de ti and Dos hombres y un destino by David Bustamante. It was his first time singing in public! The show presenter, the singer and actress Teresa Rabal, were simply amazed by Abraham's stage presence and even more astounded by his demonstrative vocal performance, noting especially how he passionately concluded the song quickly pulling the mic away from his mouth.
Abraham impressed the panel as well as the audience and advanced through the competition, reaching the regional final, where he performed Yo soy aquel and was awarded with a special mention for his performance. Just after this contest, his parents sent a demo video to the TV show Menuda Noche on Canal Sur, a public broadcasting channel of Andalusia. Abraham's dream was to perform in that show, aimed to promote young talent from Andalusia. They waited for weeks for an answer that never came. Then, he heard there would be a casting call for Menuda Noche in El Puerto de Santa Mara, a town near San Fernando. Abraham, at just eight years old, went to the audition, got positive feedback from the judges, and was told they would call him back. However, this once again resulted in disappointment.  The following year when he turned nine, he auditioned for Menuda Noche again and waited in vain for a response. Refusing to give up on his dream, he began formal vocal training with the songwriter Pedro Gordillo, who acted as his vocal coach for one and half years.
 As Abraham matured as a singer, he moved on to a new vocal coach Ruben Cárdenas, who continued to develop his vocal abilities for an additional year. One day, after school, he heard that his brother Tony was once again chosen to perform in Menuda Noche. While Abraham was happy for his brother, at the same time he was a bit sad and disillusioned because he failed two times at the audition. He asked his mother Susana;
"Mom, why don't they call me? What must I do to be chosen for the show? His Mother replied; "You will go one day; you are still young. Your brother was eleven the first time he went to the show."
Accepting his mother's assurance, Abraham accompanied his brother to the recording of the show in Seville. When they arrived, the producers invited Abraham to be in the audience. During the show, the presenter Juan y Medio surprised Abraham, inviting him to the stage and asked him if he would like to sing instead of his brother. Abraham said no, because he did not want to take his brother's place. Finally, the show presenter and producers persuaded him to perform in the show. When the music started, he realized it was his key! It was a complot by his family and the show producers! It was his night, his first performance on television! Despite having a cold, Abraham, who was nine years old, made the audience feel his emotions and the audience responded with a standing ovation, with a few people crying!
A few weeks later, Abraham was again invited to perform in Menuda Noche. The producers asked him to sing a song of his idol David Bustamante. What Abraham didn't know was that his idol was in the show watching his performance. From the beginning of the song, Bustamante was impressed with Abraham's singing prowess. After Abraham finished his performance, he could not believe his eyes when he saw his idol. Abraham ran to Bustamante, hugged him and cried, full of emotion. David Bustamante then said to Abraham;
"You sing like the angels! Impressive! I think you are unique!
Since then, Abraham has been a frequent guest of Menuda Noche, singing in front of internationally recognized Latin singers such as Raphael, David Bisbal), and Juan Luis Guerra, who have praised his vocal talent and stage presence. Raphael said about him:
"That's singing without imitating anyone! You are a great singer!", David Bisbal exclaimed; "I have no words! He has a wonderful technique, a very nice voice and a nice tessitura! I predict a huge success!".
When Abraham was nine, he auditioned once again for the music contest "Veo Veo", advancing through the competition and finally winning the revelation award at the national final, held in Murcia, a city in southeastern Spain. It has been until now the most important award in Abraham's artistic carrier. Abraham jumped and was moved to tears when the show presenter, the Spanish actress and singer Teresa Rabal, announced the jury panel's decision. He said to Rabal:
"I can't believe it! I can't believe it!"
It was in the beginning of 2009; representatives of the major record label EMI Music Spain went to Menuda Noche to invite Abraham to record an album for their label. Abraham, just ten years old, accepted the offer, signing a recording contract with EMI. To produce the album, EMI hired the Spanish songwriter and producer Jacobo Calderon, who has worked before with internationally recognized Latin singers such as Raphael, David Bisbal, Luis Fonsi, Ricardo Montaner, and with the American singer Miley Cyrus. Calderon started to compose songs for Abraham, and in the summer of 2009, Abraham recorded his self-titled debut album Abraham Mateo at EMI studios in Madrid. The album and the promotional single Vuelve Conmigo (Come back to me) came out on December 4. (Check out the official video of the promotional single) You can also find the link to purchase his CD right here on this site! The album contains twelve songs: Calderon himself composed seven tracks. Four tracks are covers of popular Latin songs by Raphael, Alejandro Sanz, Laura Pausini and Luis Fonsi. The album also includes a duet with the French teen singer Caroline Costa, the runner-up in the 2008 edition of the television contest Incroyable Talent, the French version of America's Got Talent. Abraham and Caroline recorded for the album a Spanish version of Badfinger's "Without You". A video of this cover version currently has over 3.5 million views in YouTube.
These two sounded amazing together and their charismatic performance captured the hearts of Millions.  This video is now over 4.6 million views!
To promote his debut album, Abraham toured through several regions in Spain including Madrid, Canarias, Valencia, Galicia, Andalucia, and performed in many Spanish radio and television shows, including the popular television programs Tu Si Que Vales, The Show of Maria Teresa Campos, and the Christmas Eve Special of the Telecinco channel. Abraham was invited to perform at the TV show Mas Que Baile, the Spanish version of the American show Dancing with the Stars. He was also invited to perform at the International Carnival Maspalomas in Gran Canaria. Abraham began to record cover songs in English language during the summer of 2010, performing "I Surrender" by Celine Dion, "I Have Nothing" by Whitney Houston, "Just the Way You Are" by Bruno Mars, "Imagine" by John Lennon, and "Mistletoe" by Justin Bieber. His video "I surrender" currently has over 1.5 million views on YouTube. In summer 2011, he released an Italian version of the classical song Adagio by Lara Fabian, his first song in Italian. Shortly after releasing this song, he was invited to perform at a TV show presented by the Italian singer Rafaela Carra on the Italian channel Canale 5. He has also been invited to perform in Mexico and the USA. At the age of eleven, Abraham composed his first songs, mostly ballads and one rock song. These are romantic songs he has never released. Last summer, he became interested in the songs of Bruno Mars, Chris Brown, Pitbull, Usher and Ne-Yo. He has already written three songs in a new style that he calls electro latino, like the songs of Juan Magan but with a romantic touch.  That's the kind of music Abraham wants to do now, although he will continue singing youthful ballads and pop. His upcoming studio album with EMI Music Spain, expected to be released this year, will include electro latino songs written by him and soulful ballads like Adele's. He would like to record some English tracks, but this has to be decided by the record label. On November 29th, 2011, Abraham released a demo video of "Desde Que Te Fuiste" (Since You Went Away), a Latin dance song written by him and one of the tracks he is working on for the new album. The single was released on iTunes on December 9th, 2011.
At the time of this original post this video was not complete but here is his released version.
Taking the risk of changing his style to a more contemporary up-tempo music, he will surely attract more young fans but, at the same time, he is afraid to lose those fans that preferred his pop and ballads songs. Abraham just wants to make the people happy with his songs. His dream is that his fans enjoy his music and that they feel what he feels inside when he sings. This means more than anything else to Abraham! He would dye inside if he could not sing that kind of music. Abraham hopes to find a place in the music world, where he can express himself singing his own music, and to be respected and recognized for his work.
He especially enjoys performing for charity events such as the UNICEF Gala, an annual event on the TV channel Canal Sur. In April 2010, he performed at the benefit concert for Yasmina, a child from his hometown San Fernando, who suffers from Friedreich's ataxia, an inherited disease that causes progressive damage to the nervous system.  See Video Together with the Mexican-American singer Gabriela Sepulveda, Abraham also recorded an original song dedicated to the Chilean miners rescued in 2010. (Watch this very special Video). Abraham enjoys collaborating with Youtube singers and with other musicians he meets in the TV show Menuda Noche. He and his brother Tony recently collaborated with 50 amazing YouTube singers to perform in a music video. They covered Pray by Justin Bieber. Last week he released a cover version of Come Home by OneRepublic as a duet with the American singer Sabrina Carpenter. Abraham also produces his own songs in his new home studio, a birthday present he received last year from his parents.  In addition, he personally edits the music videos that are uploaded to his YouTube channels.
His music videos located on five YouTube channels, managed by him and his support team, have received over 25 million views in the last two years. Abraham has fan clubs in over 20 countries including Spain, the United States, most Latin American countries, Russia, France, Italy, Germany, Portugal and even in Indonesia and the Philippines. In addition to singing, Abraham loves acting and has already been involved in several productions. At a very early age he easily memorized movie scripts and together with his brother Tony he imitated various actors at home. His family still has a recording of Abraham and Tony imitating characters of the movie Rush Hour. Abraham has never had formal training in acting but would like to study dramatic arts and to perform on Broadway. Something you may not have known is that Abraham acted in the TV movies Días Sin Luz (2009) and Raphael (2010), both produced by Antena 3 Films and broadcasted by the Spanish television channel Antena 3. In the biopic Raphael, Abraham portrayed the worldwide acclaimed Spanish singer Raphael in the early years of his career and sang some of the vocal tracks.
When Abraham is not busy with his singing and acting career, he enjoys many outdoor activities. He specially enjoys running, swimming, ice-skating, roller-skating, bike riding, especially riding bikes with his father, boxing, and playing tennis with his brother. He loves drawing, dancing and, like many teenagers, computer games. Abraham enjoys playing a computer game called Snubby Land and he passed all game levels without failing. His favorite book is Harry Potter. Abraham also spends his spare time watching movies. He loves The Karate Kid (2010) and the boxing saga Rocky. He lists his favorite actors as Will Smith, Jaden Smith, Brad Pitt, Sylvester Stallone and Leonardo Di Caprio. From an early age, Abraham had a passion for the songs of the Spanish singers David Bustamante and Raphael, the Puerto Rican singer Luis Fonsi, the Mexican singers Luis Miguel, Alejandro Fernandez, and Cristian Castro, and the English-speaking singers Celine Dion, Michael Jackson, Whitney Houston, Mariah Carey, and Justin Bieber. Ultimately, he began interested in the songs of Bruno Mars, Chris Brown, Pitbull, Usher and Ne-Yo. Abraham enjoys Italian, Spanish and Mexican food, especially pizza, spaghetti, eggs and potatoes, and Mexican tortillas.
Today Abraham continues to be one of the biggest music pop stars of his country and will continue to be for a long time to come!
His latest release was only a few weeks ago.
Abraham invites you to visit him on the following websites:
"Being a longtime supporter of young artists Abraham has never been a stranger to me. His music and videos can be found all over the web and have frequented this site and my promotional YouTube site on many occasions. His debut CD has been featured here on this site nearly since it was released and I'm proud to say it also resides in my personal collection. Abraham hopes that this Special Feature offered here will bring encouragement to other young artists to hold fast to their dreams and to never give up! Don't forget to purchase his CD using the links provided here and to be watching for his new CD which is scheduled for release later this year!
Thank you, Abraham for allowing us to share your story with our many readers and subscribers!
For our Spanish Friends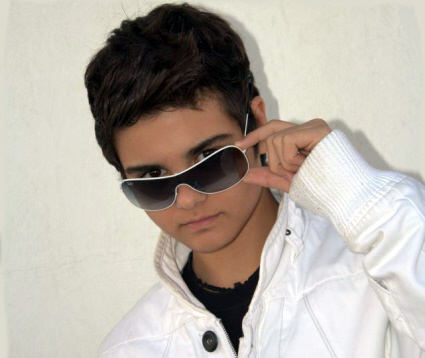 La música y el talento de Abraham Mateo son bien conocidos en todos los rincones y sus videos han sido vistos por millones de personas alrededor del mundo. Hoy, Rivenmaster's Place tiene el enorme placer de contarles su historia como nunca antes se había contado. Les prometemos que esta publicación será la más detallada, informativa y abarcadora que haya salido sobre este increíble vocalista. La historia de Abraham Mateo es la historia de un joven español de 13 años que nació con un sueño: ser un gran artista. Abraham nació el 25 de agosto de 1998 en San Fernando, Cádiz, una ciudad en la región de Andalucía, enclavada en una isla, entre salinas y el Océano Atlántico.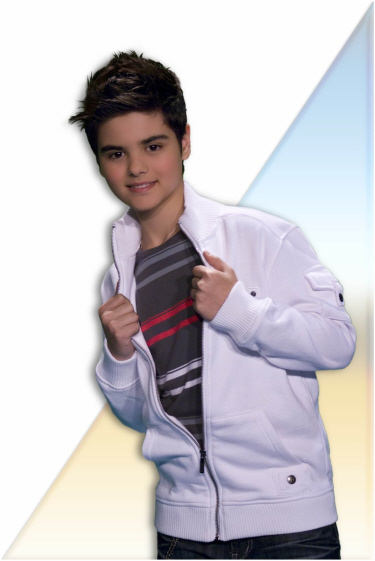 Abraham creció en el seno de una familia de profundas raíces musicales. Su abuelo fue tenor por más de 50 años, siendo solista de un coro, y su mamá Susana canta boleros y música española. Su hermano mayor, Tony, también es cantante y fue finalista en la edición del 2009 del programa de televisión "Tú sí que vales", la versión española de America's Got Talent. Tony siempre  ha sido como un modelo a seguir para Abraham, quien desde pequeño quería cantar como su hermano mayor. Cada vez que Tony terminaba sus ensayos delante de sus padres, Abraham pedía el micro y empezaba a cantar. Con apenas tres años, Abraham seguía el programa "Operación Triunfo", la versión española de American Idol, y cuando terminaba el programa empezaba a cantar los temas interpretadas por su ídolo David Bustamante, David Bisbal y otros concursantes. Sus padres conservan grabaciones de Abraham interpretando con apenas tres años los temas "Corazón latino" y "El alma en pie" de Bisbal, así como canciones de Bustamante. Al principio, sus padres se reían, pues encontraban gracioso como Abraham se movía mientras cantaba y el coraje y las ganas con que lo hacía; se le iban las notas con frecuencia y Abraham se cabreaba por eso.  Pronto comenzaron a asesorarlo y a corregirlo y con el tiempo Abraham fue perfeccionando su técnica. Ya a los 6 años lo hacía bastante bien, manteniendo el tono y el ritmo.  Abraham y Tony muchas veces cantaban en casa como si estuvieran en un concurso y sus padres hacían de jurado.
Su mamá Susana era quien le preparaba los tonos adecuados a su voz y quien le ensenó a vibrar. También se encargaba de explicarle la letra de las canciones, a veces complejas, y él se emocionaba y a veces hasta lloraba. Desde pequeño, Abraham se enamoraba de todas las  canciones de adulto y, sobre todo, de las más difíciles de interpretar. Las canciones infantiles nunca le llamaron la atención. Abraham confiesa:
"Me sentía ridículo al interpretar canciones infantiles".
En su casa, se escuchaban las canciones románticas en español, tipo balada y pop, y a  Abraham le gustaba este tipo de canciones pues lo hacían sentir muy bonito. Abraham se fijaba en las grandes figuras como Raphael y quería ser como ellos, intentaba imitarlos, impostar la voz como lo hacía Raphael. Abraham fue expandiendo progresivamente su talento musical aprendiendo a tocar varios instrumentos musicales. A los seis años aprendió a tocar la flauta, a los 8 años el piano y el teclado y a los diez años la guitarra. Tocaba el instrumento de oídos; mientras escuchaba la canción ya sabía que acordes llevaba. A los diez años recibió clases de piano durante un año y hace aproximadamente un año recibió clases de guitarra, donde aprendió técnicas sobre como colocar las manos correctamente y como leer música. En el año 2006, cuando Abraham tenía siete años, su hermano Tony iba a presentarse al casting del festival "Veo Veo", una competencia para jóvenes talentos de la música y la danza, organizada por la fundación Teresa Rabal. Abraham le pidió a sus padres que lo llevaran también a él. Preparó tres canciones para el casting: "Yo soy aquel" del reconocido cantante Raphael y los temas "Hoy tengo ganas de ti" y "Dos hombres y un destino" de su ídolo David Bustamante. ¡Era su primera presentación delante de un público! La presentadora del festival, la actriz y cantante Teresa Rabal, se quedó impresionada por la presencia escénica de Abraham y aún más por sus habilidades vocales, notando especialmente como Abraham se quitaba el micro de la boca rápidamente, con fuerza, con coraje.
Abraham impresionó al jurado del festival así como al público por su forma de interpretar y de vivir las canciones  y fue avanzando en las diferentes etapas del evento hasta llegar a la final regional, donde interpretó el tema "Yo soy aquel" de Raphael y ganó su primer premio, una mención especial del jurado. Justo después de participar en este festival, los padres de Abraham envían un demo al programa de televisión "Menuda Noche" del Canal Sur de Andalucía. El sueño de Abraham era cantar en ese programa, que promociona a jóvenes artistas de la región de Andalucía. Abraham se quedó esperando varias semanas por una respuesta que nunca llegó. Al poco tiempo, se entera de que se iba a celebrar un casting de "Menuda Noche" en El Puerto de Santa María, una localidad cercana a San Fernando.  Ya Abraham había cumplido los 8 años, se presenta al casting con dos temas, recibe críticas positivas del jurado y le dicen que lo llamarían. Sin embargo, tampoco lo llaman esta vez. Con nueve años cumplidos, se presenta al casting de "Menuda Noche" por segunda vez y sigue esperando en vano que lo llamen al programa. Sin querer nunca renunciar a su sueño de ser cantante, Abraham comienza a recibir clases de canto con el maestro Pedro Gordillo,  con quien permaneció año y medio.
Posteriormente, continua su entrenamiento vocal con el maestro Rubén Cárdenas, quien continuó desarrollando sus habilidades vocales durante más de un año. Un día al salir del colegio, se entera de que habían llamado a su hermano Tony para que cantara nuevamente en "Menuda Noche". Aunque Abraham se alegraba mucho por su hermano, al mismo tiempo estaba algo triste y desilusionado pues se había presentado dos veces al casting y no lo habían llamado. Le preguntaba a su mamá Susana:
"¿Mamá, y a mi por qué no me llaman? ¿Qué puedo hacer para actuar aunque sea una sola vez en el programa?" Y la madre le respondía: "Ya irás hijo, aún eres pequeño. Tu hermano fue por primera vez a los once años".
Aceptando las palabras de su mamá, Abraham acompaña a su hermano a la grabación del programa en Sevilla y al llegar al estudio le preguntan si quería estar entre el público. En un momento del programa, el presentador Juan y Medio invita a Abraham a acompañarlo al escenario y le pregunta si estaría dispuesto a ocupar el lugar de su hermano e interpretar la canción que Tony iba a cantar. Abraham le responde que no pues no quería quitarle el puesto a su hermano. Finalmente, el presentador y la producción del programa logran convencerlo para que interprete el tema "Hoy tengo ganas de ti". Abraham tenía mucho miedo pues no sabía en que tono iban a lanzar la canción. Cuando sonó la música, ahí se dio cuenta de todo, ¡era su tono! Había sido un complot  preparado por su familia y la dirección del programa. ¡Era la noche de Abraham Mateo! ¡Su primera presentación en televisión! Y a pesar de estar un poco resfriado, Abraham, que en ese momento tenia 9 años y medio, hizo vibrar al público de emoción,  que se puso de pie y le tributó largos aplausos y a algunos hasta le corrían las lágrimas de la emoción.
 A los pocos días, invitan nuevamente a Abraham a Menuda Noche. Los productores del programa le piden que interprete un tema de su ídolo David Bustamante.  Lo que Abraham no sabía era que su ídolo iba a estar en el programa escuchándolo. Desde el primer instante, Bustamante se queda impresionado por las cualidades vocales de Abraham y la manera en que domina el escenario. Cuando termina su interpretación y descubre que su ídolo está ahí, no podía creerlo. Abraham corre hasta Bustamante, lo abraza y llora de emoción. Y Bustamante le dice:
"Canta como los ángeles. Es impresionante. Me parece un fuera de serie".
Desde entonces, Abraham ha sido un invitado habitual de Menuda Noche, cantando delante de artistas reconocidos internacionalmente como Raphael, David Bisbal y Juan Luis Guerra, quienes han apreciado su talento vocal y su presencia escénica. Raphael dijo sobre Abraham:
"¡Eso es cantar sin imitar a nadie! ¡Eres un gran cantante!" y David Bisbal exclamó; "¡No tengo palabras! Tiene una técnica maravillosa, una voz muy bonita, y una tesitura bonita. ¡Le auguro un éxito enorme!".
Con nueve años, Abraham se presenta nuevamente al festival "Veo Veo", avanza en la competencia y finalmente logra el premio revelación en la final nacional celebrada en Murcia, en el sureste de España. Ha sido hasta el momento el premio más importante de la carrera artística de Abraham, quien saltaba y lloraba de emoción cuando la presentadora Teresa Rabal da a conocer la decisión del jurado. Abraham le decía:
"¡No puedo creerlo! ¡No puedo creerlo!".
A principios de 2009 representantes del sello discográfico EMI Music Spain se presentan durante una grabación del programa Menuda Noche y le proponen grabar un disco. Abraham, que tenía apenas diez años, acepta la oferta y firma un contrato con EMI. Para producir el disco, EMI invita al compositor y productor español Jacobo Calderón, quien ha trabajado con artistas reconocidos internacionalmente como Raphael, David Bisbal, Luis Fonsi, Ricardo Montaner y Miley Cyrus. Inmediatamente, Calderón empieza a componer canciones para Abraham y en el verano de 2009 se lleva a cabo la grabación del disco en los estudios de EMI en Madrid. El álbum, que lleva por título "Abraham Mateo", y el sencillo promocional "Vuelve conmigo" salen a la venta el 4 de diciembre de ese año. (Ver el video oficial del sencillo promocional)  ¡Pueden comprar su primer disco aqui en este sitio! El álbum contiene doce canciones, siete de las cuales fueron compuestas por el propio Calderón. Cuatro temas son versiones de canciones populares de la música en español y que han sido interpretadas por Raphael, Alejandro Sanz, Laura Pausini y Luis Fonsi. El álbum incluye un dúo con la cantante francesa Carolina Costa, finalista en el año 2008 del concurso de televisión Incroyable Talent, la versión francesa de America's Got Talent. Abraham y Carolina interpretan una versión en español de "Without You", un tema compuesto por el grupo Badfinger. Un video de esta versión tiene actualmente más de 3.5 millones de visitas en Youtube.
Para promocionar su primer disco, Abraham se ha presentado en varias regiones de España incluyendo Madrid, Canarias, Valencia, Galicia, Andalucía, actuando además en  numerosos programas de radio y televisión como "Tú sí que vales", "el show de María Teresa Campos", el Especial de Navidad del canal Telecinco, así como en "Más Que Baile". Igualmente actuó como artista invitado en el Carnaval Internacional de Maspalomas, en Gran Canaria. En el verano de 2010, Abraham comienza a grabar canciones en inglés, interpretando "I Surrender" de Celine Dion, "I Have Nothing" de Whitney Houston, "Just the Way You Are" de Bruno Mars, "Imagine" de John Lennon y "Mistletoe" de Justin Bieber. Su video "I surrender" actualmente tiene más de 1.5 millones de visitas en YouTube. En el verano de 2011, Abraham publicó una versión en italiano del tema Adagio de Lara Fabian, su primera interpretación en ese idioma. Abraham sido invitado por el canal de televisión Canale 5 de Italia para cantar en un programa presentado por la reconocida cantante Rafaela Carra. También ha recibido invitaciones para actuar en México y en los Estados Unidos. Compuso sus primeras canciones a los once años, la mayoría tipo balada y una de estilo rock. Son canciones muy románticas, que Abraham ha grabado acompañado del piano, y que nunca ha publicado. El verano anterior, Abraham comienza a interesarse por canciones de Bruno Mars, Chris Brown, Pitbull, Usher y Ne-Yo. Ha compuesto tres canciones en un estilo que el llama "eléctro latino", como las canciones de Juan Magan pero con un toque romántico. Es el tipo de música que Abraham desea hacer actualmente, aunque no dejará de deleitarnos con baladas modernas y canciones pop. Su próximo álbum con EMI Music Spain, que saldrá publicado este año, incluirá canciones tipo "electro latino" compuestas por él  así como algunas baladas modernas del estilo de Adele. También le encantaría incluir alguna canción en inglés aunque eso lo debe decidir la compañía discográfica. El pasado 29 de noviembre, Abraham publicó un demo de la canción "Desde Que Te Fuiste", compuesta por él y uno de los temas en los que se encuentra trabajando para su próximo disco. El sencillo salió en iTunes el 9 de diciembre.
Abraham ha decidido arriesgarse a cambiar a un estilo más contemporáneo, donde seguramente ganará más seguidores de su edad, aunque teme un poco perder la gente que lo sigue por sus canciones tipo pop y balada. Abraham intenta transmitir un mensaje de alegría con estas canciones.  Su sueno es que la gente se divierta con su música y que les haga sentir lo que él siente al interpretarlas. ¡Eso es más importante para él que cualquier otra cosa! Se moriría por dentro si no pudiera cantar este tipo de canciones. Abraham espera lograr un huequito en el mundo de la música, que se le respete el derecho a crear algo propio y que se le reconozca por su trabajo.. Uno de los momentos que más disfruta es cuando participa en eventos benéficos como la Gala UNICEF que anualmente celebra Canal Sur. En Abril de 2010,  Abraham actuó en el emotivo concierto dedicado a Yasmina, una joven de su ciudad San Fernando, quien padece de una enfermedad hereditaria que causa un daño progresivo en el sistema nervioso   Ver Video. Meses atrás, Abraham grabó, a dúo con la cantante estadounidense Gabriela Sepúlveda, una canción dedicada a los mineros chilenos rescatados en el 2010. Ver Video. Abraham colabora con otros cantantes de Youtube así como con artistas invitados al programa de televisión Menuda Noche. Recientemente, participó junto a su hermano Tony y otros 50 talentosos cantantes de Youtube en un video donde interpretan el tema Pray de Justin Bieber. Días atrás publicó una versión de "Come Home" de OneRepublic cantada a dúo con la cantante estadounidense Sabrina Carpenter. Abraham produce sus propias canciones en su nuevo estudio, un regalo que le hicieron sus padres por su cumpleaños. Además, el solo, sin la ayuda de nadie, edita los videos que sube a su canal de Youtube.
Sus videos musicales localizados en varios canales de Youtube han recibido mas de 25 millones de visitas en los últimos dos años. Abraham cuenta con clubes de fans en mas de 20 países como España, Estados Unidos, Venezuela, Ecuador, Chile, Argentina, Colombia, México, Rusia, Francia, Italia, Alemania, Portugal e incluso en Indonesia y Filipinas. Además de cantar, a Abraham le encanta actuar y ha tenido la oportunidad de participar en varias producciones. Desde pequeño, se aprendía de memoria guiones de películas y luego junto a su hermano Tony imitaba a los actores. Su familia aún conserva una grabación donde Abraham y Tony imitan a personajes de la película "Hora Punta".  Abraham nunca ha recibido clases de actuación pero le gustaría estudiar arte dramático y actuar en Broadway. Algo que quizás algunos desconocen es que Abraham actuó en las miniseries de televisión Días Sin Luz (2009) y Raphael (2010), ambas producidas por Antena 3 Films y emitidas por el canal de televisión Antena 3. En la miniserie Raphael, Abraham representa al cantante Raphael en los primeros años de su vida e interpreta varios temas de la banda sonora.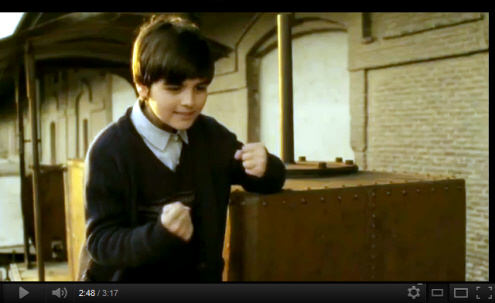 En medio de sus ocupaciones como cantante y actor, Abraham siempre encuentra tiempo para realizar actividades al aire libre. Le encanta correr, nadar,  patinar sobre hielo y sobre ruedas, pasear en bicicleta con su padre, jugar futbol, boxear y practicar tenis con su hermano Tony. A Abraham le gusta también dibujar, bailar y, como a cualquier joven, los juegos interactivos. Le encanta un juego de habilidad en internet que se llama "Snubby Land"; ha pasado todas las fases del juego sin fallar. Su libro favorito es Harry Potter. A Abraham también le encanta el cine. Sus películas favoritas son "The Karate Kid" (2010) y las seis de la saga Rocky, mientras que sus actores preferidos son Will Smith y su hijo Jaden Smith, Brad Pitt, Silvester Stallone y Leonardo di Caprio. Abraham desde bien pequeño ha admirado a artistas como los españoles David Bustamante, David Bisbal y Raphael, el puertorriqueño Luis Fonsi, los mexicanos Cristian Castro y Luis Miguel así como a los artistas de habla inglesa Celine Dion, Whitney Houston y Michael Jackson. Últimamente, Abraham a comenzando a  interesarse por la música de Bruno Mars, Chris Brown, Pitbull, Usher y Ne-Yo. A Abraham le encanta la comida italiana, española y mexicana, sobre todo, la pizza, los espaguetis, las papas con huevos y las torticas mexicanas.
Abraham te invita a visitar sus paginas en internet:
Durante mucho tiempo he estado apoyando a jóvenes artistas por lo que el nombre de Abraham Mateo nunca ha sido extraño para mi. Su música y sus videos pueden versen en innumerables páginas de internet y han sido promocionados en este sitio y en nuestro canal de Youtube en numerosas ocasiones. Su álbum debut ha sido destacado en nuestro sitio desde que salió a la venta y estoy orgulloso de que también ocupa un lugar en mi colección personal. Abraham tiene la esperanza de que este artículo aliente a otros jóvenes artistas a luchar por sus sueños y nunca renunciar a ellos. No olviden adquirir su disco usando los enlaces que aparecen en este sitio así como estar alerta pues su nuevo disco debe salir publicado este año.
¡Gracias Abraham por permitirnos compartir tu historia con nuestros lectores y suscriptores!