Tommy Batchelor's last performance as Billy Elliot on the Oriental Stage in Chicago was on 10/10/10. For me, this day will long be remembered as one of the most memorable occasions in my blogging career. While I had often wanted to go to New York to see this musical, it seems that every time I made those plans something prevented me from making the trip.  When it was announced about a year ago that the musical would be coming to Chicago, I was ecstatic, because that location was much closer for me to attend.  When I discovered that Tommy's last performance would be on October 10th , I rushed to my computer and secured a ticket.
Tommy Batchelor, now 15, is one of the original four Billys to have played the role on the Imperial Theatre stage in New York.  Because I knew that I would be guaranteed to see one of the best (and actually the last of the four original US boys to play in that role), I was very excited to attend that particular show!
As I arrived in the Windy City, excitement began to grow as I knew the theatre in Chicago was nearly twice the size of the Imperial in NYC.  Having seen "Oliver!" in Grand Rapids years earlier, I knew that this was going to be a real experience.
When I approached the theatre, it finally became a reality for me.  I was going to see Billy Elliot, a true Broadway production and one that has received nothing but positive reviews from the whole of the entertainment industry.
The theater lobby was massive!  Its interior was rich in beauty, boasting vibrant oriental colors, a painted ceiling, and magnificent golden stairways leading to the upper levels.   Actually entering into the theatre was breathtakingly beautiful.  Of course the first thing they tell you is "all phones off and no pictures allowed".  You will just have to take my word for it — the Oriental is one of the most beautiful theatres I have ever been privileged to see and experience a show in.
The opening of the show made my day, as they announced that we were in for a special treat. "Today's performance will mark Tommy Bachelor's final performance as "Billy" in the show!" Of course I already knew that, but to hear it announced for the packed house of  2,200 theatre-goers made it even more exciting.
The cast took the stage with ease, singing the opening numbers "The Stars Look Down" and "Shine"!  The stage contained sets that were easily moved on and off stage by use of computerized hydraulics. A few smaller pieces were simply moved by the cast members, making for a nonstop seamless performance of the entire show.  The actors just artfully walked from one set to the next eliminating the need of a curtain between scenes.
Act One was flawless, with each performer doing a tremendous job portraying their characters.    Grandma's song "We'd Go Dancing" was a hoot, of course, followed by the powerful men's chorus in "Solidarity".  This led into the funniest scene in the show, Michael and Billy's scene "Expressing Yourself".  "Michael, "played by Keean Johnson, and of course "Billy", played by Tommy Batchelor, were not only extremely animated and riotously funny, but their dance routine was impeccable, with both boys showing outstanding tap dance ability!  Tommy's scene with Grandma reading the letter "Dear Billy" brought a tear to the eye and then, suddenly, we find ourselves watching the most eye popping scene in the show, "Born to Boogie".  With strobe lights flashing and bright lights surrounding the entire outside of the stage, it appeared as if we were watching a live Vegas production, showcasing an entire cast of dancers filling the stage and with Tommy at the center of it all!
The last scene in the first act featured Tommy doing the "Angry Dance".  For the life of me I don't know how they were able to use such powerful background music with explosive bass at times that actually vibrated the seats in the theatre and, at the same time, you could hear every tap from Tommy's shoes as he ran, flipped, danced, rolled, and went through his entire routine for that scene.  I was spellbound being able to see this live. Although I have seen this scene many times with other boys performing it,  via TV and YouTube, there is nothing that compares to seeing and hearing and feeling the live performance.
This was followed by a brief intermission, which was just long enough to catch your breath. take a short walk to stretch your legs, and once more enjoy the beautiful interior of the Oriental Theatre.
The second act opened with "Merry Christmas Maggie Thatcher".  This scene was most enjoyable with a large dancing cast and loads of laughs.  Colorful costuming made this scene really come alive visually and the dancing and singing was superb.   The next two songs gave Tommy a bit of a break while "Billy's Dad", played by Armand Schultz, and Billy's older Brother "Tony", played by Patrick Mulvey, eloquently performed their respective numbers "Deep Into The Ground" and "He Could Go, He Could Shine".
This brought us to the signature scene in the show, "Electricity". I sat on the edge of my seat as I listened to Tommy sing this song for the last time.  He never missed a note and danced true to form, bringing everyone to their feet with a standing ovation at the end of the scene.  Mind you, this was only half way through the second act and standing ovations are usually reserved for the curtain call.  Tommy earned every ovation and as I looked around that theatre, packed to capacity, I was so proud for him seeing all these people break protocol and reflect their appreciation to him in this most amazing way!
Watch his August 15th, 2010 performance !
The full company then took the stage with "Once We Were Kings" an explosive number with dancing that left you breathless and sounds once again resonating to the very top of the auditorium.  "Billy's Reply" was the final scene with Tommy singing his reply letter to his Mum.  This was another one of those very touching scenes where you have to wipe away a tear or two.
After the very touching closing scene when Billy, leaving to go to the Royal Ballet School, says goodbye to his best friend Michael, the entire cast danced to the lively "Finale". It was extraordinary!  Tommy Batchelor lead the cast for the last time in this specially choreographed curtain call, bringing everyone once again to their feet cheering!  During this number, each of the performers took their bows with the audience responding appropriately!
I have to tell you I did not want to see the curtain close.  I could have stayed there all evening listening to this outstanding cast sing a reprisal of every song.  But as they say, all good things must come to an end, so I graciously applauded until my hands were red and then slowly joined the parade of thousands from the theatre.
Going around to the side of the building in the alleyway is a nightly routine for those in the media and fans that want to express their admiration to the cast at the stage door.  As I approached the rope that marked off the stage door entrance, I noticed that JP Viernes and a few of the other children in the cast were already seated outside greeting some of their fans.  JP was the backup for Tommy that evening as the performance of Billy is so rigorous that there is always a chance of an injury or fall taking place. Thankfully, JP was just able to relax and enjoy Tommy's last performance.
After meeting and greeting Tommy's parents Ed and Becky, I went and stood at the center of the stage door entrance.  Tommy soon appeared to the delight of the greeters, with camera flashes going off like an explosion of strobe lights.  The 50 or so who were at the door began to cheer with shouts of  "Tommy You're The Man", "Great Job!" and "Fantastic Performance!", among other chants.
Tommy was all smiles and extremely animated.  You would think that someone who had just finished a performance like his would be back stage looking exhausted.  He was quite the contrary, looking as if he could do two more performances.   Full of energy and zeal, he greeted everyone including me, who had an outstretched hand or a Playbill for him to autograph.
After about 45 minutes of signing autographs and greeting everyone I asked if he would pose for the small gift that we wanted to present to him for his outstanding performances as "Billy" in Billy Elliot the Musical over the past four years.   This memento ,(an audio biography tribute recording that commemorates Tommy's years working with the Billy Elliot Team), was a special collaboration of our promotional group consisting of (theSkykid.com, myself, and porschesrule, who is the author of all the "Billy Elliot" articles on Skykids site.)
I can't tell you what an honor it was to shake this young man's hand and congratulate him for a job well done. I was able to ask him one question in our brief time together, which was; " Of all the performances both here in Chicago and in New York and all your experiences is the show is their one experience that stands out in your mind for being the best?
He quickly responded, "Tonight's performance on stage was positively the best!"
With that closing quote I can only add that I'm very happy that I waited to see Billy Elliot on 10/10/10. While the show will go on with each boy continuing to be unique in his own way, for me Billy Elliot will always be "Tommy Batchelor"!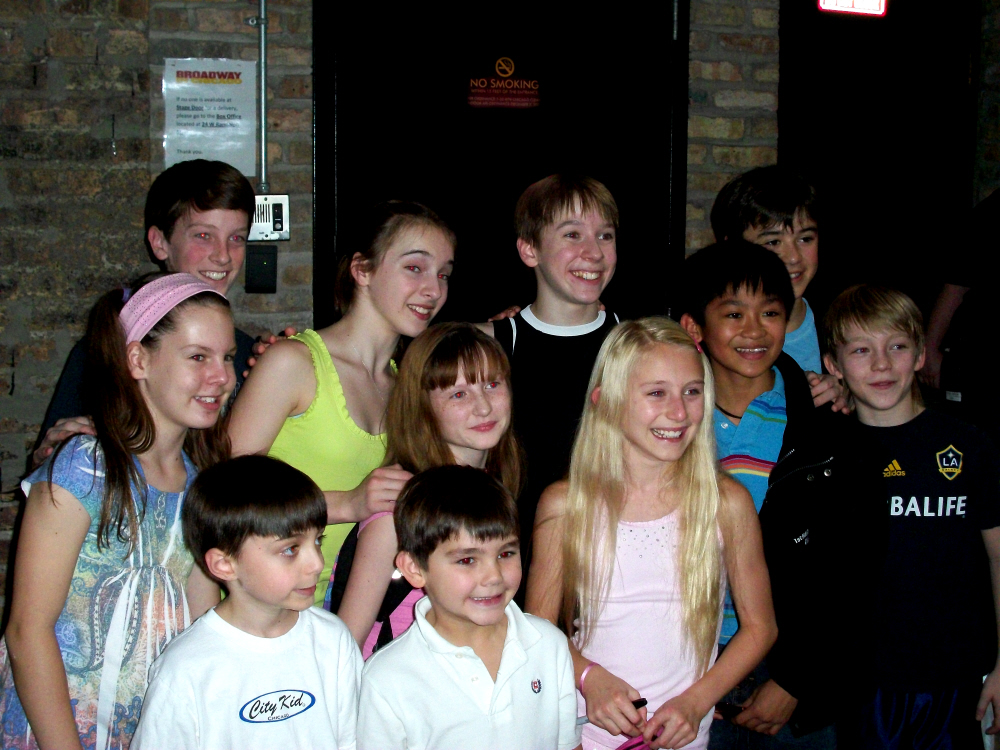 Some of the Kids in the Cast of BETM – Chicago