Discovering new talent to introduce to this site is always a pleasure but finding sibling singing groups always adds a little extra excitement. Such is the case for today's featured artists who call themselves C-Boyz Starz!
The three brothers got into "show" business totally by coincidence. Their mom Tess is a paralegal for a law firm and one of their clients was a talent agent in Las Vegas.   The agent came into the office one day for a meeting and saw pictures of the boys on Tess' desk.  The agent asked Tess to sign them up with her agency, but thinking that the agent probably says that to all the moms, Tess didn't do anything.  Months passed and Tess received a call from the agent requesting that she email pictures of the boys to her as soon as possible. The only pictures Tess had were the boys' soccer pictures on her desk so she emailed them to the agent.   Less than an hour later, Tess received a call that one of the boys was picked for a motion picture movie to be filmed in Vegas. 
When Tess came home to tell the boys, they were so excited, they just lit up.   The role eventually was cut out of the movie but the bug was already implanted in the boys.   They began taking acting classes at the ages of 6, 7 & 8.  Their acting coach said they were extremely talented and had something very special about them.  One of the auditions they went on required them to sing a song.   They did not have any vocal training but they always sang together since they were babies with their dad.   Santino went on the audition and sang a song from Willie Wonka "Pure Imagination".   Out of over 200 kids that auditioned, Santino was one of seven that were called back.   That is when his parents realized he could "really" sing.   All of the boys began taking voice lessons along with their acting and dance classes.   They began singing live at a local restaurant where the boys did their solo performances.   During that time, however, Tess received a call from one of their acting coaches that Cirque du Soleil is interested in the boys auditioning for the Beatles show "LOVE" at the Mirage Hotel in Las Vegas.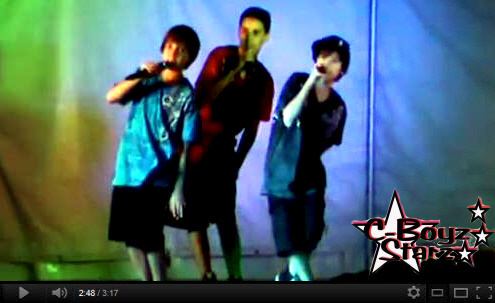 The boys perform live "Troublemaker"
Out of 13 kids that auditioned, Santino was chosen to play one of the young Beatles also called "Kid of Liverpool."   He was cast and played that role for a little over 1 year when he got too tall for the part.   Gianni then auditioned and he took Santino's place.  He also was in the show for almost two years when he outgrew the part. Before LOVE Gianni was also in the Steve Wyrick Real Magic Show at Planet Hollywood for almost 3 years.    The boys were working on the Las Vegas Strip at the ages of 7 and 9.   It was an incredible experience for the boys.   Performing two shows a night, four nights a week in front of over 2,000 people really helped the boys build their confidence and they became very comfortable on stage.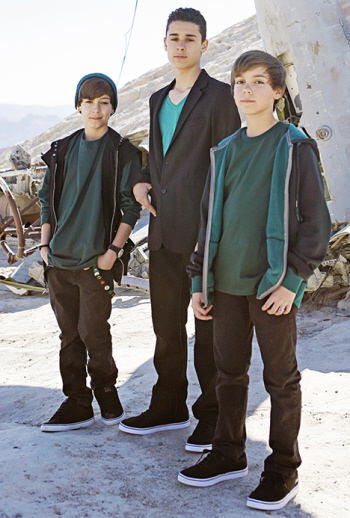 It was at one of the boys' vocal practices where the boys began singing together and it was so amazing.   While they all have such different tones and styles and sing well as soloist, together they just shined like stars.  That is how their mom came up with their name C-Boyz Starz. "C" represents their last name Cardinale and Starz because she said they just shine when they sing together as a group.
They had what they call their "Susan Boyle" moment when the boys were auditioning to perform at the San Gennaro feast in Las Vegas.   After seeing hundreds of kids audition that day, the casting directors were tired and looked like they were ready to go home.   They boys walked on stage and the director said "whenever you're ready", the boys sang "I'll Be There" by the Jackson Five and as soon as they began singing, one of the casting director's mouths just fell open as he could not believe what he had just heard.  He turned to Tess and just shook his head and said they were amazing. They were not expecting three little kids to come to the stage and just blow them away.   Needless to say, they were chosen to sing at the San Gennaro feast and are regulars their each year.  The boys are requested to sing at local venues all over Las Vegas and the reaction from their audiences are unbelievable.  They draw a crowd and leave them wanting more.   They have recently joined an organization called "Tunes for Tots" where kids from all over the world donate their talent by performing to raise money for various charities.   The boys feel very blessed for their lives and love the idea that they can give back in some small way with their talent. 
While they have appeared in many commercials over the years and performed in various musical theater shows, singing has been their true love.  They decided that singing as a group is what they want to focus on.   Their next step was to get a demo of their music so the boys got together one New Year's Eve 2010-11 and just before midnight, they wrote their very first song together.  It was a collaboration of the entire family and it was a wonderful way to celebrate the New Year.   In that year the boys wrote two more songs and recorded them with a record producer in Los Angeles. 
C-Boyz Starz sing original song "Brothers For Life" 
The CD is entitled "Brothers for Life" which is the name of one of their original songs and a story about their lives together.  Their next song "Shoot for the Stars" was inspired by the extreme bullying that occurred in their middle school.  "Our Time Together" was the very first song they wrote on that New Year's Eve night but it was the last of the three to be recorded.  All of songs can be downloaded at Reverbnation with half of the proceeds donated to LOVE HOPE STRENGTH (LHS) which is an international; music-centric cancer charity, dedicated to saving lives one concert at a time.
 The boys chose this charity because their lives have been affected by cancer as they lost their grandmother to this deadly disease and other family members and friends who are battling it every day.  The message the boys would like to impact to their peers and all listeners is to always follow your dreams no matter how big or small.  They believe with hard work and dedication, dreams can come true. NEVER GIVE UP.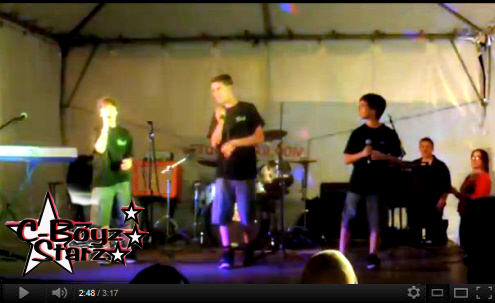 The Boys perform "I Wish" by One Direction
The boys continue to perform all over Southern Nevada and California for various charities and special events. They are currently working with a producer and are writing more songs to be completed in the very near future. Stay tuned!
Santino Vincent Cardinale was born October 30, 1998 and is the oldest brother of three. Santino's original due date was supposed to be two weeks earlier.  Apparently Santino didn't want to leave his warm surroundings and finally the doctors said they would have to go get him.   His family thanks God they did, because the cord was wrapped around Santino's neck.  Had they waited one more day, he would not have been born alive. He was the happiest baby, always laughing and brought so much joy to his parents.  As his family grew, one brother at a time, Santino was the best big brother to his younger brothers.   To this day, they look up to him and admire him.  The three of them had incredible imaginations and loved playing Power Rangers together.  One thing they noticed was how sensitive he was to noise.  He would cover his ears and did not like to be in large crowds with lots of noise.  It was not until recently that they learned that Santino is gifted when it comes to hearing music.  He can hear a song and learn to play it on the piano by just hearing it a couple of times. He has never had a piano lesson in his life. He is a very quick learner not only musically but academically as well.   He has been an honor roll student since kindergarten. He has received numerous awards throughout elementary and middle school and was chosen to be a member of the National Junior Honor Society.  He recently auditioned for Las Vegas Academy High School which is one of the best performing arts school in the nation and his parents are very proud to say that Santino was accepted and will be attending there in the fall.   Santino made his singing debut at the Bootlegger Bistro singing his very first solo "Fireflies." He became a regular every month doing his solos.  He took a brief time off from singing to work in the Beatles show LOVE.   After returning to singing he and his brothers joined together to form a music group called the C-Boyz Starz.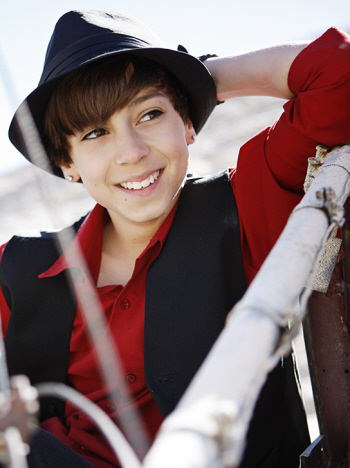 Gianni Nicholas Cardinale was born August 7, 2000.  There were also complications when Gianni was born but not with him this time around it was with his mom. Tess' blood pressure suddenly dropped so low then sky-rocketed seconds later. Gianni didn't get to meet his mom right away because of this reason.  This was another scary experience for his Dad. After many prayers, God listened and a few hours later Tess was united with her second son Gianni.  As a young boy he was very competitive and always tried doing things that his older brother did.  Gianni started walking at an unbelievably young age because he saw Santino doing it.  He was determined to do what his brother did.  Like his older brother, he was also an Honor Roll student throughout elementary and middle school.   Gianni also made his debut singing at the Bootlegger Bistro and after singing an Elvis song "If I Can Dream" he received his very first standing ovation.  He and his younger brother also won First Place at their elementary school talent show when they were in 4th & 5th grade.  Gianni performed in the Steve Wyrick Real Magic show at Planet Hollywood and really loved that he could learn all the magic tricks but was not able to tell a sole.  He then moved on to the Beatles LOVE show where he realized he loved the attention and loved being on stage performing. Gianni was also cast in Seussical the Musical as the lead character "JoJo".   He and his older brother Santino are currently cast in the musical Les Miserables to be played in September, 2013 at the Las Vegas Hilton (LVH).  Gianni is currently focused on his musical group with his brothers.  They are writing new songs and working with their record producer to put together their first album.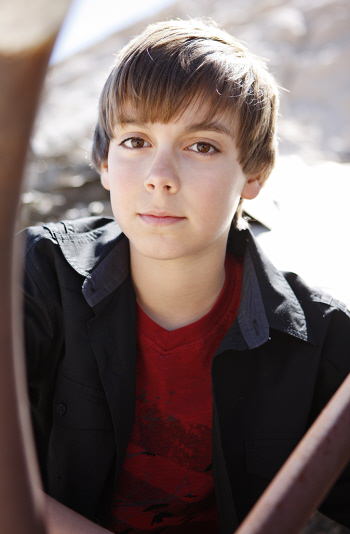 Leonardo Dante Cardinale was born July 16, 2001.   He is the youngest of the three brothers and goes by his middle name "Dante." Unlike his older brother Santino, Dante didn't want to stay inside any longer and tried kicking his way out causing another emergency visit to the hospital. This time it was Dante who was not breathing when he was born and it took the medical team to revive him back to life after several seconds.  When he was united with his new older brothers their love was undeniable.  Dante was a loner for the most part with his books. He began reading books at a very early age.   From the time he was about 1½ years old he was reading his "Barney" book from cover to cover.   People would say it was because his mom read it to him every night and that he had it memorized.   So his mom tested that theory and gave him a new children's book to read, one she had not read to him before, and he read it cover to cover.  He is so intelligent and remains a straight "A" student today.  During his years in elementary school Dante has won several Spelling Bees, Science Fairs, Math Olympics, Bible Bowl, Geography Bee and too many others to list.   He is also extremely creative and is the comedian of the three brothers.  His sense of humor always keeps the family laughing.
These three brothers are the most caring and loving boys not only to each other but to everyone they meet.  When they are not performing or rehearsing, they like to play video games, texting their friends and shoot hoops at the neighborhood park.  They enjoy family game night at home and movie night with popcorn and 3D glasses.    They manage to juggle school work, homework, band practice, voice lessons, hip hop lessons, musical rehearsals and their household chores.  They are all very hard working and dedicated and have grown into three extremely talented and wonderful young men.
From the day each of them were born, they had to make a grand entrance and still to this day, when they walk onto a stage they make that grand entrance again and again and always leave their audiences wanting more.
To learn more about the amazing C-Boyz Starz visit:
Since the writing of this article the boys have changed their name to "Thre3 Cards"