"The music I write is usually inspired from things I observe at school or talk about with people."
 Thirteen is the age when most kids begin to see change in their own life as well as lives around them. For Spencer Kane, it was a critical year of change that involved his first public performance and making a commitment to stay pure until marriage.
For someone entering the dreaded middle school years, this was an extremely courageous public statement to make.
As an athlete in basketball and baseball, Spencer had always been one of the guys and held fast to his dream of playing college or pro sports some day. An honors student in school and a typical all-American boy next door, it would seem embracing his talent for music and commitment to avoid sexual activities until marriage would be honorable among his peers.
Wrong! Â Instead, he became the target for serious bullying and ridicule for making both choices. As a typical jock, it isn't the norm for a male athlete to pursue the arts like singing and acting. Add to that his choice to wait for his first kiss until the right girl, maybe even his future bride, well, that was simply too much oddity for middle school peers to handle.
After several attempts to resolve the consistent bullying flair ups, Spencer's parents elected to move him on to another school district. This new school fully embraced Spencer's talents as both an athlete and artist.
That was 2011. Today, 2013, Spencer is 16 and has come a long way since those times.
"When I look back, I still remember how it felt and how lonely it was. I won't ever forget that season of my life and still experience some verbal bullying even today. I'm more able to handle it now than when I was 13. I think a lot of kids and teens aren't as fortunate to have parents who they can openly talk to or don't understand the help that comes from having a relationship with God to get you through",
said Spencer at a recent speaking engagement with a local Rotary International meeting.
Having had this personal experience as well as listening to dozens of fans from around the world share their own stories has allowed Spencer to be inspired to write the songs on his latest CD, 'One of the Kind' released February 1, 2013 on iTunes and many other online download retailers.
"The music I write is usually inspired from things I observe at school or talk about with people. It helps me to want to write lyrics that share the issues most teens face today and hopefully give them a message of hope that things can get better",
he added.
"This new EP (Extended Play) release of five songs includes four original and one cover song, which all deal with a positive message of hope. Mixed in the lyrics is sometimes a direct reference to his faith but still applicable for anyone desiring hope to get through life's challenges.
The first release from the EP of the same title, "One of the Kind", is an upbeat electro-pop song addressing the best remedy to prevent bullying… kindness. Released to the public on December as a free download for a period of time but also as a music video, the song has made huge impacts with youth around the world. Within the first week of release, the official music video already gained 90,000 views and has steadily increased ever since.
PACER Organization, based in Minnesota, took notice of song and immediately began dialog with Spencer and his management team about ways to work together. By early January, a formal partnership took place.
The mission of the PACER (Parent Advocacy Coalition for Educational Rights Center) is to expand opportunities and enhance the quality of life of children and young adults with disabilities and their families, based on the concept of parents helping parents. Founded in 1977, PACER is staffed primarily by parents of children with disabilities and works in coalition with 18 disability organizations.
Spencer Kane joins Demi Lovato as a spokesperson, and Disney and Facebook as official partners with PACER's National Bullying Prevention Center.
"Our goal is to change the culture so that bullying is no longer considered acceptable in our society,"
said Director Julie Hertzog, director of PACER's National Bullying Prevention Center. She went on to explain;
 "One very effective way to reach kids is through the influence of young, popular performers like Spencer whose opinions really matter to teens.  He is a great role model and we're thrilled to have him as a spokesperson."
Other songs on the EP include "413", "Reason to Be", "Move in the Right Direction" and "Blue Sky". Each of these songs includes a message of hope in a pop genre that appeals to kids and teens alike.
 
Inspiration Behind Spencer's Music
Spencer starts his first multi-state tour on February 15 in Nashville, Tennessee and continues on to other states including Indiana, Texas, Oklahoma, Kansas, Florida and Ohio. The iShine Live tour takes place each spring and fall every year and will also feature The Rubyz, Mission 6, and Rachel Chan (daughter of New York Times bestselling author Francis Chan.
As an actor on season 4 of iShine Knect (debuting Feb/Mar 2013), Spencer plays himself in the sitcom based on students at a performing arts High School called iShine Academy. Airing on Saturdays on TBN Network, the show is seen by over 1 million viewers worldwide each week in over 50 countries.
During a recent radio interview on KCBI 90.1FM in Dallas, Texas, Spencer was asked about his experience being involved in a TV show. He responded with, "I guess the hardest part was thinking I had to memorize my lines real quick, but the director and other actors helped me relax. Mostly we had a lot of laughs around the set."
The pre-teen focused variety show / sitcom engages kids to learn life lessons based on Biblical principles and also showcases the leading teen artists in the Christian music industry.
Following the tour dates which end on March 17, Spencer will continue performing in the Midwest sharing his message of KINDNESS with schools that are looking for his performance and conversation with students to be an inspiration to help prevent bullying. To learn more about his speaking engagements and performances around bully prevention, watch this video below.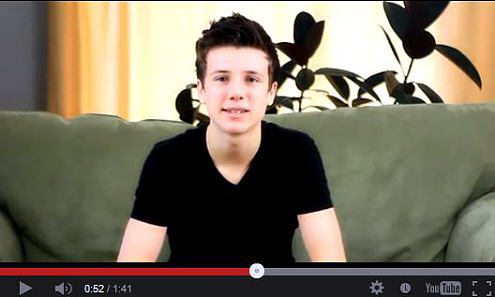 Also visit: Spencer's Website Bullying Prevention Page
Additionally, Spencer is scheduled to perform at the Life Light Weekend Music Festival to be held in North Dallas, Texas from May 24-27 which features headline artist "Newsboys" and is expected to yield 30,000 fans.
More dates in June include performances in Shreveport, LA and Dallas, TX at various venues like amusement parks and outdoor festivals.
Spencer then returns to Nashville for iShine Knect Season 5 which begins filming in July and August for the 2014 season.
In less than three years, Spencer's fan base has grown beyond 15,000 worldwide and his YouTube channel is approaching 300,000 views of his various videos.
"It's humbling to see fan reactions when I perform live or read messages from them. I still feel like a regular guy, but know that God is doing some cool things with music and me",
said Spencer when asked how it feels to see his career in music taking off.
 
For even more information about Spencer and to keep up on his concert dates and music releases be sure to visit: