"For Sebastian, music is not a hobby, it is his life!"— Paul Janoski
Sebastian Paul Janoski was born on a warm summers evening just before midnight on June 22, 1999. Having been born into a creative, artistic family to begin with, it was only a matter of time before his "gift" would materialize.  As a toddler it was clear that Sebastian had a knack for theatrics. When Sebastian was about a year old his mom peeked around the hallway corner to see what he was up to, and to her amazement, there he was placing his limbs in a twisted fashion, face pushed up against the wall, setting the stage before his cry for help. Clearly Sebastian loved attention, but that was only the beginning.
When Sebastian was three, his parents took him to see his Aunt's band perform. When his Aunt Ann, a vocalist in several bands, sang the Beatles tune, "Come Together", Sebastian was completely entranced. He will tell you today that at that moment he knew his destiny was to be on stage.
It wasn't for another several years though that Sebastian broke out of his shell. One day when he was about the age of seven, he was singing in the basement with the door closed and his parents noticed his voice was so powerful almost as though he were singing through a mike, but he wasn't, it was all him.
From then on, he barely stops singing long enough to eat his dinner, take a shower, and get a proper nights sleep! His first live performance was that same year, again his aunt's band was playing at a community day event in Caln, Pa. and asked if Sebastian would be interested in starting off the festivities with the National Anthem. His performance of the national Anthem caught everyone's undivided attention. Here was this 7 year old who had a voice so powerful that people were asking: Who is he? Where is he from? Is he on T.V.? But it was the applause that he received that day that told Sebastian he had a very bright and exciting future in music.
From that day on Sebastian has been getting local attention by allowing him to perform during open mic nights at local establishments, or being inviting to sing the National Anthem for the opening of many benefit concerts. The National Anthem was fast becoming Sebastian's signature song, and it wasn't long before he auditioned to sing the Anthem for our local professional baseball team The Lancaster Barnstormers. He was invited to sing and has since sang for them several times now and continues to do so…They love him!
At the age of 8, Sebastian's dad Paul Janoski suggested guitar lessons, but Sebastian was not interested. He convinced him to at least give it a try, as having the ability to play guitar as well as sing could only help him in his musical career. Once Sebastian got the concept of guitar he hasn't put it down and has added piano and vocal training into the mix as well.
Sebastian has sang for our local farm markets, local charities, high-school events, Memorial Day celebrations, and last year as well as this coming year he will start off Historic Lititz' PA's Fourth of July celebration. The largest and longest running 4th of July Celebration in the US.  He has been written up a many times in our local newspaper because of his drive and commitment as well as his sense of charity and giving back to his community as he does many charity events throughout the year.
Sebastian Father explained;
"He has become somewhat of a mini "celebrity" in these parts". Many people have asked what other hobbies Sebastian has, and we always just smile, because for Sebastian, music is not a hobby, it is his life. Yes, he likes to play basketball with his Mom Tanya on the weekends, hang out with his friends Mack, Fiona, and Taylor and walk to town, but he always comes back home, turns on his amp, picks up his guitar, plugs in his mike, and sings until the sun goes down."
Sebastian also loves the theater. He landed the role of Lefou in. Beauty and the Beast at Ephrata, PA's Performing Arts Center, and has also been featured there summer cabaret. He has auditioned for a part in Gypsy at the Fulton Opera House in Lancaster, Pa, and awaits a call. When not performing for a crowd at one of his many jobs or charity events, going to rehearsals, voice lessons, guitar or piano lessons Sebastian also spends time at home with his Big sister Siera, 3 cats, guinea pig and fish…..he obviously loves animals! He also helps Mom and Dad take care of his 94 year old Great-Grandmother who has been living him for the last year. His love of music and performing is only surpassed by his love and commitment to his Family and Home.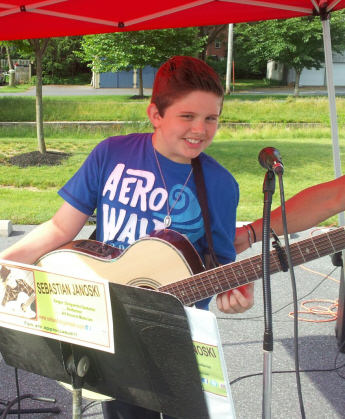 This year he was a featured artist for Americas Got Talent season 7. He successfully auditioned at an open-call for the NBC Television show in NYC and made it into the top 200 out of the 100,000 performers who auditioned throughout the country. He performed for AGT Celebrity Judges Howard Stern, Sharon Osborne and Howie Mandell in St. Louis's Fox Theatre to rave reviews from both the audience and Judges.
Sebastian is tenacious and also currently awaits a phone call from the X Factor season 2 for which he auditioned for in Providence, Rhode Island last month.
Sebastian will tell you his gift is from God, and he wants more than anything to use his music to help others where and whenever he can. He jumps at opportunities to perform for a good cause, and whenever he receives tips from playing locally he voluntarily gives 10% of his earning to his local church. He also plays for other local churches when invited and is always happy to do so.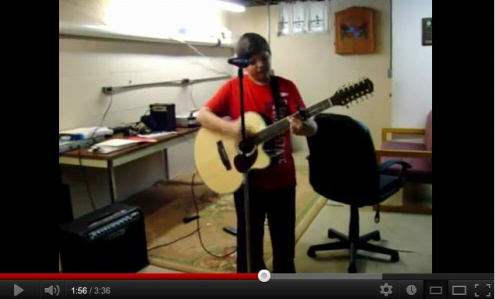 He is a classic performer and loves the thrill of being on stage, he is a constant street performer, he loves to just plop down on a corner with his guitar and sing away for the public, knowing that someday he will get his "chance" to share his gift with the masses. He considers among his musical inspirations, Michael Jackson, The Beatles and his Aunt Ann Straley, He loves to perform new music, has a passion for 60's, 70's and 80's music and also writes his own music. He hasn't put his originals out for the public yet, he is waiting till he feels they are "just right".
Sebastian continues to perform and create new music and can be found online by visiting the following sites: