"I truly love to sing, write and play music, if I am able to combine that with acting and my love of the theater, it is just a perfect day!!"                                                                                          Sebastian Janoski
Record Labels, Movies, Singles, Music Videos, National Television, and Radio…..2014 looks to be another successful year for rising star Sebastian Janoski!
I remember the first time I saw Sebastian Janoski. Stumbling upon a YouTube Channel with less than 10 videos and only a handful of subscribers, I see a 12 year old young man sitting at his picnic table in the back yard of his home, belting out a song while accompanying himself acoustically on his guitar. I was blown away!
Nearly two years has passed since then, and for Sebastian Janoski, it's been like a never ending roller coaster of career milestones that would keep even the most seasoned of performers in awe. His YouTube Channel now sports 89 videos with nearly 45,000 views.
In our last update for Sebastian he had just returned from his 2nd appearance on The "Katie Couric Show" and at that time had no idea the new roads those appearances would take him down.
Sebastian Takes on the Big Screen
That National Television appearance was obviously a success, because not long after that appearance, Sebastian was contacted by Award winning author and filmmaker Kenneth Del Vecchio of JFA Productions and the founder of the annual Hoboken International Film Festival. Â Mr. Del Vecchio took notice and reached out to Sebastian through Facebookinviting him to be his personal guest to the 2013 Festival.
Sebastian says of that experience; "It was absolutely amazing to walk the red carpet for the first time! Spending time at that huge event, meeting all the producers, directors and actors was just too exciting!!"
It's definitely not going to be the last red carpet event Sebastian will be attending, because, not long after that, Mr. DelVecchio offered him a role in his upcoming movie "Rock Story" starring the likes of Academy award nominated actors such as Eric Roberts.
Not only did Sebastian get to hone his acting abilities, but he was able to play an acoustic version of his original song "Not Afraid" in the movie! The movie will be premiered at this year's Hoboken International Film Festival on Friday May 30th and the release of his single "Not Afraid" from the movie will be released exclusively on iTunes June 3rd!!
But until then here is a sample of his new song yet to be released:
If you ask Sebastian about his passion you will find that Music is his first love, but coming in at a close 2nd is Acting and the Theater.
"I truly love to sing, write and play music, if I am able to combine that with acting and my love of the theater, it is just a perfect day!!" He says with a smile…..
Sebastian's first Record Deal!
Among others, taking notice of Sebastian from his appearances on America's Got Talent Season 7 and Katie Couric were executives at Blow Me A Bubble Records, a boutique label that recently inked a deal and is distributed by Sony Music Global and The Orchard. BMAB Records is the only majorly distributed label focusing solely on talent found within the many social media outlets that have shown signs of cross-over appeal.
They contacted Sebastian late 2013 to speak to him about reaching out with his music on a much larger scale. Sebastian jumped on the opportunity and signed on to his first recording contract with Blow Me A Bubble Records in January of 2014.
Within a few weeks of signing on with the label Sebastian was in LA recording his single "When You Were My Girl" with Grammy nominated engineer Benny Steele of Atlantic Records, as well as with the production/writing team of Billboard #1 Writer/Producer Rich Fayden along with Writer/Producer and 2014 EMMA winner MGI (AKA Henri Lanz) who have been responsible for 16 major label placements in 2013 alone, with credits on Justin Bieber, Kylie Minogue, 50 Cent, Sean Kingston, Akon, Inna, Radical Something, Super Junior and EXO. The Single began its pre-sale on April 1st and will have a worldwide release date of May 6th, 2014 exclusively on ITunes….(it also comes along with a special bonus acoustic version of the future hit song!!) PURCHASE IT NOW! 
Music Video for first major label release 
Due to the overwhelming response to the single in test markets, Sebastian soon was asked to return to LA to film a video to accompany the release. Sebastian felt strongly that he wanted to share this success with his local friends and family that had supported him over the last few years, so he took it upon himself to successfully lobby the label to film it in his Hometown of Lititz, PA. Sebastian even brought in Harrisburg PA, up and coming filmmaker, Luke Covert of Covert Films.. (The fact that Lititz, PA is the home to music industry giants Clair Brothers and Tait Towers helped immensely.) The video was filmed in Lititz, PA in March of 2014 and is set for digital release worldwide on VeVo, YouTube, MTV.com, OnDemand and iTunes among others on May 27th 2014.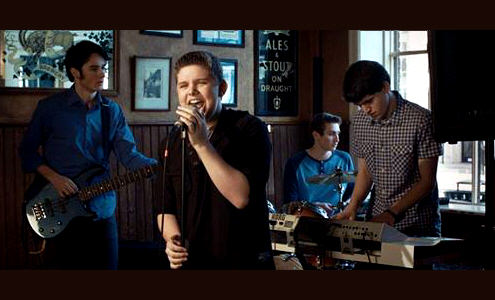 Capture from yet to be released video!
Upcoming "Fancalls" Appearance
Sebastian also let us in on an upcoming event with the popular Internet radio show called "FanCalls".Fancalls are the only Internet Radio show where the Fans get to call in and ask the questions with their favorite Celebrities or Personalities LIVE. It is a creative place where artists and celebrities can tell their fans that they are appreciated. It's a Win-Win opportunity for Fans, Artists and Celebrities alike! Sometimes THEY will even call the fans! They have called fans in Switzerland, Paris, London, South Africa, Canada, Hawaii, Trinidad, Virgin Islands, Bahamas, Jamaica WI, Dubai, Puerto Rico, The Dominican Republic and more!
"I'm super excited to talk the fans from around the world directly that I have been interacting with on all my social media sites, the internet is a great way to keep in touch….but nothing is like ACTUALLY speaking to my fans!!" says Sebastian of this great opportunity
Sebastian is slated to appear in just 3 days from the publishing of the article on Fancalls Monday April 28th @ 7pm…..get your questions ready! For more info on how to speak to Sebastian go to FanCalls Twitter Page or their Website.
Sebastian Looks Ahead
When asked about upcoming projects Sebastian just smiles and says;
"I wish I could tell you all the upcoming projects that are in the works….it's really exciting to think of all the new things we have been working on!! All will be revealed as the year moves on!!!"
Sebastian shared the stage last July 4th with "Kingsfoil"an up and coming band featuring Frankie Muniz of "Malcom in The Middle" fame on Drums!…He is slated to perform for the crowd of10-15K again this year at the annual "Lititz 4th of July Celebration" …one of if not THE largest and longest running 4th of July Celebrations in the country.                                            
2014 looks to be Sebastian's breakout year, and if the momentum he's been building up over the last 2 years is any indication of what's to come, I say watch out entertainment world, Sebastian is here, and here to stay!!
Don't forget to listen to a sample and PRE-ORDER Sebastian's Single "When You Were My Girl", Full release is set for May 6th, 2014…..listen for it on the radio and watch for the video premiering on Vevo and YouTube on May 27th!!
For more information on Sebastian Janoski, his touring schedule and complete list of Social Media sites visit: