Soon to be 14-year-old Sawyer Christopher Fredericks was born March 31, 1999, on a blue moon.  He lived in Connecticut, first in Newtown, then in Roxbury, with his mother, father and two older brothers until 2007, when they moved to upstate NY and bought a small family farm.
Like many young talented musicians, Sawyer was singing before he could even speak, basically singing with perfect pitch.  While his words I'm told were nonsensical (baby scat), there was no doubt that he had already found his vocal gift.  Not only was his singing notable, but Sawyer was quick to pick up melodies that he heard and also began to create his own melodies.
While no one in his immediate family has ever pursued a career in music, there is certainly a great love for listening to and creating music.
Sawyer's grandparents, aunts, uncles and cousins all show signs of being musically inclined or talented.  Sawyer's own unique talents have blossomed in an encouraging and rich musical environment.  As he got a little older, he became self-conscious of his singing and would only sing in front of people in his immediate family, but no matter where he was or what he was doing; there was always a song in his heart and on his lips.
It wasn't until he was 11 years old that he decided he might be ready to sing in front of others and joined a local summer children's choir.  The director of the choir was local accomplished singer-songwriter Katy Cole who is also an elementary school music teacher.  In addition to being enrolled in Katy's choir, Sawyer began taking vocal lessons from her.  Katy believes Sawyer is a musical prodigy of sorts, and the singing seems to come naturally.  The only problem was Sawyer's stage fright and shyness – he would sing so quietly; it was almost a whisper.  To get him to relax, Katy allowed him to sing down the hall where he couldn't be seen.  After quite a while, Sawyer developed enough courage to show what he could do. Surprising everyone, Sawyer chose to perform a short solo during the choir recital.
That fall, Sawyer's uncle Eddie taught him two chords on the guitar, and almost immediately, Sawyer began writing songs and continued taking both voice and guitar lessons with Katy. He joined Katy for a couple songs at some of her gigs and allowed his parents to publish his first video of him singing an original.
After receiving so many wonderful comments online, strong encouragement from Katy, family and friends, and applause at the gigs, Sawyer was finally convinced that he was actually pretty good. With his courage and confidence now strengthened, more songs and videos soon followed.
When Sawyer was 12, he played his first solo performance at a local open mic. He was near the end of the list of performers, and he became more and more nervous while he listened, whispering to his mom, "I'm the worst guitarist here."  She explained that he didn't have to go up there, and just because some had more experience and skill, didn't mean he had less to offer.
Sawyer sang his songs very quickly, and immediately packed up his guitar and ran to the car, while the audience cheered and approached his mother asking about him.  Tearing up, Sawyer exclaimed that he couldn't even hear himself or the applause, and the whole thing was a blur.  As rough as the experience was, it broke some kind of wall that was holding him back, and he began to play at open mics once a month, then once a week.
Since that experience everything as snowballed for Sawyer!  He was invited to play at local charitable concerts. He has written even more original songs. The online feedback for his videos has been so encouraging that it has really bolstered his confidence in his abilities.  This past summer, Sawyer performed over twenty paying gigs, mostly at local farmers markets.  He recorded a demo CD of six original songs, called "Breaking Ice: A Demo Collection, selling signed copies at markets and some online.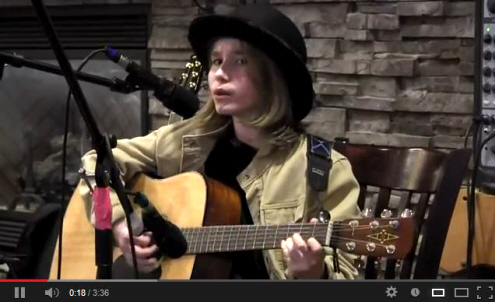 "Breaking Ice" -Sawyer's First Gig at The Coffee Beanery
He has been a featured guest artist on two local radio shows. Bruce Owens from Good Morning Hudson, Valley recently showcased Sawyer on his radio program where he interviewed both Sawyer and his mother.
Sawyer also placed third in a local talent search competition and has been listed on the Fab Chart, an independent music chart in England more than any other artist in its history.  To date Sawyer has written over 30 complete original songs, and countless melodies.  He is currently saving money to record his first full length album for which many of his fans, friends, and family have donated to help in his effort.
Despite all this progress, Sawyer's mom explained.
"Sawyer still battles with his nerves before each new show or event and looks forward to being able to match his guitar skills to the music he hears in his head. While it has become easier for him to escape into the musical part of the performance on stage, it is still really hard for him to talk to the audience. In new environments and with new people, Sawyer can seem reserved, but given time to warm up, he is actually a high energy, smiling and cheerful boy. He is very empathetic and understanding of other people's feelings, always noticing when someone is stressed or upset and finding ways to comfort them.  This empathy shows itself in his songwriting- he often tells stories that are outside of his own experience, but somehow, he connects with the emotions and conveys them in song.
Sawyer performs his original at Towne Crier Cafe

One of his most powerful songs, "Out My Window", was written in response to the many stories of bullying and teen suicides among gay and straight teens discussed in the news and on programs like Glee, last winter.  Most anti-bullying songs focus on denouncing bullying and try to inspire those being bullied.  Sawyer connected with the victims on a more intense emotional level, writing the song from the perspective of a bullied teen considering suicide. It was a very difficult song for me to hear him sing the first time, and though I knew the source of inspiration, I'm afraid I still subjected him to a rather unnecessary discussion about handling depression."
Sawyer is currently unsigned, and lives a normal teenager's life, spending the majority of his time at home with his family.  He and his brothers are home-schooled using a learner-directed method known as unschooling, that allows them to follow their own individual passions and learn in ways that best suit their learning styles, strengths, and interests.  In addition to his passion for music, he loves playing soccer, Xbox games, World of Warcraft, Minecraft, and the Magic the Gathering card game, as well as caring for the animals on the family farm and visits from friends and family.
"Sawyer is definitely one to watch in the future. Listening to him perform live is a real treat, one that I personally am looking forward to someday. Until then, Sawyer can count on Rivenmaster's Place to support his music and help whenever possible.  I'm convinced that this young man will go far in the music industry and all he needs is the right person at the right time to hear and discover just how talented he really is."
Congratulations Sawyer on your recent successes. We wish you the very best with your forthcoming CD and also a very HAPPY 14TH BIRTHDAY this coming Easter Sunday!
To learn more about Sawyer Fredericks: