Sam Verlinden recently attended and performed in the Parachute Festival held in Hamilton, New Zealand on Jan 28th – 31st.  Not only did Sam and his good friend Hannah Elley capture the attention of the crowd but also captured:
Best Debut Artist of Parachute 2011
which awarded them a command performance on the main stage the last day of the event.

.
Recently, I wrote to Sam and asked him to present us with a behind the scene, blow by blow summary of this year's festival. He graciously sent me the following report which exceeded last year's experience in many wonderful ways!
Our 2011 Parachute Adventure by: Sam Verlinden
Our Parachute experience actually started back in Jan 2010 when we attended our very first Parachute. Having heard so much about it over the years we decided to sign up for the rock fest weekend. Traveling with my good friend Hannah and her family, we camped out in tents, caravans, airbeds, and the works. It was so awesome; we caught the bug to do it again!
Hannah and I both entered "Parachute Got Talent" for some fun. I was happy to get through to the final where I placed runner up. Following this, I couldn't walk down the street without being hugged or high-fived or asked for an autograph – it was great!!
Anyway, later that year as we watched the Parachute Website start to populate with plans for the 2011 event, we decided to audition for the Best Debut Artist stage. We pulled together a marketing plan and sent it through. To our delight we were accepted and invited to perform a 30 minute set on the Debut Artist Stage, "Apollo".
At this stage we didn't have a band, so initially we were planning to use backing tracks. But all along I didn't want to be rocking at Parachute Rock Festival to my boring old backing tracks. So the hunt for a backing band for Parachute commenced.
Our prayers were indirectly answered when I entered the Battle of the Bands competition with my school band. We didn't get thru to the finals, but I was invited back to the finale to perform my song Stairway to Heaven with the runner up band from the previous year, "Descend".
You can read more about that in my last update here at Rivenmaster's Place!
We approached Descend to see if they would be interested in supporting us at Parachute and thankfully they were. We then spent months and months working on the repertoire and rehearsing to polish our songs. We agreed on a set list including a couple of duets, a solo for Hannah and a few assorted classic rock songs.
Day 1 & 2 – Arrival and Parachute Got Talent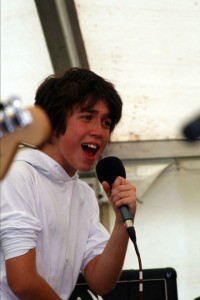 Parachute is a 4 day event Friday – Monday. We arrived on Friday and I decided to enter Parachute Got Talent again – auditions were that night. I only got through 30 seconds of my song and the judges stopped me with 3 green ticks again. This put me into the finals – YES!!!!.
I agonized over the song choice, as I sometimes do, and didn't really make up my mind until half an hour before the finals. Luckily, my Mom had cut me two backing tracks to take with me.
Waiting backstage with the other contestants was fantastic, I met some awesome people and some ultra cool talent – and everyone was really friendly and supportive of each other.
I ended up deciding to stick with my Cee Lo Green song and it went ok. The sound-man wasn't too sharp that particular day, and the music wasn't loud enough to hear the track properly – but other than that it went rather well! The judges gave me some awesome feedback and even complimented me on my dancing. What ?
The organizers told us to go away, and they would send a text if we'd won. That was a bit torturous – with all the contestants sitting there watching their phones for the next hour.
I didn't win; they selected a girl called Channalee – who performed her own song on an acoustic guitar – the prize being to perform on Main Stage just before the ultra-best highlight artist Stan Walker.
We rocked on the night and had fun, and OMG – Stan Walker's performance blew me away.
All good.
Day 3 – Debut Artist Performance on Apollo Stage
The next day we had to report to Apollo Stage at 10am for a briefing with the Stage Manager, Technical Manager and Soundman. There would be no time for a SoundCheck, you basically had to turn up, plug in and go. Bit of pressure.
Descend band arrived later and we met at Apollo to watch the other artists performing.
Massad rocked – big thumbs up to him and even better, Stan Walker came to the stage to introduce him – farrrrout!. To this day, we are not sure how Stan the man managed to sneak in and out without getting mobbed by his adoring fans. Even my mother waited outside the back entrance to stalk him and failed to see him!
Some of the bands were pretty interesting. Heavy,heavy metal, with violent dancing (if you can call it dancing), in the mosh pit. Man, I'm not sure how long those vocalist voices are going to last.
Even some of the organizers were doubling up on their earplugs!
Our gig was 2pm. We were ready, guitars tuned and ready to go straight on.
[image_slider width="475″ height="456″] [slide] https://rivenmaster.com/wp-content/uploads/2011/02/apollo.jpg [/slide] [slide] https://rivenmaster.com/wp-content/uploads/2011/02/hannah.jpg [/slide] [slide] https://rivenmaster.com/wp-content/uploads/2011/02/Lead-Gutar-Rocking-it.jpg [/slide] [slide] https://rivenmaster.com/wp-content/uploads/2011/02/mainstage1.jpg [/slide] [slide] https://rivenmaster.com/wp-content/uploads/2011/02/Myfingersarebleeding.jpg [/slide] [slide] https://rivenmaster.com/wp-content/uploads/2011/02/onstageapollo.jpg[/slide] [slide] https://rivenmaster.com/wp-content/uploads/2011/02/onstageapollo2.jpg [/slide] [slide] https://rivenmaster.com/wp-content/uploads/2011/02/rockingitonstage.jpg [/slide]Â [/image_slider]
I picked up the microphone and started to talk while the guys were setting up. Unfortunately we lost some precious performing time when the drum symbols hadn't been setup from the previous band. This cost us one of our songs – darn it. Oh well. I got to do some MC'ing which was cool.
Anyway we performed 5 songs starting with an MJ Medley of "Black or White / Beat it".
Then while the guys changed their guitars I introduced the band.
Our next song was our signature duet "Open Happiness" … the crowds were filling up and enjoying it.  This was followed by Hannah's solo of "Something in the Water", nailed.
Finally, we performed the classic rock songs, "Sweet Child of Mine" and "Stairway to Heaven".
The crowd rocked. Fans poured out the back to congratulate us and take photos and get hugs and autographs afterwords – that was pretty cool.
The organizers then called us over for a quiet meeting. "Stay close to the event, keep your phones on and Sam preserve your voice", they said. "You guys are so fantastic, you might have just won yourselves a place performing on the Main-stage".
.
We got the call at 7pm on Sunday night. They congratulated us and said we had won the
BEST DEBUT ARTIST
and were invited to perform on Main-stage the next day.
.

Just a note here, that the Main-stage venue is one of the most prestigious stages that all upcoming NZ performers wish to be on.

The Descend boys had driven back to Auckland, but thankfully they agreed to
come back the following morning. We agreed on doing the crowd-favourite "Sweet Child of Mine" – and we would be doing a full version of song, after performing a cut down version at Apollo.
Day 4 – MAINSTAGE
Report time was 9am (for our performance time 11:15am) which meant an early start for everyone. The Descend crew had to travel back from Auckland (1.5 hours away) and we had to pack up from our hotel in Hamilton (30 minutes away) ….. But we got there.
We went straight backstage to the green room – green rooms are always cool with food and drinks at our fingertips.
Because it was the Monday morning, lots of campers were packing up to leave Parachute, so the audience numbers were down unfortunately. But we still came out to thousands of people, shouting fans and a mosh pit – (yes yes a mosh pit that made me happy).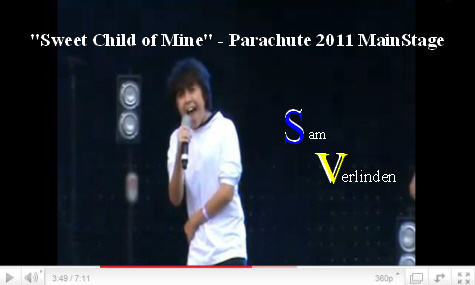 The sound didn't seem as sharp as it had in the Apollo Stage, the guitarists couldn't hear properly and there was a bit of adjusting going on at the start our song. Even thru Descends guitarist Sam Montgomery's solo, one of the techies backstage came out onto the stage to turn up his amp.
The crowd went wild, it was pretty cool.
The crowd kept going wild at the end, and we had calls for Encore Encore Encore which was awesome.
The MC interviewed me afterwards for a few minutes and then it was over … wow – just like that – boom!! And we have been buzzing ever since!
Here's a quick blurb from the Parachute Festival website.
THE HAPPIEST LITTLE FESTIVAL ON EARTH
When you think of the ultimate Kiwi summer you think beach, BBQs, jandals, Pohutukawa trees and Parachute: the highly populated Christian music festival that annually rounds off the holiday season.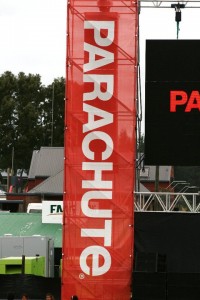 Earning its spot on 25,000 punters calendars each year, Parachute Festival has grabbed the attention of the country. One of the largest music festivals in the Southern hemisphere, it continues to wow its audience each year with a host of national and international artists spread over six stages and four days. It's one big community who tent together, who look after each other, and who get to hear some world class music that has a message.
And amongst all the music there's the village, with a large selection of food and shopping; there's a kids programme for the littlies to enjoy; there's amusement rides, speakers and seminars; there's a skate park; and there's even a water slide to help everyone cool down in the intense Hamilton sunshine. Family friendly, and drug and alcohol free, with an atmosphere described as a "massive, chilled out family picnic"… Parachute Festival is the happiest little festival on earth.
Overall – on a buzz scale of 1 – 10 (10 being the biggest buzz) – it was like a 9.5/10 for me.
I got to perform with my mates – and a kick butt band Descend.
The crowd enjoyed and appreciated our music and we have heaps of new fans.
We heard some epic talent on many stages, from singers, bands and dancers including Stan Walker – he's a vocal legend. I got to meet so many new people.
And we won the Best Debut Artist of Parachute 2011 – we couldn't have wished for a better outcome.
Oh and the weather – it was mostly ok, following the epic flooding the previous year.
It rained on Friday night and was windy on Saturday, but overall it was ok.
But at the end of the day – who really cares about the weather – when you get to perform to fans in a mosh pit on Parachute Main Stage.
Sam V
Pictured left to right; Luke Elley, Zane Hawkins, Frazer Hawke, Sam Montgomery, Hannah Elley, Sam Verlinden.
Our Parachute Lineup:
Sam Verlinden – vocals 13yrs old
Hannah Elley – vocals, keys 15yrs old
Luke Elley – acoustic guitar 11yrs old
Descend:
Sam Montgomery – lead guitar 14yrs old
Zane Hawkins – bass guitar 14yrs old
Frazer Hawke – drums 14yrs old