Sam Verlinden recently completed his last performance as John in Peter Pan presented by The National Youth Theater Company (NYTC) this musical adaptation of the play by Sir James M Barrie was directed by: Glen Pickering and James Doy and Choreographed by Nikki Ring.
The show received great reviews from the first showing with special remarks included about the great harness techniques used on the flying scenes.
Sam Verlinden, as "John" was outstanding in the opening scene showing off his dancing skills waltzing with his co-actor Phoebe Jasper who played Wendy. In a review written by Melanie Williams she described Sam's portrayal of John nothing other than strong, confident and outstanding. She went on to describe in detail the flying scene:
Sam Verlinden & Phoebe Jasper
One of the greatest moments was when Peter Pan leads the Lost Boys with John and Michael in the anthem ("I Won't Grow Up"). A great upbeat number with fantastic choreography, movement, harmonies and togetherness, with several of the Lost Boys giving solid solo performances including Michael and the pompous John trying to correct grammar "Not I". This scene finished to great applause.
Overall the production was bright, entertaining, energetic and fun. The set and props excellent, including the introduction of puppetry for "Nana" the dog, an Ostrich and a Kangaroo.

*___________________________________________________________________*
Recently we caught up with Sam to do a short interview and he graciously answered the following questions:
Rivenmaster: Sam, You do several charity events throughout the year. What single charity do you have a heart beat for and why? Please elaborate……..!
Sam: I always like to help charities whenever I'm asked, but particularly the Down Syndrome Association because my sister Emily has Downs.
Rivenmaster: What was your experience at the Miss North Shore Beauty Pageant like? What was the most enjoyable part of that event?
Sam: It was really cool doing this event. Watching all the contestants competing in their different categories and seeing how nervous they were, it reminded me of when I compete in events. The girls were really friendly though and it was a lot of fun to do.
Rivenmaster: If you had to pick one event in your career of acting and singing which one stands out the most to you and why?
Sam: If I had to pick an event that stands out, I would have to say it would be Christmas in the Park, probably because of the amount of people that attended, 250,000 plus, (quite a few), and also The World Championship of Performing Arts in Hollywood in 2008 which was such an awesome experience, to compete with talented kids from fifty plus other countries around the world.
Rivenmaster: If you could perform with any musician that has inspired you during your lifetime aside from Michael Jackson of course who would you choose?
Sam: If I could perform with any other musician other than MJ, it would have to be Stevie Wonder, he's an awesome musician and it would be such an honor to perform with him.
Rivenmaster: How is the new band that was formulated recently doing? How many hours a week do you practice? I know you get your share of gigs but are you planning any big shows or live performances, fairs etc this year?
Sam: With the new band, it's going really well, but we're having a bit of a break at the moment cause I'm doing lots of theatre and other things but we're looking at getting back together soon after my current play finishes.
Rivenmaster: What is the farthest you have traveled from home for a performance?
Sam: The farthest I have travelled away from home would be LA, I went over there to compete in The World Champs in 2008, it was awesome and also cool that I got to do lots of tourist things like Universal Studios and Disneyland.
Rivenmaster: Outside of your immediate family, friends, & musicians. What person has made the biggest impact on you as a person.
Sam: The group that has made the biggest impact on me as a person would have to be every single rugby player out there, they all influence me to play the game, it's very cool. Musically there are so many people that influence me, MJ, Stevie Wonder, Whitney Houston, Beyonce, The Beatles and lots more.
Rivenmaster: What kind of movies do you enjoy the most?
Sam: I like the Rush Hour series, they're pretty cool. I also really liked Avatar and Slumdog Millionaire that I saw recently. I mostly like action and comedy movies.
Rivenmaster: Sam your perfor ming in two major stage performances this year; Peter Pan and Macbeth… Can you tell u s a little about each, their director, fellow actors, and highlights from each show?
Sam: Acting as John in Peter Pan was great, it was the biggest acting role I've had so far and I really enjoyed it.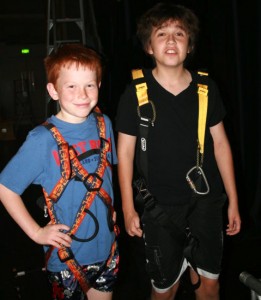 Apart from the acting, I also had to learn how to waltz and even more cool – learning how to fly which was much trickier than it looks. I got lots of bruises from the harnesses. It was great fun doing this show tho, and you always make some good friends backstage, especially with the other Michael and Johns and also the others in my Darling Family, and Wendy, Hook, Smee, First Brave, Tiger Lily, Liza and the other Lost Boys. They were all awesome, just like a big family. Some of the older leads like to hang out in our 'Michael and John' room backstage cause we had a PS2 there with lots of games. It's always really good fun backstage with the NYTC cast.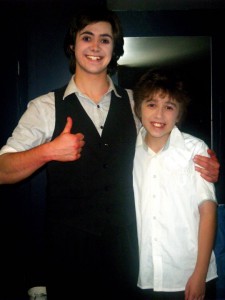 Macbeth is the play I'm doing at the moment; it is completely different to what I normally do, with no singing. Its hard core classic Shakespeare which is weird and dark and violent. I get murdered though which is pretty fun to act out. It's very cool to be working with Stage Two Production cast again and James the Director.  Even tho it's a much more serious show than the previous Tommy show we did, James has made a lot of effort into putting humor and even some music into this play which lightens it up a bit. Musicals will always be my favorite I think though.
_______________________________________________________
"Sam continues to be amazing with every new performance whether it is on stage acting in a musical or drama or bringing the crowd of thousands on their feet cheering in excitement to his vocal magic. This is one blogger who is proud to be his friend and supporter."                                         Rivenmaster
_______________________________________________________