"When you Live Beyond the labels you have worn….All My People Go!"
Watch the Story of Camp!
They came from every corner of the world.  They were all different yet they all had one thing in common.  They each won one of the 20 coveted spots awarded each year to the Prodigy Camp—a place where the world's top 12-18 year old directors, writers, performers, photographers, songwriters get a chance every summer to come together to hone their storytelling skills and find their creative voice.   
 Kolton Stewart had danced on Broadway in The Lion King, sung on The ELLEN SHOW and had just landed the lead in a Nickelodeon Sitcom.  Nathan Gamble had starred in The Dark Knight, Marley and Me, A Dolphin's Tale, Babel and many other Hollywood Blockbusters.
Nick Robinson had starred in Melissa and Joey and was about to shoot the KINGS OF SUMMER.  Dalton Cyr was twelve and working on his second album between tours.  Thilo Berndt from Germany and the Blackberry Jam twins collectively had millions of hits on You Tube. 
 
Javier Caceres from Peru had directed a multimillion view lip-sync and Marianna Emmanuel from Puerto Rico had won over a dozen prizes with her shorts.  Dylan Elwood was already established as a major Native American storyteller.  But not all were famous or even accomplished.  Many had simply submitted a convincing application along with a promising film, song or written piece.  What they all did share was a 'prodigious' talent and a love of their art.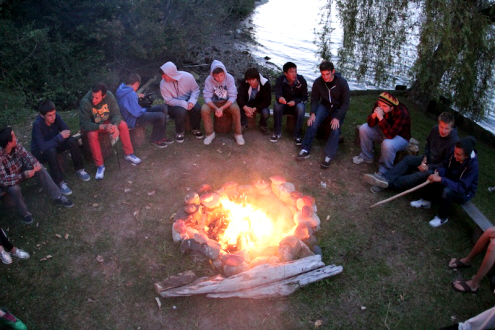 Rick Stevenson, Prodigy Camp Director and multi-award winning director/writer/producer said;

Director Rick Stevenson At Camp

"Choosing the kids is like casting the perfect film.  The combination of talent and personalities creates a complex whole—something greater than the sum of its parts. We had an ex-gang member who wrote poetry one year and an autistic kid with huge comedic talent another year.  They added SO MUCH to the mix and everyone had a richer experience."


"Two years ago we added a songwriting element for the most promising young singers on You Tube.  It is one thing to put up videos and gain a following but turning that into a future demands being able to write your own songs.  Thilo Berndt wrote 26 songs after the camp and the Blackberry Jam twins wrote 20.  Dalton Cyr already had a strong sense of writing but gained some tools and learned about acting, story and directing his own videos", Rick revealed.
This is the fourth year that RIVENMASTER is privileged to collaborate with Director Stevenson, to offer a scholarship to Prodigy Camp.  This year's camp will be held in the Cascade Mountains of Washington State on July 7th to the 14th.  
I have no doubt that this like other years will be a life changing experience for all who attend. 
Each year Rivenmaster's Place has been successful in recommending young artists for this camp.  If you would like an opportunity to receive a full scholarship and attend this year's camp, APPLY AT www.prodigycamp.org. Just mention the fact that you'd like to be considered.
You never know.  The chance of a lifetime and experience that will stay with you forever might just be a few clicks away!

 "Together we are really strong, we're like a tribe"…….. "I know people here better than I know my best friends back home"…. "Magical, Phenomenal, Mind-blowing, Unique, Incredible, there's no One Word for Camp!"….."The best Camp I have ever been to in my life"……"The best week of my life"…."An experience you'll never forget!"
To learn more about past years camps see the following Articles: