Over a month ago I published a short article in the sidebar about a young man with a sensational sound who I had yet to publish a full feature article for. After only a day or so of that short segment appearing, I discovered that this young man was about to take off on a fantastic new adventure under brand new management, sporting not only a new look and sound, but a new hit single to boot. Thus, the Mystery Artist Contest began resulting in a variety of guesses of who this young man could be.
Today, we are happy to disclose his true identity as none other than Dima Borodin from Donetsk, Ukraine. I first found Dima on his You-Tube Channel and was simply blown away with his singing prowess and charismatic personality that shows through in every performance.  Some youngsters are born with this X-Factor and others have to work hard to develop it.  Dima has a double portion of this special star quality which in itself is sure to make him an international singing sensation. While he has remained a mystery on this site for only a month he has
never been a mystery to those who have been following his career which was catapulted more than 6 years ago when he became a presenter of the children's TV program "Serebryanyi Apelsin" and was awarded with the highest national TV Trophy "Tele-Triumph" in Kiev. Dima has performed in numerous international festivals and concerts in the Ukraine, CIS, and Europe and even hosted a number of events. As early as 2005 Dima qualified into the Simi-finals in the Ukrainian Television Show "I Wanna Be A Star" following that up the very next year with the win! Like many talented youngsters, Dima's talent was noticed by his parents at a very early age yet never gave it much regard.  This all changed however, at the age of eight when Dima appeared on stage for a concert.  His parents said,
"We couldn't help but notice how relaxed Dima was on stage and viewing the reactions of the crowd we then realized just how much star quality he really possessed."
Dima's self discovery of his singing skill came at the age of just six years old. Even then he felt very confident about his vocal abilities and especially enjoyed singing for and in front of others.  When the school children were selected for a choir Dima quickly volunteered.  It did not take him long to find out just how much he enjoyed performing and soon took ownership of the stage!
Dima especially enjoyed watching the children's television program "Silver Orange". He had an overwhelming desire to become a leader on the show and asked his parents to call into the Television Station.  However, when the producers of the show learned that he was only six they asked him to wait and call back when he was eight.  He patiently waited for those two years to pass and after auditing for a casting role he was awarded with the lead role in the program. Dima led the children's programs for the next two and half years. It was during this same time period that Dima did a cameo appearance in the film "Aurora or Sleeping Beauty", starring Eric Roberts.  He was very happy to be able to perform with such an outstanding actor/performer. Dima has participated in a variety of festivals and singing competitions capturing the win in nearly every competition.  These competitions helped Dima to acquire even more self confidence and taught him just how much work and dedication was required to be a winner. Dima was a 4 time contestant in the Junior Eurovision Song contest always ending up in the finals and proving each time just how much of a showman he really was. In 2009 he once again appeared, but this time as a guest host. Even more incredible was his guest appearance in Sanremo, Italy, by special invitation of Paolo Alberti (President of the International children's Arts Festival GEF), and his invitation to perform at the XVIII International Festival "Slavaynskii Bazar in Vitebsk".
At 10 years old Dima was a finalist in a very popular television show called "Chance". The show would run it's contestants through a rigorous routine simulating the daily life of a star.  Each contestant would have to choose a song, dress in costume, and perform a dance routine. While there were several adults who participated, many dropped out of the contest both psychologically and physically exhausted. Dima was the only child to be selected and even better yet, finished as a finalist.
In 2010, Dima became the youngest member of the television show SuperZirka (Ukrainian version of the show Pop Star). During the 2.5 months of shooting the show, Dima lived in a strange city in a star's house with other participants. This was a serious test for Dima. Each weekly live broadcast featured a new song, voting, and a lot of fans tuning in. This project was a real boost to Dima's career and brought him much popularity in the Ukraine.
On the personal side, Dima is a very interesting young man with a great personality. He is both playful and mischievous making him popular with young and old alike. Accompanying his singing talent he has also learned to play the piano and guitar and loves a wide variety of music, his favorite being rock!  He also loves to cook with his specialty being barbecued chicken using his own recipe. Move over Colonel Sanders!
Dima loves to play table tennis, enjoys skating and doing all sorts of tricks on his BMX bicycle. Along with his normal school subjects Dima has been studying computer and recently became interested in creating videos. Dima is very blessed to have such great parents who have not only been his greatest supporters over the years but his closest friends. They have accompanied him on many trips and have been instrumental in helping him to create his image and select his repertoire.
One of his latest video shows Dima's new look with shorter hair but still the personality, smile, and charisma of a seasoned performer for which there is no doubt will climb the ladder of success quickly and soon become a household name.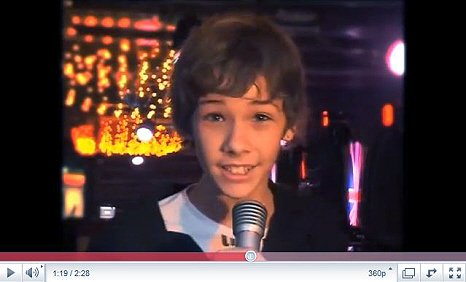 His new management is located in England and is now working very closely with Dima. They recently announced their plans for a new CD featuring all original songs before the year expires. To learn more about Dima Borodin visit the following sites:
http://www.youtube.com/user/TheDimaBorodin
http://www.youtube.com/user/TheForeveranna
http://dimonstar.my1.ru/
http://twitter.com/#!/TheDimaBorodin
http://kidsmusic.net.ru/artist.php?id=borodin
http://kidsmusic.net.ru/forum/viewtopic.php?id=498
http://vkontakte.ru/id9287596
Dima's brand new video and song "Gone" is also now displayed on [button_round color="blue" url="http://rivenmaster.net"] Rivenmaster's Video Vault [/button_round]where you can find all the lyrics to the song.You can also read the feature article published today on [button_round color="red" url="http://www.theskykid.com/music/introducing-dima-borodin/"] The Skykid.com [/button_round]