In striving to showcase the very best of young talent and continuing the quest in our search for new emerging talent, Rivenmaster is proud to present the very youngest child to ever be introduced on this site. While we have made it a practice to only feature youngsters between the ages of 8 and 18 we just had to make an exception for 6 year old Jordan Bijan.
Jordan Bijan is a musical phenomenon from Brampton, Ontario. Although he is only 6 years old and just beginning his musical pursuit, he is already showing signs of enormous talent.
THE BEGINNING
His dad shared with me that the earliest sign of Jordan showing a special natural talent was at the age of two. He recalls Jordan sitting in his car seat and singing along with his two sisters. However, Jordan was the only one who could match the pitch of the melodies he would hear.
Jordan's Dad is a multi-instrumentalist so their living room is often filled with different instruments. One day at the age of five and a half, Jordan came to his dad and asked if he could learn a beat on the drums. His Dad showed him a basic beat, and within minutes, Jordan could play it. Dad would play the piano, and Jordan would keep a beat.
He then wanted to try the piano so his father showed him a few basic chords which he learned instantly. Jordan showed an amazing interest and would come home from his half day Kindergarten class, eat his lunch and go straight to practice.
Once he had built up enough confidence he wanted to record his own songs. Of course he wasn't satisfied playing just one instrument; "he wanted to play them all", said his Dad.
 
JORDAN'S STORY CONTINUES
Another notable spark to his passion for music was when Jordan saw Michael Jackson's Motown 25 performance on YouTube. He knew right then and there that he wanted to be just like Michael. Jordan would watch all of Michael Jackson's videos and even watched the biographical film on the Jackson's, "An American Dream" a few times. Jordan then added dancing to his daily practice sessions which already involved drums, keyboards, guitar, bass and vocal training.
Jordan did his first YouTube video accompanying his dad on a cover song. Jordan played piano while his dad sang and played guitar. He was hooked and wanted to do his own videos. Up to this point he had not received much vocal training, so he did a couple of cute rap videos. One video called, "How To Write A Hip Hop Song In 30 Seconds" went viral gathering millions of views and shares on Facebook, YouTube and World Star Hip Hop. Suddenly people were recognizing Jordan on the street and he really enjoyed the limelight.
Jordan was later featured on a US TV show called "Right This Minute", a popular Canadian morning show called "Canada AM" and he was even flown to New York to appear on Good Morning America.         
 
Jordan covers Michael Jackson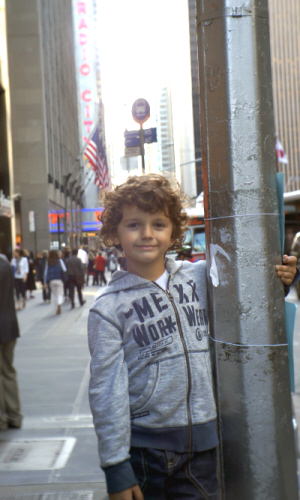 Jordan is now in First grade, so his time is more limited since he is going to school for a full day. Still, he manages to practice for 2-3 hours per day, mainly focusing on voice, drums and keyboards with his dad. The only professional training he is getting is a half hour vocal lesson once per week at a local music school and two dance classes per week (hip hop and break-dancing) which he really looks forward to. Jordan has expressed interest in taking professional guitar lessons and drum lessons (so he can learn "fancier beats", as he puts it. However, I'm told that that will have to wait since Jordan's two sisters are also in activities.
Jordan continues to practice his talents and make videos. Because he also expressed an interest in acting, his father took him to an audition for an exclusive agency in Toronto where he was accepted. Although he is just learning to read, he is very good at memorizing lines and lyrics within minutes.
Aside from music, Jordan really enjoys drawing and coloring. His Kindergarten teacher stated that in her twenty years as a teacher, she has never come across anyone with Jordan's drawing abilities at such a young age. As for toys, his favorite would have to be Lego's. Jordan's favorite foods are Lasagna and Nutella filled crepes, he loves watching musical movies like "The Jackson's", "La Bamba", and "The Buddy Holly Story". He enjoys playing Soccer and skating and lists his favorite artists as; Michael Jackson, Bruno Mars and YouTube Star Megan Nicole.
 
Jordan Bijan outside Radio City Music Hall
While it's too early to predict where Jordan Bijan will end up in the entertainment world, it's clear that he has begun a musical journey that will be both exciting for him and enjoyable for us to observe!
You can be sure that Rivenmaster's Place will be watching with great interest. There is no doubt that we are witnessing the birth of a real entertainer, who will amaze us even more the next time he appears here!
To Learn More about Jordan Bijan visit: