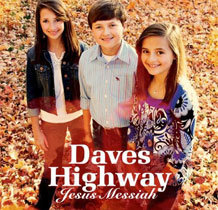 D

aves Highway has just announced that their new CD will be ready for shipping by December 21st just in time for Christmas.  Truly these kids are a gift in themselves.
To pre-order your CD today go to their website!
The first 500 copies sold will be signed so don't miss out!  Order yours today! In addition you can click on their CD picture above to order their new single "Jesus Messiah" from Amazon.com.
If you missed their introduction here on Rivenmaster last November be sure to read this before you go today! And enjoy this new "Christmas video".