Very often I'm introduced to a young artist through e-mail from supporters. Others I meet through YouTube, MySpace, and even other blog sites.  Such was the case for Chad who was first introduced on my good friend Tommy's site Stars2come.
Recently I had the opportunity to catch up with Chad and his family and discovered that Fifteen year old Chad Clemens is the youngest of 3 siblings. His older brother Blake (21) is a Junior at Virginia Tech while his sister Carley (19) is a sophomore at Penn State.  His interest in music was first noticed by his parents at a very early age. Whether it was in the car or at home listening to the stereo, Chad, just a toddler, would rock his head in sync to the pulsating rhythmic beat he heard coming from the speakers. One evening at the age of about 10, Chad caught the attention of his parents when they heard him singing to himself from another room and they thought to themselves, "He has a really good voice."
As a youngster, Chad had a natural beat that you just can't teach, and he loved to tap along to songs he heard on the radio with anything he held in his hands.  At 11, Chad's parents bought him his first drum set and after just a few lessons, he was performing with his local church band.
Chad's choice of cover songs has been strongly influenced through the interest that his brother and sister have in music. When home from school, they often recommend a song they have heard saying to Chad, "You have to hear this awesome song", then play it to him on their computers or iPods.
.
Chad's first real introduction into singing and playing the guitar began one year ago at the age of 14. His father had been given a guitar for his birthday and after many failed attempts at learning how to play the instrument, it was put back in the case. It wasn't long before Chad decided to resurrect his father's rejected instrument and took up the challenge to learn to play it. With some help from the internet, Chad began to teach himself how to play the basic chords. He quickly learned how to sing and play songs by Justin Bieber. In very short time, Chad was writing, singing and playing his own original music. In fact, Chad wrote his first song only one week after picking up the guitar. Then, after seeing an uploaded song by Cody Simpson on YouTube, Chad decided to do the same. He posted his first original song "Thinking of You" and a few cover songs by Justin Bieber.  His early originals really show the strong influence that both Cody and Justin had on his writing.
Chad's guitar teacher Josh Tindall has also been a big influence on the music that Chad has become focused on, teaching him some of the songs written and performed by Dave Matthews the Goo Goo Dolls, and Howie Day.
 Chad has performed for his school talent show, and at the Elizabethtown Fair in front of a few thousand people. He really enjoyed the experience of playing for the first time in front of such a large crowd. On several occasions over the summer, Chad was invited to play at a street fair in Lititz Pa. called Second Friday. It was exciting to be able to perform there and on one occasion he was joined with his guitar teacher. He has also played at several local open mic nights in Lancaster and York Pa.  All of these venues have been great experiences for Chad and he thoroughly loves performing in front of people.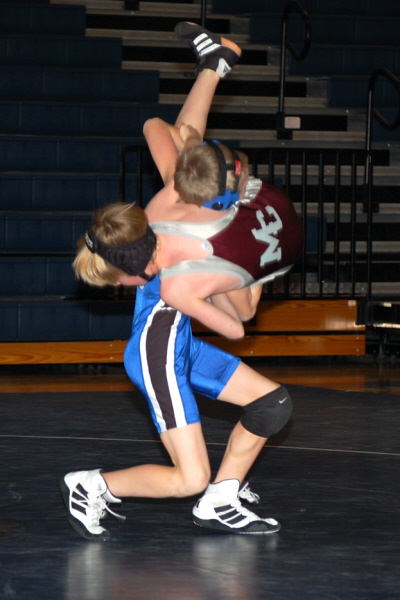 In addition to Chad's musical interests, he has always been a competitor. He especially loves the sport of wrestling which he has been actively involved in since the age of five. He continues to wrestle competitively in clubs and on the Elizabethtown Junior High team.  His Junior High record last year was 19-2. At the end of his 7th and 8th grade seasons, Chad was awarded the "Most Valuable Wrestler" by his Junior High coaches.
In 2009, Chad placed 5th in the MAWA (Middle Atlantic Wrestling Association) Eastern Nationals in Salisbury Maryland. This year, Chad will be "superfroshed" to the High School varsity team where he hopes to earn a starting spot as a freshman. Chad has also participated in several other club sports over the years, including football, baseball and soccer. He enjoys watching football and is an Eagles and Phillies fan. Chad enjoys attending Penn State football games, and wrestling matches, lifting weights, riding bike, playing video games and competing in backyard football games with his friends
.
Chad also shows strong academic leadership qualities and was a member of Student Council in 6th, 7th and 8th grade. He enjoys reading and just finished reading: "The Hunger Games Trilogy "and "The Series of Unfortunate Events"
.
Chad hopes to someday perform original songs written by him and desires to have his music become a strong influence which will inspire his listeners in a very real and positive way. Chad would also love to share his music with his fans as a performer on the stage and as a studio recording artist.
"NICE JOB KID"

Lee DeWyze via Twitter
In the meantime Chad continues to enjoy covering a wide range of music including artists like Michael Buble, Lee DeWyze, Howie Day, Incubus, The Goo Goo Dolls and Dave Matthews. Most recently, American Idol winner Lee DeWyze sent out a tweet to all of his followers posting Chad's link with the message "Nice job kid".
Chad appreciates all of his fans who have continued to support and encourage him over this past year. His passion and love for music has grown stronger with the friends he has made and through the new opportunities that continue to broaden his life. Chad's dream is to pursue a full time career in the music industry and someday hear his music on the radio.
.
What I find most amazing, is that Chad has never received any professional vocal training, only lessons for the drums and guitar.  There is no doubt in my mind that Chad Clemens has a real shot at being a future professional musical artist.  You can count on Rivenmaster's Place to stay in touch with Chad and his family and I encourage you to subscribe to Chad's YouTube Channel .

Be watching for future updates about this rising young creative artist and sensational sounding young singer.
To learn more about Chad visit:
PLEASE LEAVE YOUR COMMENTS BELOW FOR CHAD! I know that he will be happy to hear from you!