18 year old singer-songwriter, guitarist, Aston Creed from South Africa, has been labeled a Rockstar prodigy who is way beyond his years. Performing with his family band, "Not Fragile" from the early age of 11, he has hosted some of South Africa's biggest Biker Rallies, performed in various Theatre Productions and was in the top 100 for both "South Africa's Got Talent" and " Idols SA".
In addition to these achievements, at age 12, he was a guest performer at Sun City Super Bowl, which is home to top international artists.
Aston also won the Yamaha Young Talent Competition for the first song he ever wrote and recorded himself: Â "Guns Down"- an anti- violence, anti -war song.
Aston Creed original "Guns Down"
Other achievements include – entertaining the international crowds on stage at the 2010 Fifa World Cup and doing charity gigs, including the "Rocking For Rhinos Campaign". His song, "Tonight", was chosen and features on the "Rocking for Rhinos" CD to help raise money and awareness to protect our rhinos from extinction.
Aston performs "Hey Joe" live at Rocking for Rhinos
Aston Creed, born Martin Creed, was nicknamed "Aston Martin" due to the skill and speed his nimble fingers could play guitar lead solos. This later developed into Aston Creed.
His musical career began when he saw the movie "School of Rock" and was determined to play electric guitar. He started lessons and his teacher was amazed by his immense talent and told his mother that he had never seen a child with such innate talent and determination and that he had the makings of a great guitarist. Within weeks he was playing lead solos that would normally take years of perfecting. Local rock bands invited him to be a guest guitarist and singer at various venues. This encouraged his sister Amanda- then 13 years old, to learn drums. She too displayed such talent and rock- chick style that their mother and uncle (both musicians) decided to form a band.
The band was named "Not Fragile" from BTO's hit song and was the first song the band learned. Three months later, "Not Fragile " was offered their first gig at a busy local pub. Aston's performance was so incredible that gigs snowballed and the band was sought after for private functions, biker rallies and local venues.
Aston has the ability to captivate the audience from start to finish. Possibly, the reason for his maturity on stage stems from the fact that he has always played with professional musicians from a very young age.
Aston's dedication and passion was obvious from day one and he would practice all day after school and on the weekends with the band. While other kids were doing "kid things, Aston was engrossed in music and thinking up ways to entertain the audience, as that is very important to him. Being a perfectionist, he would play a song 50 times in a row until he knew the lead solo note – perfect. This used to drive his family insane and to top it, he would walk around the house playing his guitar and even play whilst the family were trying to watch TV. On many occasions, he was threatened with the destruction of his guitar if he didn't keep quiet! 
Aston Performs Ozzy's "Paranoid" at Sun City Super Bowl
Aston became renowned for his incredible magnetic electrifying stage presence, musical skills and professionalism on and off stage despite his youth.
Seasoned musicians to this day compliment him for his humbleness, impeccable manors and admire his intense crowd- drawing live performances.
At 14 years old, Aston focused his attention on songwriting, arranging and recording his original material single handedly.
Songwriting has become obsessive, and he battles to keep up with his creativity, as while he is recording one song, he has ideas and riffs for another.
   
His sister Amanda lays down the drum tracks and Mom does keyboard tracks- all guided by Aston's ability to know what sounds good. He too, despite being responsible for all the guitar, bass and vocal tracks, is a killer bassist, drummer and plays the harmonica.
His computer is a gold mine of scores of songs all at various stages of the recording process. 
Aston's original entitled "Our World", written when he was 16, is an amazing work of art! Not since Michael Jackson's Earth song have I been so moved.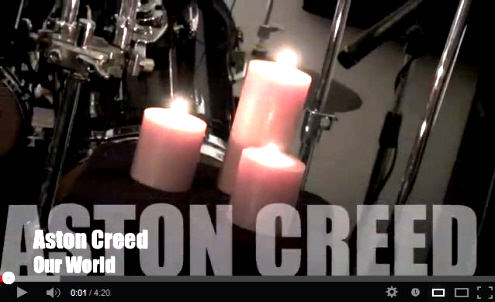 Aston performs his original ballad "Our World"
Aston is fanatical about melody and is critical about his own compositions- always striving for perfection. His lyrics are meaningful as he wants to write songs that give his listeners something more than just songs about " dance floor" and " partying."
His ability to compose such incredible material comes from his early passion for the legends of rock. His influences include: Pink Floyd, Deep Purple, Jimmy Hendrix, Dire Straits, Alice Cooper, and more recent influences- RHCP, Green Day and his all time idol Bon Jovi.
Aston is in his final year at a small personal private school, Â  "Waterfall College." He is adored by teachers and peers alike for his witty magnetic personality, easy- going manner and unforgettable broad smile.
Besides winning the Cultural Trophy two years running, he has achieved full colors for music and was awarded the Business Studies prize and is a prefect. He too is a fitness fanatic and exercises five times a week and has his purple belt in karate. Despite this, he loves sweets and is a chocoholic!!
Aston is ripe and ready to blast full speed ahead onto the international market. In South Africa, the market for rock artists is extremely limited and Aston is looking for an international promoter  who will manage his musical career. He is the complete package with that special something that words cannot explain … yet souls can feel. 
 
To hear Aston's latest musical genius visit:  SoundCloud
To find out more about Aston Creed visit: