It was almost a year ago that I gave you a blow by blow personal account of my attendance of Tommy Bachelor's last performance of "Billy" in Billy Elliot The Musical which was performed on the Oriental Stage in Chicago, Illinois.
Not only was the show phenomenal, but Tommy was at his very best giving it his all, very much realizing that this was his last performance on that stage.
It was not only a pleasure to watch his performance but even a greater pleasure to personally meet him backstage at the meet and greet, presenting him with a very special tribute gift that was presented by this site and The Skykid.com. Â (See picture)
I have been doing my best to catch up with Tommy because I was very interested in knowing just how a young performer like himself who was seemingly at a pinnacle in his young career could possibly follow up this kind of highpoint and showcase performance.  What could possibly match the momentum of this kind of celebrity status?
I soon found out that talented youngsters like Tommy don't stop dancing their way through life. Instead, it's one adventure just leading to another.  Below is his personal letter exactly as he related it to me.
Rivenmaster,
"This is Tommy Batchelor.
My last show with Billy Elliot Chicago was October 10, 2010; a day of weeping and long goodbyes.
…………………….CLICK PICTURES FOR LARGER SLIDESHOW VIEW!
I immediately came home to rehearsals for Miami City Ballet's The Nutcracker, performing as Prince/ The Nutcracker in December. 
I also participated in SECME's (Science Engineering Communication and Mathematics Excellence) bottle rocket competition.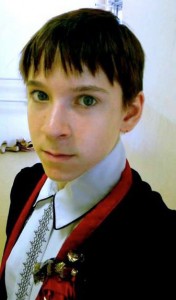 When I'm not doing school work, I'm dancing, inventing things, or free running.
In June of 2011, I performed in Palm Beach Ballet Center's "A Spanish Romance" as a matador. I also tapped in "Festival of Dance." I have been auditioning for various parts and have been involved in two readings for The Prize Guys coming-of-age comedy/drama written and directed by Anthony Giunta.
I will be playing the lead role of Tommy Kelly: a bullied sophomore from Home Ec class. In the story line, Tommy gets a shot at having his own TV cooking show. The school's biggest menace pretends to befriend Tommy, in order to sabotage him.
I am also part of the first casting as Jason, an intellectual who likes to invent things in Max's Fantastic Adventures written and directed by Jonathan Bucari. Max's Fantastic Adventures is kind of an Indiana Jones for teenagers and it will feature great actors from Billy Elliot.
I am currently looking at colleges in New York for theater for next year, but would love to land more movie parts. Thank you to all my family, friends and fans for supporting me."
Wow!  It's easy to see that no moss has been growing under Tommy's dancing shoes.
I'm proud to know Tommy and to have met him ever so briefly outside the Palace that warm evening in Chicago last October.  I found him to be exceptionally animated and personal. I watched in amazement as he took special time with everyone who was lined up to meet him.
Perhaps the flashes from cameras have lessened and some of the Broadway flurry has been replaced by other kinds of excitement, but Tommy Batchelor is still on top of his game.
You can bet that wherever he performs and whatever he does will bring excitement to any stage, feature film, or radio show.
Speaking of radio shows, Tommy will be interviewed on W4CY Internet radio talk show, on Sept 28th at 6pm eastern.  Be sure to tune in and be sure to tell Tommy you heard about it here!
Keep up the great work Tommy!  We are behind you all the way and can't wait for our next opportunity to see you perform in person.