Conner Blackley was first introduced here at Rivenmaster's Place on January 13, 2010.
Since that time Connor has only continued to improve and his voice has become even richer while still maintaining a fantastic upper register which literally can
Fly Me To The Moon !

The school year has been a busy time for Connor, but he is busting out his summer wings getting ready to fly into performances and competitions which begin as early as this weekend  at the Jacksonville Jazz Festival's "Generation Next Youth Jazz Competition".
The competition is for singers and musicians (ages 7 to 21). Last year Connor was the 2nd youngest in the competition and came in 3rd place (he was the highest placing vocalist). Connor is hoping to snag 1st place year and use the $1000 prize towards guitar lessons.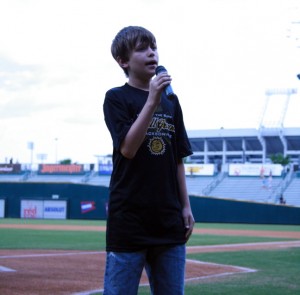 Connor has many opportunities to show is wonderful singing abilities around sunny Florida and is often asked to sing for sport events. In this picture Connor is singing the National Anthem for the Jacksonville Suns at the Baseball Grounds of Jacksonville. In addition to this performance, Connor will also be singing the National Anthem for 2 of USSSA Pride's (Professional Fast pitch Softball team) games in Orlando, the first one being on June 5th and the second in July. Connor does our Country proud for each and every performance!
This is one young man who lives life to the fullest and enjoys every moment he has to make others happy as he sings.
.
.
Listen to another new recording by Connor, a Tim McGraw song; Live Like you were dying" "Live like you were dying"
.
Recently I asked Connor a few questions for which he gave me the following answers.
.
Rivenmaster: What is your greatest ambition right now?
Connor: To become a professional singer!
Rivenmaster: Who would you like to sing with if you could sing with anybody?
Connor: That's a hard question….Brad Paisley. Jon Bon Jovi.
Rivenmaster: What is your most memorable experience so far in your career as a singer?
Connor: Working with Cirque du Soleil in Vegas on the Viva Elvis show.
Rivenmaster: What person in your life is the most inspirational to you?
Connor: My Mom!
Rivenmaster: Who is your Hero?
Connor: I have lots of hero's: my parents, teachers….but I have to include our military fighting overseas.
Rivenmaster: Do you consider Country Music your favorite choice in music? What other genres do you enjoy if any?
Connor: I really enjoy Country but I love all kinds of music: Jazz, Rock, Oldies, and Christian….all of it.
Rivenmaster: If you could meet any recording artist who would you like to meet?
Connor: There are so many I'd like to meet! Brad Paisley, Tim McGraw, Usher, Michael Buble.
Rivenmaster: Where do you see yourself in 10 years?
Connor: Hopefully I will have my own songs playing on the radio and be on tour.
Connor' school (Lavilla School of the Arts) recently held their end of the year banquet and awards dinner and Connor received 2 medals: one for receiving Superior on his Italian Art song at Solofest in March, and the other for his chorus receiving Superior at the MPA's earlier in the year.
What else can I add about Connor other than to say that this is one young man who I will have my eye on for several years to come and "I Don't wanna miss a thing" that this boy records because I for one just can't get enough!