One of the greatest advantages of being the founder of Rivenmaster's Place is that I have been privileged to watch so many young artists begin their careers. A number of them had not yet produced their first music video or even had a photo shoot prior to my first contact with their parent or manager.
A few on the other hand were well on their way to success even at the tender age of just 12. Such is the case of Canadian Singer, Songwriter, Musician, Lyric Dubee. In fact, he was working on his second album at the time, on an unfinished song called "Perfection!" Â
We are proud to have that EXCLUSIVE VIDEO which was posted on that introductory article!
While I was provided the opportunity to meet with Lyric in person in Hollywood CA this past summer, I was also privileged to attend his latest CD release party which was held on September 19th in his home town of Barrie, Canada. Although it meant driving more than 6 hours, it proved to be more than a worthwhile trip.
In case you haven't been following Lyric or his music, Lyric just released 2 full length CDs. His 3rd album had a planned release for 2014 but was put on hold after the 1st single "Black Ice" (Watch Music Video) dropped and caught the attention of Legendary Rock & Roll Photographer Robert M Knight of Nevada.
Robert signed Lyric in September of 2014 and put Lyric in the studio with Grammy Award Winning Producer "Warren Huart" (Aerosmith, The Fray, James Blunt).
Black Ice was of course one of the songs that I could not wait to hear live at Lyric's concert and I have to tell you, "The song sounded even better live than it did on the studio recording."
For those who may not know, Lyric did all the instrumentation on his studio recordings which even further proves just what an amazing musician he is!
Lyric Live at CD Release Party 9/19/15
The entire evening of music and socializing with Lyric's fans was a great experience! Anticipation continued to grow as the sold out crowd waiting for Lyric and his new band members to take the stage. Something that I noticed right away was the diversity of the crowd that gathered. Lyric has fans from all age groups and backgrounds. Both young school age kids, teens his own age, Mom's and Dad's with small children and the older set as well, all made their way into the concert hall. Lyric's merchandise table, displaying his CD's, T-shirts, Photos and miscellaneous items was being met with a flurry of young people trying to get their share of the fan merchandise
Even though Lyric's new band members had only been together less than a month for practice these guys sounded like a band that had been together for years. They opened the concert with the band's new Music Video for Lyric's new hit single "Young and Restless" following it up with another Lyric original bringing the audience to their feet with cheers and applause!
Watch new hit single by Lyric Dubee "Young and Restless"
Among his latest accomplishments, Lyric took home the MOST PROMISING YOUTH award at the Barrie Arts Awards in Nov 2014. He was also inducted into the Brotherhood of the Guitar in August of 2014. Since being in the brotherhood Lyric has met Slash, Andy McKee, Kenny Wayne Sheppard, Carlos Santana, Eddie Money, Neal Schon of Journey and many more.
In the spring of 2015 Lyric was invited to walk the red carpet and attend Les Paul's 100th Anniversary with guitar greats such as Steve Vai, Joe Bonamassa, Johnny A., Warren Haynes, G.E. Smith, Steve Miller, & Joe Satriani. The after party was held at the famous NYC Iridium where Lyric was invited up to play some classic rock with the Count's 77 then invited back up a second time to guest in with Lou Pallo and the Les Paul Trio to play some Jazz. He attended NAMM in California as a YAMAHA artist and was invited to a private show with Johnny Depp, Alice Cooper & Joe Walsh.
Lyric started recording his 3rd album in February 2014 and recorded all 10 songs between Nashville and Toronto.
Lyric Dubee
In 2015 Lyric won PlaYr Award best Music Video for Black Ice PlaYr York Region Film Festival and his Song Feature "Black Ice" featured on Discover Hit Music – a Licensed to Play site.
He was a Semi-finalist: 2014 International Songwriting Competition (ISC) of "Bridge To Nowhere" and Won "Honorable Mention" with the song "They Say" on the 2014 Unsigned Only International Music Competition.
Lyric was recently featured in Guitar International Magazine and his photo is part of a rock n roll gallery at Delano Las Vegas along with Lorde, Slash, Carlos Santa and Jimi Hendrix
Lyric completed his 4th album at age 16 and his manager Robert Knight has put together a killer band to back Lyric from all across North America.  If all this isn't exciting enough for you the band is now preparing to perform in Japan & China starting this November.
THE NEW BAND MEMBERS
I could not let this article go without introducing you to the band members with whom I was able to meet personally at the concert they are as follows in no particular order:
STEVE COSTELLO, Sudbury, ON. With classic guitar licks and heavy riffs Steve brings unity to Lyric's new band. In the years since playing the Northern Ontario bar circuit at the age of 13, he has more than adequately proven his ability to rock with the best of them. Now 23, Steve has been doing what he loves best: entertaining!
"As well as being an outstanding musician, Steve is a very personal young man with whom I really enjoyed a short visit with after the concert."
HUNTER CRAIG, Los Angeles, CA. A killer bass player who began learning bass in the 6th grade and attended music schools around the country. His family traveled a lot so he was exposed to and played music from LA to New York, Detroit to New Orleans and Memphis giving him the diversity of a man twice his age.
"I especially enjoyed watching Hunter's animated performance as he never stood still during the entire concert."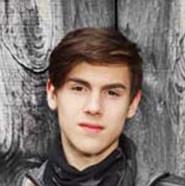 BOBBY ROSSON, Portland, OR. He started playing drums at the age of 8 and has played with Portland's School of Rock for five years and has toured with the prestigious All Star Program three years in a row. In 2013, Bobby won the store finals of Guitar Center's Drum-Off.
"I was able to briefly talk with and complement this amazing young drummer who poured himself out on stage in every song! Simply AN OUTSTANDING PERFORMER"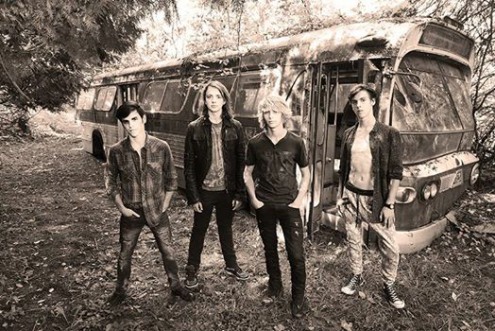 Steven, Hunter, Lyric, & Bobby
Among other things in the past year Lyric is now endorsed by Yamaha Acoustic Guitars and Ernie Ball Music Man Electric Guitars and it was just announced that Lyric has been nominated for BEST YOUNG SONGWRITER at the Toronto Independent Music Awards.1 of 5 chosen for this honor!
It goes without saying that Rivenmaster is not just a supporter of Lyric and now the boys in the band, but also a fan! Rest assured that this group of guys will be going far both here at home and globally. For Lyric Dubee this is everything and more than I predicted he would become!
Congratulations Lyric we are exceptionally proud of your success and backing you all the way to the top!
For more about Lyric Dubee visit: