Lyric Dubee was first introduced here last year in July! Since then he has been busy with concerts, live appearances and showcasing his talents at a variety of venues in Toronto and throughout Canada!
Lyric has already attained some monumental pinnacles in his career. This young Indi artist is not only an amazing performer and guitarist, but is an amazing song writer! Lyric released his Debut Album last year and recently released his second CD which includes Nine Original Songs. Each song has a different sound and feel with a unique genre blend which can only be described as Lyric's.
Like his Debut album this new CD is another gem that must be heard! Each track is a masterpiece that truly demonstrates just how talented young Lyric is in his writing and arrangement skills. In addition to this, Lyric's vocals are now more mature as his vocals have dropped dramatically. Â
Authoring this website has provided me with a unique opportunity to witness a number of youngsters through their voice change. I always wonder what the final outcome will be in these young men's singing ability. For Lyric Dubee, it's amazingly wonderful!  Lyric sounds better than he ever has.
Lyric still acquires his inspiration from books and movies which are reflected throughout his song writing. With the eclectic mix of sounds and styles, Lyric has decided to name his genre of music Revolution Rock (combination of Rock/Pop/Blues/Country/Jazz). The newest album has nine songs including one bonus track and an eight page pull out with the words to each song.
I offer the following review of his new CD which I'm hoping will inspire you to purchase his new album. You can buy it now directly from his website and it will soon be available on iTunes and Amazon.com. Be watching this site for future links of how to obtain Lyric's music. His new CD will be displayed at the top of the CD's and Singles Page on this site as soon as it is made available to me for publication.
Alive is the one song and title track on the new CD that took a while to name. Recently Lyric was able to view the series "Vampire Diaries", which partially inspired him to write this song. It is a song for guitar lovers as well and has a John Mayer inspired riff. Â
By permission, here is "Alive" for your listening pleasure.Â
[ti_audio media="3104″]
 You can also listen to it on Sound Cloud along with some of his other songs. The common thread between the first and second album is that they both have one song about vampires.
Watch "Vamp" from the debut album
Perfection is a pop song that will be made into a music video shortly. The video story is about a girl who sees herself as unattractive, but the guy sees her true inner beauty. If you read his introduction article here last summer, then you saw the very beginning of his work on this song in an exclusive and personal behind the scenes acoustic version of this song.  The final studio version is also on SoundCloud.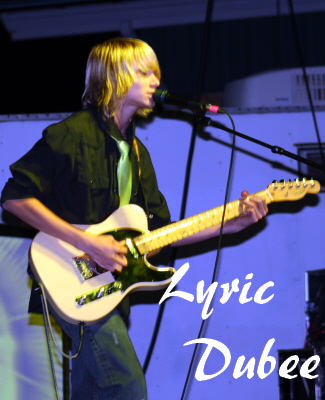 Shout is a completely different jazz song with a Santana like guitar solo. Lyrics vocals and riffs on this track are incredibly enjoyable! His youthful energy and soul that is poured into his music is simply captivating! I was instantly returned to the 70s when I was in my teens and listening continually to my Santana collection. It goes without saying that Lyric's music appeals to not only the young but to the senior generation as well.  Listen on SoundCloud.
She's The One has a Country Rock flare. On this song Lyric is joined by Virgil Scott, a well known musician friend doing backup vocals. Lyric also plays the lap steel slide guitar on this track, a new addition to his guitar collection utilized on this album. Here it on SoundCloud!  If this is your first time hearing Lyric I guarantee it will not be your last. Whether you're a country or rock lover you're going to love Lyric!
Alarmed is also unique due to the fact that it was written and played on his classical guitar. His Mon to Fri 6 a.m. classical guitar lessons has paid off making their mark here. The nylon strings give this song a uniquely warm feeling. Here it on SoundCloud!
Ghost falls in the rock category. This song is a power house when performed live, especially the guitar solo at the end when the drums change to double time. Lyric has a unique way of capturing a very eerie and intense feeling in on this track. I know if a film director is reading this article and is looking for soundtracks for his next Ghost or Vampire flick, he is going to want to contact Lyric. I personally can see both "Ghost" and "Alive" being featured within the soundtrack of a major motion picture.  Hear it on SoundCloud! Â
This song also has a video made by a fan.

Second Chance was the last song recorded for the album. Pushing his song writing technical skills, Lyric wrote this one in 6/8 time. This is quite an accomplishment for a 14 year old. The lyrics contain powerful words of emotion and love, making this a true competitive classic love song. Hear it on SoundCloud. I think you will have to agree that Lyric writes and produces like some of the very best in the music industry.Â
Star is a bizarre mix of 70's classic rock with a modern feel. This song seems to be the favorite by many and has sparked by compliments from fellow musicians. This number contains great  stops, peaks, valleys and key changes.  Hear it on SoundCloud
Tears is a bonus track from this first album but remixed as a dance version. This is song is both interesting and fun. If you did not hear his original version of this song, then "Buy his Debut CD."   Hear Tears on SoundCloud
You will also hear Lyric on the keyboards throughout this album and can listen to the whole CD here:Â Â Â
Â
For more about Lyric visit:
Â
*Since this article was first published Lyric has released his Alive CD. Get it on iTunes or Amazon.com now!