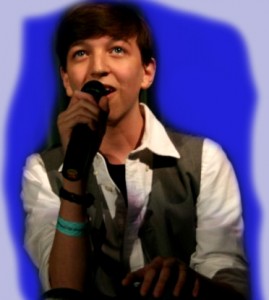 Today I'm introducing for the very first time here on the blog a long time YouTube friend of mine.
I first met JP soon after he posted his interpretation of Billy Gilman's song "Hero" on his first YouTube site!  Immediately I knew that this young man, who had just turned 14, had a voice that was unquestionably pure, clean, in perfect pitch, and had a an outstanding listening quality.
Jp (John Geraghty) who is now 15, still enjoys an unbroken voice and is in the final stages of releasing to the public his first original single entitled "Only Girl". I am very happy and honored to not only help him promote his new song, but have been sharing his sample version on the blog for over a week now!  I listen to many songs from youngsters from all over the world but "JP is one of those who stands head and shoulders above the majority who are in the process of developing a career in music."
♫  ♫♫♫ "Only Girl" ♫  ♫♫♫
His greatest musical influences include: Michael Jackson, Bob Hope, John Lennon, Billy Gilman, James Taylor, Taylor Swift, The Beatles, Rascal Flatts, Justin Bieber, Boys Like Girls, David Archuleta, Carrie Underwood, Charice, among others.  In fact he told me that he enjoys many different genres and performers too many to name.
Recently, JP was awarded the title of 2009 National High School Teen Idol, which has gained much media attention.  He appeared on Artists First where he gave a very impressive radio interview .
JP also has an article written exclusively for him on the National High School Teen Idol site where they do more than boast his new song but exclaim just how talented JP really is!  (I agree!)  While his song is embedded in their website, it is not the finished version, which is currently still being mastered and will be ready very soon!
JP has had the privilege to perform at the esteemed Carnegie Hall in New York City singing "Danny Boy" & "Ave Maria". He was chosen from a host of auditioning youth, and now studies with the Artistic Director of the event who also introduced him to some of the top professionals from Julliard!
JP sports a list of stage theater performances including Oliver!, Secret Garden, & The New Voices Concert at "The Papermill Playhouse" (one of nation's most esteemed regional theater's) as the finale soloist for "A Bell is No Bell" & "Climb Every Mountain".  He was also featured in "Pandemonium" from 25th Spelling Bee.
"It was an amazing experience both years- being able to make friends that I still have, learning all about the business and having the opportunity to perform for many top talent agencies."
In addition to his recent interview on Artist First Radio, JP is also looking forward to getting on Tween Pop Radio's Top 40 – and being interviewed on YouTube awards channel "Teen Pop Generation" as well!
JP is currently auditioning for many professional theater productions, including Broadway as well as Film and Television. He is recording and co-writing some of his upcoming debut EP album.
JP exclaimed;
"I am working with some of the nation's top producers/writers and it's so exciting!
I dream of sharing my music with the world- influencing kids all around to sing no matter what they sound like. I'd like to one day perform in Africa, and become an ambassador for UNICEF, my favorite charity."
In my personal opinion JP is going to be a fast rising young star that will take the internet by storm. He has a very good sense of who he is and what his goals are, which for a young man still in his teens is really an accomplishment in itself.
When "Only Girl's" final cut has been release you can be sure you will hear about it here!
Better get ready, because this is one talent that will not be satisfied with just being High School Teen Idol but will find himself someday soon on Americas Largest Stage singing to millions of fans.  I will then have the happy privilege to be able to say I knew him when!
To find out more about JP visit:
http://www.youtube.com/jpofficialmusic
http://www.twitter.com/jpofficialmusic
http://www.myspace.com/jpofficialmusic