"I'd imagine the whole world was one big machine. Machines never come with any extra parts you know?"
From the opening scenes Hugo catapults its audience into an adventure of wonder and intrigue. The use of 3D magic coupled with digital animation and live actors sets the stage for this wide eyed wondrous cinematic creation.
The film boast an all-star cast starring two amazing young actors Asa Butterfield as Hugo Cabret, and Chloe Grace Moretz as Isabelle.  The relationship between the two begins when Hugo's life inadvertently becomes intertwined with the life of Isabelle's Step Father. Their friendship bonds grow even stronger after becoming aware that both of them were orphaned through the loss of their parents.
Hugo (Asa Butterfield) is simply amazing in this film made for the entire family. One of the first things I noted was his superb acting ability through his use of his facial expressions. Not since Elijah Wood have I seen this in any young actor. The masterful use of the camera by director Martin Scorsese  zooming in on our young protégé's face peering through a huge mechanical clock, drew in the audience and immediately made us feel that we were about to see the world through the eyes of Hugo!
Asa played his part so convincingly that I immediately felt that I was a part of his great adventure and not just a spectator. His supreme ability to show the proper emotions of hurt, pain, loss, and joy throughout the story made this film more than believable.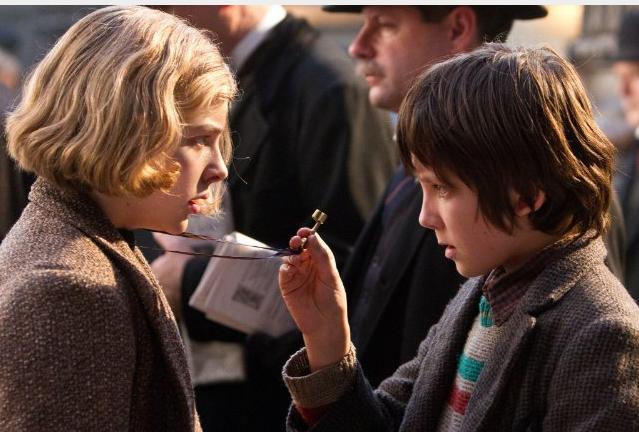 Chloe Moretz is also incredibly convincing in her role as Isabelle. She has already more than demonstrated her acting ability in previous films, but never has she played a dramatic roll so eloquently. Her acting prowess not only supports the lead role it joins it and at times shares it equally.
Hugo is an adventure in discovery. Discovery of self, of others, the world, and all the things in our lives that show us how we are all connected.
Hugo says; "I'd imagine the whole world was one big machine. Machines never come with any extra parts you know? They always come with the exact amount they need. So I figured, if the entire world was one big machine, I couldn't be an extra part. I have to be here for some reason, and you have to be here for some reason too! "                     Â
.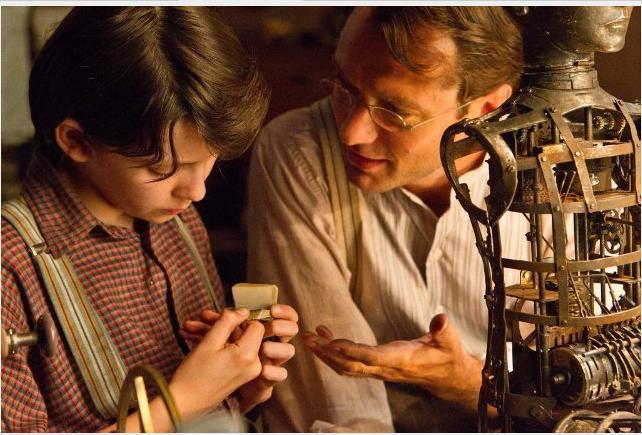 The story unfolds as we learn of Hugo's Father, played by (Jude Law), who was a Master Watch Maker and also talented in repairing all things mechanical. While rummaging through the attic at the museum, Hugo's Father stumbles upon a mechanical man that needs repairing. Hugo is convinced that within this mechanical man lie a message, but in order to unlock the message it would require many new or refurbished parts in addition to a special key shaped like a heart. When Hugo's father dies in a tragic fire, Hugo is forced to live with his drunken uncle whose principle job was tending all the clocks in the Rail Station. Shortly after the loss of his father, Hugo's uncle also dies. This once again leaves Hugo alone and desperate to find some real meaning to his life.
Hugo felt that he could somehow hang onto his father's memory by finishing the project that they started together, of restoring the mechanical man. To do so Hugo scrounges and even steal little cogs and gears from a Toy Shop owned by Georges Méliès , played by (Ben Kingsley) . The shop is located in the Rail Station where Hugo resides living within the walls obscurely hidden from everyday visitors at the station.  He had been secretly tending the clocks in the station so as not to be discovered by the constable who safeguards the Station from vagabonds, runaways, orphans and thieves.
This is where the story really begins. What Hugo so deeply desires to understand about his own life is actually hidden deep inside the heart of the old Toyshop owner.
To tell you any more would spoil the rest of Hugo and Isabelle's adventure in discovery. Discovery about the mechanical man, discovery about Isabelle's step parents, discovery of how each and every one of us play on a single string in order to make up the orchestra of life in which we all can live harmoniously together.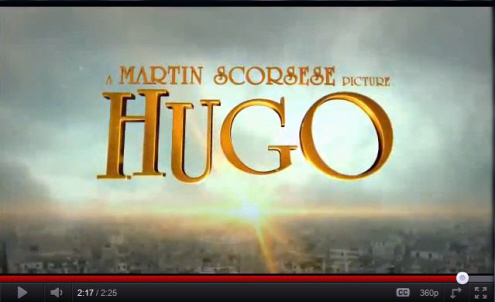 This movie is a must see for everyone young and old this Holiday Season. Whether you see it in 3D or not, this movie is pure magic. Showcasing superlative acting from every cast member, a brilliant score, amazing directing and producing by Martin Scorsese and a host of other producers which include Johnny Depp. You will be enchanted throughout its full two hour and six minute run time.
Make reservation now to take the whole family to see Hugo! This is a movie that will stay with you for years to come.

It's a film with purpose, one of dreams and fantasy, one that tells a story of how we all are searching for purpose in our lives and how we can all be fulfilled by just finding the key. That very key may be in the shape of a heart!