"Dream big, no dream is too big; you can do whatever you want in life"                                                                                       Cameron Molloy
This past year we have introduce a number of new artists originating from Canada and with each new artist comes a whole new excitement! 
Twelve year old Cameron Molloy, while new to some is no newbie to the music entertainment world.  He has already proven himself not only as a sensational vocalist but also as a young performing artist.  His NEW Music Video "Stirling Crescent Moon" is evidence of this, clearly demonstrating his charm and ability to draw in his audience through his singing prowess and camera appeal!
While this article serves as his introduction here, Cameron is already showcased on the Radio Interview Page in his interview with Bruce Owens from Good Morning Hudson Valley Radio.  [ti_audio name="Cameron Molloy"]
 
Cameron Molloy's New Music Video!

The Early Years
It's reported that Cameron has always had a love for music. His parents shared that as an infant, the best way to stop him from crying was to sing a song to him. Doing this would instantly calm him and he would soon be happy and smiling.
You could also find him typically tapping on the family piano or playing the plastic guitar his grandmother gave him fascinated by the sounds that it made.
They also noted that Cameron seemed to have a knack for remembering lyrics and would easily sing songs from start to finish. His early influence was mostly country and folk music which was kindled from carting him along to numerous folk festivals. These early musical adventures also exposed him to a great variety of musical styles and genres.
Thus far school seems to come easy for Cameron. He is largely an "A" student, but tends to be very social in class. Like most young artists, he's trying various ways to express his "creativity" much to the chagrin of his teachers. His best subject is Math and his friends regard him as a math whiz.
Cameron has performed in coffee houses, on stage in a play and participated in a talent show. His family, friends and the school keep him grounded and treat him like a regular kid. He enjoys performing for his peers and wishes there were more school related musical activities.
Cameron's First Stage Performance in a school play
Interest In Music
Cameron began singing at about 3 years of age. He sang to nearly every song he heard playing on the radio or in the car. The most amazing thing was that even as a very young child his pitch and sense of timing was really good.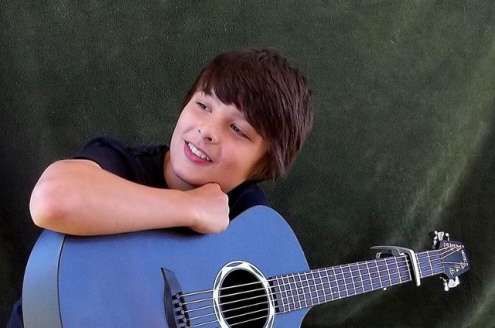 Music has always been a big part of Cameron's family. When Cameron was about 7 years old he would often take out a classical guitar that his Dad stored under the bed to play with. He loved strumming the guitar and hearing the sounds it made. In fact, the first chords Cameron learned were taught to him by his dad. His Mom has a great memory of old songs and ditties that her father used to sing to her which has also inspired Cameron's lyrical sense.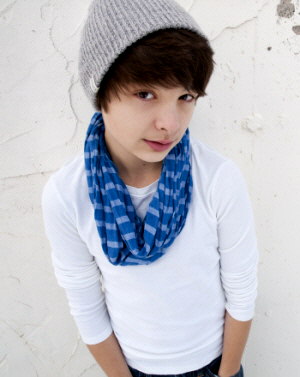 At the age of seven Cameron asked to take guitar lessons so his Grandfather bought him an electric guitar and arranged for lessons at a local music school. The teacher was very strict, insisted on proper posture and would not let Cameron strum the guitar except when told. Cameron soon started to hate lessons and decided to stop after only 2 months.
About one year later, Cameron asked to resume lessons again. This time his parents found a fantastic teacher. His name was Robbie Broad. His nickname was Jukebox because he could play anything by ear. He was great with Cameron, appealing to Cameron's youthful learning style; making the sessions both fun and educational. Cameron was a quick study. Within a very short time he was easily strumming complete songs. He was the only student they had that could sing while he was playing the guitar. Robbie frequently spent extra unpaid time working with Cameron. He remarked on many occasions that he was teaching a very talented and special kid.  You watch Cameron at age 9 singing one of the first songs he learned John Lennon's "Happy Christmas"
First Performance
With the encouragement of Robbie, Cameron at only 8 years of age, played at a local coffee shop during an open mic night. He sang Nickelbacks "Gotta be Somebody" and Justin Bieber's popular early tunes. He went on to play a few more sessions at that coffee shop with the rule being that every time he went he had to play two new songs. This inspired Cameron to begin writing his own songs and music. During one of these sessions he played an original song called "Rain" that was very well received.
Songwriting Interest
Cameron also began writing songs when he was 8, demonstrating a depth and lyrical sense that was well beyond his years. This is an area that established him as a true artist in the opinion of many of his peers. He was frequently described as a triple threat being a singer, songwriter, and having the ability to play an instrument. 
Although not a prolific songwriter, he has written around 15 songs. Some are complete with music and some without melodies. He writes mostly about his own experiences encompassing topics like Rain, War, Moving, Young Love, and family. Cameron tends to take his time writing songs and sometimes finishes songs years after they were originally penned. He keeps a very private notebook with unfinished lyrics, phrases and song ideas. He also tends to compose catchy melodies on the guitar until they at some point become part of a song idea.  Cameron currently performs four of his recent originals. This is a live performance of one of these originals.
Cameron Performs Original "Just Can't Live"

Cameron leans toward the Pop genre, but tends to enjoy singing country tunes or anything that focuses on vocals and simple acoustic arrangements. 
Development
Cameron is continually developing his skills as a musician. He hones his skills by regularly performing at farmers markets. It's a mini stage where he can practice his performance, his songs and interact with thousands of people within the span of a few hours. He has never willingly turned down a chance to perform. He loves being on stage, with many people remarking how comfortable he is performing. Cameron usually makes an instant connection with people when performing, it's not something that he has ever practiced but it happens spontaneously like an infectious smile. Many people have remarked how they love to watch him sing because he sings from the heart and feels the music.
Each week Cameron has two hours of personal instruction in music and music theory. He also spends time each day either practicing or enjoying music.
He is surrounded by the tools of the trade, having many musical instruments including acoustic guitars, bass guitars, electric guitars, drums, pianos, ukes and violins. He also has a basement studio for basic recording of songs. He keeps 2 guitars in his bedroom so that he can lay his hand on one whenever he feels inspired.
Cameron currently has a number of musical mentors in his life. The first, being a local musician by the name of "Marco Rocca". Marco is a multi-talented singer/songwriter that has been teaching Cameron for about 2 years. Being an accomplished performing musician, Marco has taught Cameron many things including guitar, piano, vocal advice, uke, base guitar and stage related things. Marco has also accompanied Cameron at his bigger shows providing harmonies and a 2nd instrument. Cameron is very lucky to have someone with Marco's commitment experience and depth as a mentor. Many other musicians, songwriters and people (to many to mention) have all contributed to Cameron's development. He is truly part of a large family of musicians all impressed with his talent and all generously giving of their time to lend a hand in his development.
 
Cameron Performs Live with Marco Rocca
This is a performance with Marco on the piano accompanying Cameron on his original song "Spread Your Wings and Fly" that he wrote for his Grandfathers who both passed away a few years ago. Cameron was eleven and received two standing ovations that night.
Of particular note is a recent musical collaboration with a fantastic young singer named Josiane Comeau from Dieppe NB. Their onstage chemistry and musical performances have brought audiences to their feet many times. Josiane's dad, Jacques, who is also a musician brings a wealth of experience, knowledge and contacts to the dynamic duo that will carry them well into the future.  This is a video of their recent collaboration during a sold out show at the Casino in Moncton NB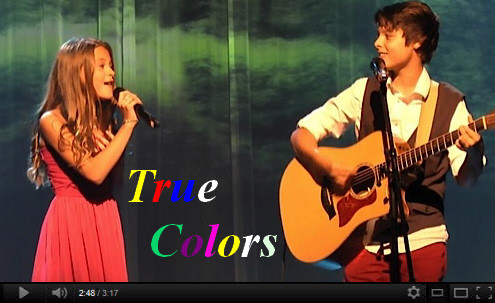 Cameron Performs with Josiane Comeau "True Colors"
Notable performances
New Brunswick Country Music Hall of Fame – Cameron was discovered playing at a farmers market by the president of the NB Country Music Hall of Fame and was asked to perform a "country song" as one of the guest performers during the annual gala event. He had the honor of performing with more than 40 hall of famers.
YTV The Next Star – Cameron auditioned twice for this Canadian TV show(2012 & 2013) His first audition resulted in his audition being featured on the show with the Judges indicating that he was very talented but just not quite ready. Cameron is proof that hard work pays off. He focused on his enunciation skills and his performance skills and was given the only Atlantic Canadian Golden ticket to the Toronto shows in 2013, eventually becoming one of the top 9 kids selected out of 7000 Canada wide auditions. He performed on 3 of the Season 6 episodes. Working with the Television and music industry pros was an experience that he will never forget.
Cameron Auditions for "YTV The Next Star"
Maritime Idol – Cameron was also involved in the Maritime Competition briefly. He was selected as one of the Top 12 to move onto the finals but had to withdraw due to his "YTV The Next Star" commitments.
Road to Stanfest Songwriters workshop – In 2012, this was one of the most influential experiences that Cameron has had to date. He was the youngest participant ever to attend the workshop. He was given the opportunity to be mentored by some fantastic musicians with tons of industry experience. Artists like Michael Johnson, Chuck Brodsky, Clary Croft, Doris Mason, Charlie A'Court all spent personal time with Cameron, labeled Cameron a musical prodigy and referred to him as one of their musical peers. This was an incredible confidence boost. Cameron went on to write a complete song during this workshop, performed at a concert at the end of the workshop and was asked to perform on a special stage at the "Stan Rogers Folk Festival".
The Christmas Guest – This was an all expense paid recent performance, in Nova Scotia where Cameron was invited as a special Guest with 4 other Artists including Nicholas David from "The Voice". Cameron was involved in 2 shows. At each show, he sang a solo and then was backed up on vocals by a local school choir. He signed countless autographs and made many new friends.
Cameron covers JB's "Mistletoe" Live on Stage
Fundraising Events
Cameron has been invited to perform at many fund-raising events. He feels that it is very important to give back to the community that supports him. Some have been televised or broadcasted on the radio, some were held at popular venues for touring artists and some at smaller venues but all were for worthwhile causes. Here are a few of those events:
Riverview Arts Center – Piano Fundraiser to support the Arts
Christmas Daddies/Tree of Hope – Television/Radio fundraisers in support of Cancer Initiatives
Hockey Heroes – Heart and Stoke Foundation fundraiser
Valley Jamborees – in support of a local museum
La Country Show – Local Cable TV show featuring local Artists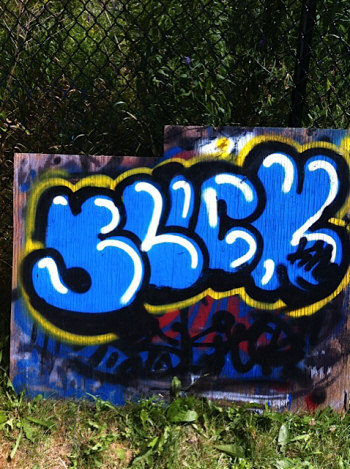 Other Interests
Cameron is a typical 12 year old boy, spending way too much time on video games but loves having friends over to share the experience. He spends a lot of time watching videos and learning about things that interest him in the moment.
He's also a graffiti artist. He doesn't like to show his work, except on every flat available surface in his dad's garage, and strangely every spray can is missing its nozzle.
Cameron is a scooter and BMX kid and has spent the last couple of years upgrading his rides and practicing tricks at home and at skate parks.
During the winter months he enjoys snowboarding and playing hockey. As a AAA Peewee Hockey player he displays a similar dedication to hockey as he does to music. He brings his guitar to all overnight trips and typically ends up playing a mini-concert for the hockey parents and his teammates.
Food-wise, Cameron is a huge fan of Indian Food and really enjoys the different flavors, spices and heat.  He prefers chicken over beef and generally enjoys fruit smoothies and healthy eating over junk food.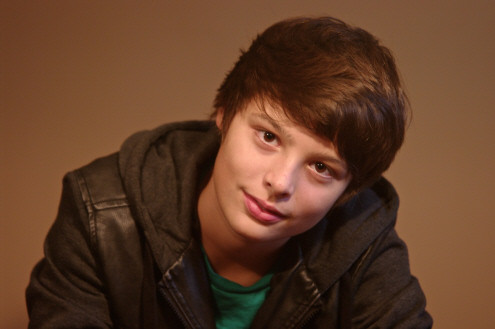 The Future
Cameron is currently in the process of recording his First All Original EP at the local and well respected Pumpkin Patch Recording Studio run by Danny Bourgeois. He's also working with Andre Leblanc, a well known and equally respected local producer. It's an exciting time for Cameron who's looking forward to a March release date.
Cameron's fan base continues to grow as more people discover his music and passion. What's truly amazing is the support he has received from all over the world. He has no intention of ever stopping. One of his musical peers once said; "The Music is in you".
In Cameron's words
"I love playing music, I've been doing it for such a long time that it really is my life. It's also a talent that I can share with others. I play music to have fun and to be the best that I can be. My goal is to become known for my music and to make a living off of it."


"To all my listeners; Dream big, no dream is too big; you can do whatever you want in life"
 For more about Cameron Molloy visit: