Many of the featured artists who appear on this site are brought to my attention by either my readers or supporters.  Today's talented duo is no exception, as it was my good friend in radio, Bruce Owens from Good Morning Hudson Valley who recommended today's artists.
After Bruce contacted me I realized that I was already subscribed to the boys YouTube Channel. It only took a short time to get in touch with their Mother, who shared the following information about her amazing twin sons and their uniqueness not only in birth, but in talent and personality.
Being Twins
Adrian Chirtea and Julian Woodrow are identical twins…mirror twins to be exact. While they are both legally "Woodrows", Adrian has always used his Mother's last name. Julian is the oldest by 10 minutes, and he's always been a fraction of an inch taller, and a pound heavier. Julian is left-handed, and Adrian is right-handed.  But other than that, Adrian and Julian really enjoy being identical.
As babies, their first teeth came in just a day apart. They also share the same moles in exactly the same spots, on opposite sides. Unlike most siblings they rarely fight and (almost) always share. As best friends, they have more fun doing everything together than trying to kill each other!
Most people can't tell them apart, and that's just fine with them.
The Singing Started at Lunch Box Special
Their elementary school held a show-and-tell at lunchtime, each day.  The twins signed up to sing "In the Jungle" in 4th grade.  Julian sang the wee-ba-wops, and Adrian sang the verses. Their friends and teachers loved it so much, that it became a weekly challenge to try and "out-do" the previous week's performance. Each night at the dinner table, we'd think up a new hilarious song to learn and the twins would practice for the next week's Lunchbox Special.  They performed "Little Surfer Girl", "Eddie-Coochie-Catchie-Gammie", "Minerva", and thanks to a few well-timed video rentals, the twins also started adding "Mr. Bean" comedy routines into the mix.  The goal became to make everyone laugh.  Soon every song was littered with comedic dance moves and acting routines.
The dinner table became hilarious, as every other supper was followed by a mealtime performance.  Their principal mentioned, "I just can't imagine what goes on in that house at night!"
Hear the boys sing acappella their cover of Jessie J's Price Tag which really demonstrates their great vocal abilities.  While the boys felt it was not that great at first they realized even themselves after listening back that it was good harmony and done nearly pitch perfect!
 
The boys sing Price Tag by: Jessie J
Soon They Were Singing Everywhere
After a few months, people started asking the twins to sing.  They would be at the grocery and they would give a performance in the frozen food aisle.  At a yard sale, they would sing a few tunes for the shoppers. Everywhere they went; people would ask the twins to sing.  They set up a hat at the gates of the local craft fair and made $167 in an hour, before getting kicked out for "panhandling"!  That experience gave them a taste for making money from singing, and after that, they only wanted to do one thing in life…become pop stars!       

Gigs and Auditions
Only recently, Adrian and Julian started playing gigs.  With borrowed speakers and microphones from the neighbors, they sang at the starting line of a local marathon, for the September 11th memorial, at homecoming, and at the school assembly. As longstanding "American Idol" watchers, when Simon Cowell left the judges panel to start X-Factor, it was Adrian who really wanted to audition.  Having never auditioned for anything before they packed up the car and traveled to New Jersey to take a shot at fame! "Adrian and Julian" became "Blackberry Jam", a name based on their mother's former singing duo "Raspberry Jam".  Coming from Vermont, Newark, New Jersey was definitely the big city! Starry-eyed, they stood in line with 22,000 other acts and made it through the auditions process to perform in front of 4,000 people at the Prudential Center on the blinding X-Factor stage!   After signing a rousing rendition of "Sunday Morning" the X-Factor judges gave them 4 "yeses" and sent them off to boot camp in California.
 
The boys sing their cover of Sunday Morning!
 Boot Camp
They told me that it would be difficult to describe the incredible experience that X-Factor boot camp provided for them.  Some of the top youth singers from across the country came together at once, to rehearse and audition.  Everywhere the twins went, there were acts performing and harmonizing together.  They'd be sitting in the lobby and random acts would bust out in 8-part harmony to Bruno Mars!  It was the first time that the twins had ever been exposed to such fiercely talented youth.  Blackberry Jam was eventually eliminated from boot camp, but the experience gave them a taste for the big stage.
                                                       Back Home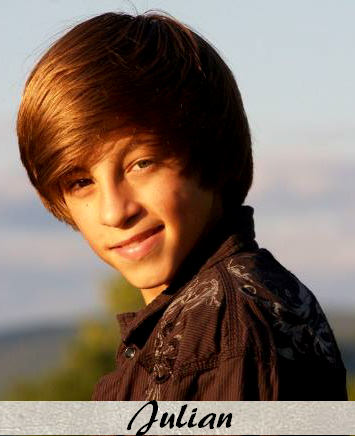 They began rehearsing regularly, recording songs, and making music videos.  Blackberry Jam's first video took 6 weeks to record, because they were just learning the recording software, and they kept accidentally deleting the file. But in September of 2011, "Best Love Song" was finally completed and posted on Blackberry Jam's new YouTube channel. Their first video went viral almost immediately they earned their 10,000th hit just a few weeks after being posted. This sparked even more recording, and the evening dinnertime performances were replaced by recording sessions, and video shoots.  Adrian and Julian now regularly cruise YouTube looking for upcoming YouTube singers in order to study their vocal patterns and dance moves. Just before Christmas, they were asked to be part of the "Pray" collaboration video featuring Justin Bieber's background singers, as well as a host of other rising YouTube stars.
It was an awesome experience that connected them with a whole new YouTube music community.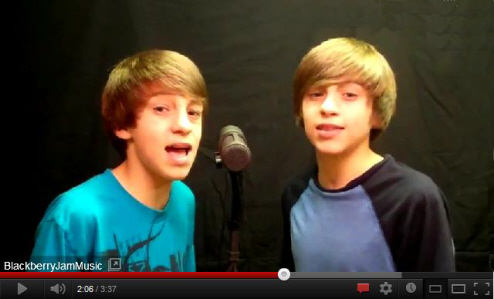 Boys perform in big YouTube Colab of Justin Bieber's "Pray"
What's Happening Now
As 9th graders, Blackberry Jam keeps a low profile at their high school.  Julian just finished the hockey season as the back-up goalie, and Adrian completed another successful season on the snowboard slopes. Shortly after the start of 2012, Blackberry Jam earned their 500,000th hit on their YouTube channel.  They are working on a production of the musical Chicago right now, which has been keeping them busy until dark, most nights!   Behind the scenes, their music is really taking off. They've begun working with a local choreographer who is helping them to add dance routines to their songs.  A few original songs will be cropping up on their YouTube channel by the summertime, and the new season of TV show auditions has just begun.  Now that they've been through the TV audition process a few times, with growing confidence and refined dance routines Blackberry Jam will be trying out for TV shows like the Voice and X-Factor again this summer. Keep an eye out!
 
Blackberry Jam is more than just a couple of brother having fun and singing.  These guys are pure talent and future stars in the making! There is no question that these exceptional twins are sure to capture the attention of a Hollywood music producer very soon!
 
Blackberry Jam performs Bruno Mars "It Will Rain"
To learn more about Blackberry Jam visit: