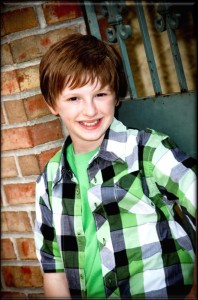 It was about two years ago when I first heard Anthony sing. I was downstairs in my office when my wife announced upstairs that I needed to come up and watch this young boy sing the National Anthem for the beginning of the Belmont race.  I don't remember what horse won that event but Anthony was a winner that immediately captured my attention and made me begin watching his career. From a little boy with a big voice, Anthony Gargiula, now eleven years old, is an accomplished singer with a style all his own, a true singing sensation.
Anthony began singing at 2 years old and hasn't stopped since. His "big break" came when he placed second in a national Radio Disney singing competition. Since then, he has received over 4 million YouTube views, appeared several times on The Today Show and The Ellen Show, and is the youngest performer to ever sing at the world famous Carnegie Hall in New York City. He has also had the opportunity to open for national headliners such as the Jonas Brothers and Lady Antebellum.
.
Watch Anthony perform the Anthem at the Belmont
Anthony's extensive repertoire ranges from pop music, to Broadway classics, patriotic tunes, country favorites, and original songs. This wide range of musical styles along with Anthony's natural performing skills, gives him the ability to 'wow' any crowd.
Currently, Anthony has just completed filming two episodes for an up-coming TV show, The Wannabes. His main focus is recording original songs for his debut album with Grammy award winning writer and producer Bradley Spalter in Los Angeles California.  Anthony's new CD is expected to be released in a little less than a month so get ready for this very special production!
 
To learn more about Anthony, visit him on His Official Website or his Facebook Site and of course you won't want to miss him on You-Tube. If you live in or around New York, you will want to catch Anthony singing the National Anthem at the Major League Baseball Hall of Fame Induction ceremony on July 25, 2010 in Cooperstown, New York.  Anthony sets another "youngest ever record" by being the youngest person to ever sing the Anthem at this event.
 

If you have a special engagement or event that you would like Anthony to perform for: contact Rich Gargiula or call  518-469-6695