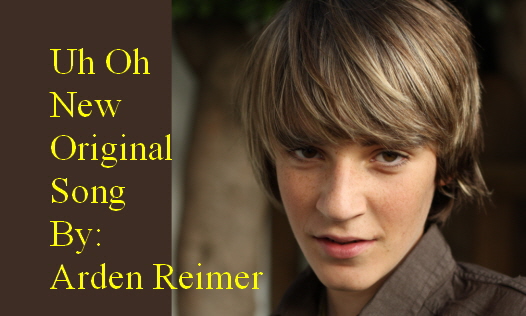 Many an eye and ear have been following Arden Reimer since he was first introduced on this blog back on September 15, 2010. Today we are extremely excited and honored to debut his Music Video for this song
Arden's new song title "Uh Oh" was givin birth by Arden and his vocal coach a little over six months ago.  While they were attempting to create a song that teenagers could relate to, at the same time Arden wished to tell a meaningful story.
The song is about a boy and girl who are just friends, but after spending a period of time together, they begin to realize that it may be much more.   This is where the catchy phrase "Uh Oh" comes into play.
The girl and boy are not sure where their relationship is headed and the boy especially desires them to be more than just friends. He buys her a rose (shown in the video), hoping to strengthen the relationship……But……….…….UH OH maybe not what he was hoping for!
All is not lost however, as the boy and girl always remain friends, as the last phrase says;" I'll be with you".
Click Continue Reading below to finish this article and comment!  Please be sure to leave Arden feedback about his new song!
Continue reading "Arden Reimer's Debut Hit Single "Uh Oh""